Halifax finds UK house prices still growing, but expected to flatline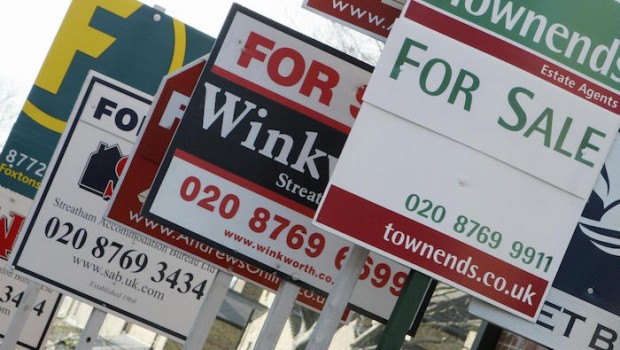 UK house prices rose more than expected in October, according to a survey released on Tuesday, making the third monthly rise in a row.
House prices rose 0.3% on the preceding month, the survey from Halifax revealed, which was better than the 0.2% consensus estimate but down from the previous month's 0.8% increase.
For the three months to October, houses prices were 4.5% higher than the same period last year, as expected, an improvement from the 4.0% year-on-year increase announced a month earlier.
The average house price is now £225,826.
House prices in the three months to October were 2.3% higher than in the previous quarter, the fastest quarterly increase since January, pointed out Russell Galley, managing director of Halifax Community Bank.
"The fact that the supply of new homes and existing properties available for sale remains low, combined with historically low mortgage rates and a high employment rate, continues to support house prices and is likely to do so over the coming months," he said.
"Increasing pressure on household finances and continuing affordability concerns are some of the factors likely to dampen buyer demand. That said we do not anticipate the Base Rate rise will be a barrier to buying a house."
Economists at Pantheon Macroeconomics said the jump in prices reported by Halifax over the last four months "is irreconcilable with all other housing market indicators", with the 2.3% rise in Halifax's index com compared to Nationwide's 0.8% in October and a seasonally adjusted version of Rightmove's online asking price index increased by just 0.2%.
"Looking ahead, the pipeline of demand is weak. In September, RICS reported that new buyer enquires fell at their fastest pace since July 2016, while sale instructions fell only marginally," Pantheon said, adding that real wages still have further to fall and mortgage rates look set to rise by about 50bp over the next six months, in response to the MPC's interest rate hike and the impending closure of the Term Funding Scheme in February.
"Accordingly, we expect house prices merely to flatline over the next 12 months."
Jeremy Leaf, an estate agent in north London, said: "On the face of it, these figures are quite encouraging because they continue to demonstrate the market resilience that we have grown accustomed to over the past few months.
"However, when you look behind the numbers you realise that much of the growth is supported by continuing shortage of supply which we are also finding on the high street.
"Looking forward there is no doubt that people will continue to trade but more nervously, particularly in the light of higher mortgage costs and pressure on real income."