House prices continues to limp higher - ONS, Land Registry show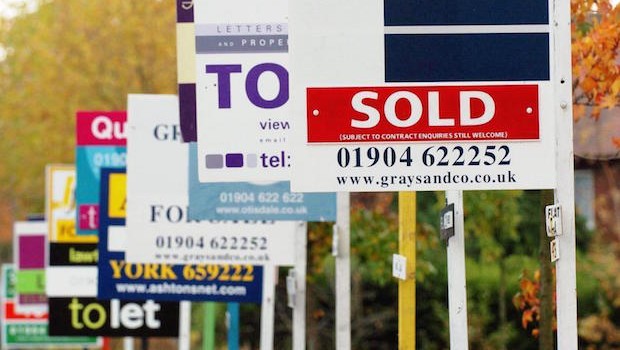 UK house prices are continuing to increase modestly, according to official figures, but growth is expected to remain weak in the final few months of the year and in 2018.
House prices rose 0.5% over August after an increase of 0.7% in July, the Land Registry and the Office of National Statistics said on Tuesday, taking growth to 5.0% compared to the same month last year.
The average price of a property in the UK was £225,956.
Annual house price inflation increased from 4.5% in July, having hit a low of 3.7% in March.
Based on mortgage completions, the Land Registry measure of house price inflation lags many of the other measures but is still subject to major revisions, with July's year-on-year increase revised down to 4.5% from a previously reported level of 5.0%.
Looking closer at regional levels of the UK, the largest annual growth was in the North West at 6.5%, followed by the South West, East of England and the East Midlands; all of which had a growth rate of 6.4% in the year to August.
The lowest annual growth was in London, where prices increased by 2.6% over the year in the 9th consecutive month where the growth in London house prices has remained below the UK average.
On the supply side, RICS reported that the new sales instructions net balance was at -1% for August 2017, compared with -11% in July 2017; this was the least negative reading since February 2016. RICS also reported that the new sales instructions net balance has turned progressively
House price growth should remain relatively weak over the fourth quarter and then rising a modest 2-3% in 2018, predicted Howard Archer, chief economic advisor to the EY ITEM Club.
He noted that annual house price inflation on both the Halifax and the Nationwide's measures were both lower than the Land Registry.
The Halifax report showed house price growth at 4.0% in the three months to September, up from a four-year low of 2.1% in July.
Nationwide's reading slowed to 2.0% in September, the smallest increase since June 2013.
Archer said market activity has picked up from the lows seen around mid-2017 but is still hardly buoyant.
"The fundamentals for house buyers are likely to remain challenging over the coming months with consumers' purchasing power continuing to be squeezed by inflation running higher than earnings growth. Additionally, housing market activity is likely to be hampered by fragile consumer confidence and a limited willingness to engage in major transactions," he said.
"It is also very possible that potential house buyers will be concerned by a likely-looking BoE interest rate hike before the end of 2017. While any increase in interest rates would be small and mortgage rates would still be at historically very low levels, the fact that it would be the first rise in interest rates since 2007 could have a significant effect on housing market psychology. Having said that, the BoE has regularly stressed that interest rates will rise only gradually and to a limited extent."