Budget preview: Hammond's faces unhappy balancing act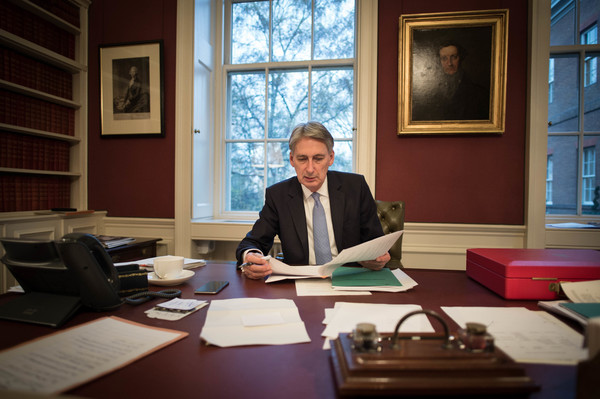 Philip Hammond faces a near-impossible task as he seeks to balance competing demands when delivering his budget.
The chancellor, who unveils his plans on 22 November, is hemmed in by weakening economic prospects, tight public finances and uncertainty over Brexit. But he faces increasing demands to depart from the austerity script that has dictated economic policy.
Business, campaigners and Hammond's colleagues want Hammond to build houses, improve infrastructure, fund stretched public services and give a pay rise to squeezed public sector workers.
Hammond is also fighting to keep his job. He and Prime Minister Theresa May are reported to be barely on speaking terms while Brexit-supporting MPs see Hammond, the cabinet's leading remainer, as the wrong person to lead economic policy as Britain prepares to leave the EU.
The Office for Budget Responsibility is expected to reduce its assumptions for the economy over the next few years due to persistently disappointing productivity growth. The OBR's gloomier outlook will reduce Hammond's fiscal room for manoeuvre – potentially halving the £26bn "headroom" he had built in to his calculations.
In a note to clients headlined "man on wire" Barclays analysts said they expected Hammond to be pragmatic in the face of extra borrowing requirements. They wrote: "Intensification of fiscal austerity together with a restrictive monetary policy stance and excessive levels of uncertainty due to EU withdrawal negotiations would likely be too much for the economy and lead to a further slowdown."
Economists do not expect many eye-catching announcements. The Barclays analysts said low-key measures could include:
Relaxing the public sector pay gap beyond police and prison officers. The Institute for Fiscal Studies estimates letting public sector pay rise with inflation would cost £6bn a year.
Reducing the level at which businesses start to pay VAT from £85,000, a measure that could raise £2bn a year
Cutting stamp duty on house purchases for first-time buyers to help young people buy a house
Freezing fuel duties at a cost of £750m while taxing diesel cars more heavily
Taxing single-use plastics such as bubble-wrap and polystyrene take-away containers
For savers and investors, Hargreaves Lansdown said these changes could be on Hammond's agenda:
Increasing the basic rate savings allowance from £1,000 at the expense of higher rate taxpayers
Further measures to discourage buy-to-let landlords such as increased stamp duty or a reduction in mortgage tax relief
Taxing dividends more heavily – a move that would affect business owners and investors
Linking student loans to CPI inflation instead of RPI, which tends to rise faster
The government has promised to increase the personal tax allowance to £12,500 from £11,500 and the higher rate tax threshold to £50,000 from £45,000 by 2020. Bringing forward the planned increases could give Hammond a headline-friendly giveaway that could be clawed back over time by freezing the allowances, the FT reported.