Carney and new MPC colleagues throw doubt on interest rate hikes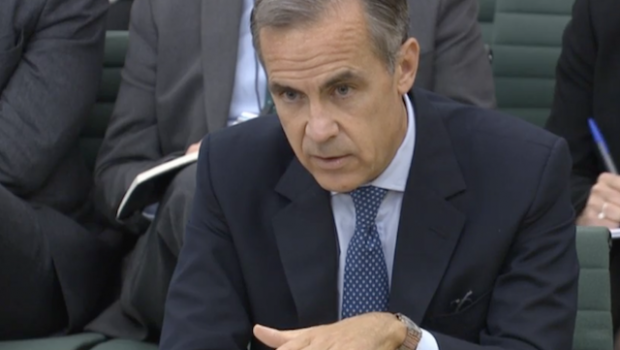 Two new members of the Bank of England's Monetary Policy Committee cast some doubt on the likelihood of an increase in interest rates in November, though Governor Mark Carney said a hike "may be appropriate" and many economists remained confident of a hike.
Facing questions from the Treasury Select Committee in Westminster on Tuesday morning, when inflation was confirmed to have surged to 3%, Dave Ramsden said he was not part of the majority of MPC members who believe a rate hike is likely to be needed "in the coming months" as he suggested inflation pressures will begin to ease.
Ramsden, the former Treasury director general and chief economic adviser who was appointed in July, confirmed he was one of those who voted to keep rates on hold in last month's MPC meeting.
Ramsden said financial markets seemed to be relatively confident that the Bank was taking the right line, as bond yields were not spiking and the exchange rate had stabilised.
Silvana Tenreyro, the LSE professor who was appointed in June to replace known MPC 'hawk' Kristin Forbes, said that as spare capacity in the economy is eroded, she will be minded to vote for tighter policy.
"My view is that we are approaching a tipping pint at which it would be necessary or justified to remove some of that stimulus," she said. "However that is very contingent on the data."
Data earlier on Tuesday confirmed consumer price inflation rose to 3.0% in September, with economists and the BoE expecting it to peak at 3.1% next month, while Wednesday will see crucial data on average earnings, where growth is forecast to remain subdued.
Financial markets have pencilled in an MPC hike at its next policy meeting on 2 November.
BoE Governor Mark Carney, who was still being questioned by MPs at just before midday on Tuesday, reiterated the MPC view that the majority of policymakers felt a rate hike "in the coming months may be appropriate".
He said the fall in the pound since the Brexit vote was the "sole reason" behind the recent spike in inflation and would probably see it rise over 3% "in the coming weeks", meaning he will "more likely than not" be obliged to write to the Chancellor to explain why.
Asked whether the MPC had enough interest rate 'room' to deal with a possible recession, the Canadian responded: "Building a war chest in interest rate terms for a potential future shock isn't staying on point in terms of the inflation target, nor is it appropriate or necessary, given that policy can move quite nimbly if required."
Many economists still remained confident that Carney and co would still hike rates at their coming meeting.
"The overall tone from the testimony supports our view of a rate hike in November," said Barclays after mulling the Q&A session.
"However, the mixed views with regards to wage growth suggest that it may become difficult for the MPC to justify further hikes in future."
As policymakers have been gearing markets up for a November hike, Investec's Philip Shaw felt it was "virtually inevitable", even though he had "misgivings about tightening policy at a time when consumer spending has been struggling and the economy has slowed".
Paul Hollingsworth at Capital Economics felt there will be a rate rise in November, with inflation not the principal driver.
"The MPC will probably be focussed more on tomorrow's wage growth figures for any signs that domestic cost pressures are building," he said, predicting inflation will be back below 3% by the end of the year and will end 2018 at around 2.25%.
James Smith at ING, arguing that underlying inflation is actually below the BoE target if ignoring the impact of sterling and energy, also felt a November rate hike was "highly likely" - though as CPI should peak at 3.1% in October and then gradually start to ease back, any subsequent MPS tightening "is likely to be very limited".
Wednesday's UK jobs report is forecast to see average wages dip back to 2%, with growth expected to remain limp for the next few months.