Brexit talks hit 'deadlock' over divorce bill, EU's Barnier says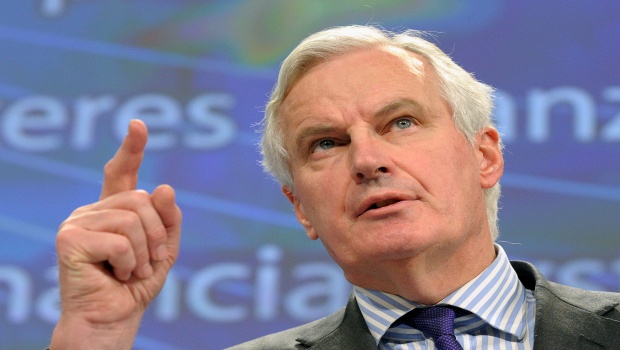 The European Union's chief Brexit negotiator says talks with Britain have reached "deadlock" over the divorce bill but "decisive progress" could be made by Christmas.
Speaking at a joint press conference with UK counterpart David Davis, Michel Barnier said the two sides had made some progress on citizens rights and Ireland's common travel area, a deadlock had been reached on the amount of any financial settlement.
He said Theresa May's speech in Florence gave much needed momentum to the negotiations but that while she said the country would honour commitments it had agreed as member, this week the UK had remained reticent to spell out exactly what level of commitments is would pay in any 'divorce bill'.
As such, Barnier said he felt not enough progress had been made in the talks to enable him to propose at next week's European Council that discussions could begin on the future relationship between Britain and the EU.
The pound was mowed down immediately, falling 0.6% against the dollar and euro to 1.3144 and 1.1082 respectively.
While Barnier was adhering to the Council's stipulation that sufficient progress must be made on the Britain settling its accounts before expanding the talks, Davis blithely said he hoped the EU council of 27 remaining EU members would be more flexible and agree to allow talks to move onto the future relationship.
On the financial settlement, Davis said his team had made a "rigorous" examination of the technical issues but it would not lead to a settlement as that will be a "political issue".
Addressing the anxiety about EU citizens' rights to settled status, he said there will be a new administration process that will be "streamlined and low cost".
"Any EU citizen in the UK already in possession of a permanent residence card will be able to exchange it simply for settled status in a simple way. They will not have to go through the full application process again.EU citizens in UK who is already a holder of a permanent resident card will be able to exchange it for settled status in a simple way."
In spite of his damning opinion on the lack of progress, Barnier offered some optimistic words: "This week we worked in a constructive spirit and we clarified certain points without however making any great steps forward. There is a new momentum and I remain convinced today that with political will, decisive progress is within our grasp in the next two months."