US open: Wall Street setting new records ahead of Memorial Day weekend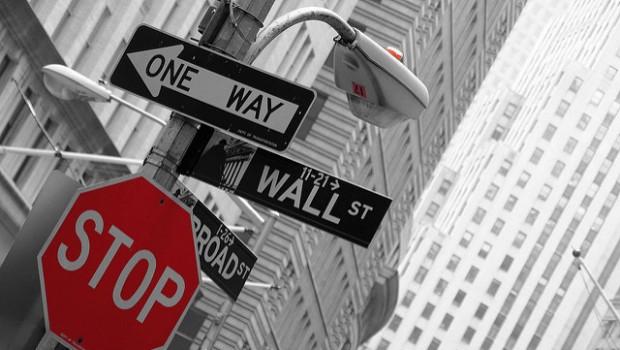 Investors are pushing the main Wall Street averages to fresh record highs ahead of the long Memorial Day weekend, with the much maligned retailers leading the charge.
At 1542 BST, the Dow Jones Industrial Average is up by 0.39% or 79,92 points to 21,092.06, while the S&P 500 is adding 0.45% or 10.89 points to 2,415.28 and the Nasdaq Composite 36.51 points to 6,199.42.
Worth noting, Memorial Day is typically associated with the summer lull in trading volumes.
On Wednesday, the S&P 500 closed at a record, while the Dow and the Nasdaq closed at their second-highest levels ever after minutes from the latest Federal Reserve meeting showed most members were in favour of a rate hike "soon" as long as the economy continues to rebound from first-quarter weakness.
Linked to the above - possibly - the latest tally for initial weekly US unemployment claims rose by just 1,000 to 234,000, marking a fourth straight week below 240,000.
That led Ian Shepherdson, chief US economist at Pantheon Macroeconomics to muse that: "so it's starting to look more like a shift in trend rather than just noise, but we still need more data to be sure.
"Low and falling claims numbers don't guarantee faster payroll growth, but they are consistent with robust increases, at least, and we expect sustained 200K-plus gains over the next few months, pushing unemployment down to new lows and scaring the Fed."
In the background, oil prices came under selling pressure even after OPEC members agreed to extend an earlier 1.8m-barrel-a-day production cut by nine months, although Saudi Arabian oil minister Khalid al-Falih said any deeper cuts were unnecessary.
West Texas Intermediate was down 0.73% to $50.99 a barrel and Brent crude was 0.6% lower at $53.65.
Oanda analyst Craig Erlam said: "It would appear a nine month extension with the potential for deeper cuts was almost fully priced in so when the statements were made, there was nowhere left for prices to go but lower.
Meanwhile, on the economic front, America's deficit in its trade in goods with the rest of the world widened by 3.8% to $67.6bn, according to the Census Bureau.
Economists' forecasts were calling for a smaller shortfall of -$64.0bn
US retail and wholesale inventories both shrank by 0.3% month-on-month in April.
From a sector standpoint, the biggest gains were being seen in the following industrial groups: Specialty Retailers (2.79%), Clothing & Accessories (1.30%), Restaurants (1.29%) and General Retailers (1.23%).
Shares in Best Buy shot higher as investors cheered stronger than expected profits, improved outlook and an unexpected rise in its like-for-like sales from the consumer electronic retailer.
Sears posted its first quarterly profit in two years sending its shares flying.
Discount retailer Dollar Tree was also trading on the front foot despite disappointing investors on most of its main financial metrics, including LFLs.
Hewlett Packard on the other hand was trading lower even after it reported the first simultaneous growth in its sales of printers and PCs since 2010.
Dow Jones - Risers
Caterpillar Inc. (CAT) $105.68 1.66%
American Express Co. (AXP) $77.82 0.91%
Microsoft Corp. (MSFT) $69.37 0.88%
Unitedhealth Group Inc. (UNH) $177.05 0.83%
Nike Inc. (NKE) $52.42 0.79%
Travelers Company Inc. (TRV) $123.00 0.78%
Boeing Co. (BA) $186.62 0.74%
Home Depot Inc. (HD) $155.84 0.54%
3M Co. (MMM) $198.53 0.53%
Intel Corp. (INTC) $36.30 0.49%
Dow Jones - Fallers
Johnson & Johnson (JNJ) $126.88 -0.49%
Merck & Co. Inc. (MRK) $64.74 -0.29%
E.I. du Pont de Nemours and Co. (DD) $78.20 -0.23%
General Electric Co. (GE) $27.78 -0.16%
Walt Disney Co. (DIS) $107.57 -0.13%
McDonald's Corp. (MCD) $149.32 -0.12%
Pfizer Inc. (PFE) $32.04 -0.03%
Chevron Corp. (CVX) $106.23 0.01%
Exxon Mobil Corp. (XOM) $82.44 0.18%
Visa Inc. (V) $95.03 0.23%
S&P 500 - Risers
Best Buy Co. Inc. (BBY) $58.96 16.94%
Patterson Companies Inc. (PDCO) $45.55 5.76%
PVH Corp. (PVH) $107.18 5.04%
Csra Inc. (CSRA) $30.99 4.55%
Staples Inc. (SPLS) $9.09 3.53%
Alliance Data Systems Corp. (ADS) $245.98 3.48%
Netflix Inc. (NFLX) $162.50 3.01%
Dollar Tree Inc (DLTR) $80.28 2.82%
NetApp Inc. (NTAP) $40.66 2.78%
Dollar General Corp (DG) $72.14 2.76%
S&P 500 - Fallers
Hormel Foods Corp. (HRL) $33.32 -5.88%
Brown Forman Corp. Class B (BF.B) $51.97 -4.36%
FMC Technologies Inc. (FTI) $30.20 -3.51%
HP Inc (HPQ) $18.64 -1.95%
TripAdvisor Inc. (TRIP) $40.03 -1.88%
Signet Jewelers Ltd (SIG) $53.64 -1.63%
First Solar Inc. (FSLR) $38.33 -1.46%
Helmerich & Payne Inc. (HP) $55.33 -1.21%
Advance Auto Parts (AAP) $131.41 -1.21%
NRG Energy Inc. (NRG) $16.56 -1.19%
Nasdaq 100 - Risers
Netflix Inc. (NFLX) $162.50 3.01%
Ulta Salon, Cosmetics & Fragrance Inc. (ULTA) $288.92 3.00%
Dollar Tree Inc (DLTR) $80.28 2.82%
Liberty Interactive Corporation QVC Group (QVCA) $23.94 2.33%
Norwegian Cruise Line Holdings Ltd. - Ordinary Shares (NCLH) $50.60 1.94%
NetEase Inc. Ads (NTES) $293.85 1.82%
Tractor Supply Company (TSCO) $54.04 1.73%
Liberty Global Plc Lilac Class C (LILAK) $21.08 1.69%
Dish Network Corp. (DISH) $64.37 1.64%
Ross Stores Inc. (ROST) $62.90 1.53%
Nasdaq 100 - Fallers
Shire Plc Ads (SHPG) $183.91 -0.78%
Nvidia Corp. (NVDA) $137.53 -0.75%
Fastenal Co. (FAST) $43.35 -0.66%
Celgene Corp. (CELG) $117.01 -0.62%
Viacom Inc. Class B (VIAB) $34.60 -0.40%
Biomarin Pharmaceutical Inc. (BMRN) $87.71 -0.36%
Regeneron Pharmaceuticals Inc. (REGN) $456.95 -0.28%
Intuit Inc. (INTU) $137.47 -0.26%
Illumina Inc. (ILMN) $174.13 -0.20%
Paypal Holdings Inc (PYPL) $50.96 -0.18%