US open: Wall Street set to finish October on a positive note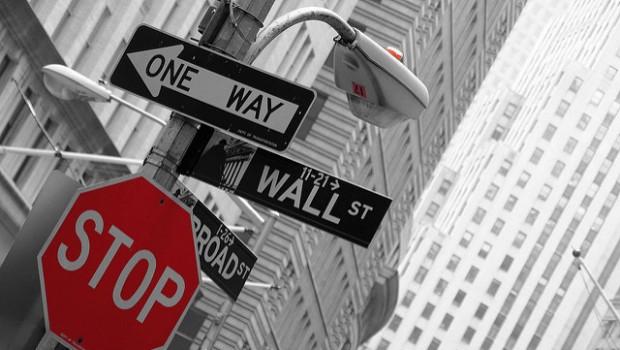 Wall Street was trading slightly higher on the last day of October with investors digesting another slew of corporate results as the US central bank's two-day policy meeting got underway.
Ahead of the Fed's rate announcement and alongside multiple strong readings on the economy, at 1515 GMT, the Dow Jones Industrial Average was ahead by 0.12% or 27.50 points at 23,375.93, while the S&P 500 was ahead by 0.14% or 3.70 points to 2,576.52 with the Nasdaq Composite 0.40% or 26.47 points firmer at 6,725.64.
From a sector standpoint, the strongest performance was being seen in the following industry groups: Paper (2.03%), Food products (1.90%) and Forestry & Paper (1.68%).
On the economic front, the Chicago NAPM's regional manufacturing purchasing managers' index shot higher in October to reach a reading of 66.2 (consensus: 60.0).
Those figures came alongside the results of the Conference Board's latest consumer confidence survey which picked up to a level of 125.9 (consensus: 121.0) - its best print since December 2000.
In corporate news, shares of healthcare insurer Aetna were slipping despite reporting third-quarter earnings that beat expectations and lifting its 2017 guidance, while snack maker Mondelez was on the front foot after it reported better-than-expected third-quarter profit late on Monday.
IBM was also in the spotlight after the technology stalwart unveiled a $3.0bn share buyback programme.
Chip-maker Micron Technology was one of the most wanted stocks, even on the back of already hefty gains year-to-date which had seen its shares almost double in value.
Earlier on Tuesday, the company announced deals with two Chinese outfits, including Shenzhen Security and Protection Industry Association, to accelerate deployment of new products in Asia.
Valeant Pharmaceuticals was on the up too after the company said it is on track to pay down more than $5bn in debt ahead of its previous 2018 goal.
Going the other way, Under Armour was getting riddled by sell orders on the heels of lower-than-expected third-quarter revenue due to weaker North American demand and as the apparel retailer cut its full-year outlook.
General Electric was also among the most traded issues on the NYSE, amid 'market chatter' referencing the conglomerate's expected 13 November meeting with investors.
Pfizer stock was down even after its third-quarter profit figures failed to impress and the company raised its 2017 earnings outlook.
Qualcomm shares were unloved following reports that Apple could ditch the company's components in next year's iPhones, while Archer Daniels was in focus after the agricultural commodities processor posted third-quarter earnings per share of 34 cents versus 58 cents a year ago.
Hormel Foods found a bid after agreeing to buy salami maker Columbus Manufacturing for around $850m.
Dow Jones - Risers
Intel Corp. (INTC) $45.60 2.76%
Apple Inc. (AAPL) $169.00 1.37%
Travelers Company Inc. (TRV) $132.66 1.22%
McDonald's Corp. (MCD) $167.32 1.17%
United Technologies Corp. (UTX) $120.03 0.81%
Chevron Corp. (CVX) $114.34 0.70%
Boeing Co. (BA) $258.08 0.63%
Goldman Sachs Group Inc. (GS) $242.63 0.38%
Cisco Systems Inc. (CSCO) $34.13 0.26%
International Business Machines Corp. (IBM) $153.72 0.03%
Dow Jones - Fallers
Merck & Co. Inc. (MRK) $55.44 -4.81%
General Electric Co. (GE) $20.16 -3.03%
Verizon Communications Inc. (VZ) $47.82 -2.15%
Pfizer Inc. (PFE) $34.85 -2.10%
Johnson & Johnson (JNJ) $139.29 -1.76%
3M Co. (MMM) $230.93 -1.62%
Caterpillar Inc. (CAT) $135.70 -1.53%
Nike Inc. (NKE) $55.22 -1.33%
Unitedhealth Group Inc. (UNH) $209.94 -1.25%
Home Depot Inc. (HD) $165.96 -0.83%
S&P 500 - Risers
Mosaic Company (MOS) $22.60 7.93%
Endo International Plc (ENDP) $6.43 7.80%
Micron Technology Inc. (MU) $44.35 6.49%
Rockwell Automation Inc. (ROK) $200.75 6.34%
Tenet Healthcare Corp. (THC) $14.20 6.21%
CenturyLink Inc. (CTL) $18.49 5.75%
Wynn Resorts Ltd. (WYNN) $149.28 5.71%
LyondellBasell Industries (LYB) $104.65 5.70%
Mondelez International Inc. (MDLZ) $41.51 5.62%
Spectra Energy Corp. (SE) $14.74 5.21%
S&P 500 - Fallers
Under Armour Inc. Class A (UAA) $13.57 -15.40%
Mattel Inc. (MAT) $14.24 -8.57%
Mylan Inc. (MYL) $35.47 -7.24%
QUALCOMM Inc. (QCOM) $50.97 -6.75%
H&R Block Inc. (HRB) $24.77 -5.71%
Archer-Daniels-Midland Co. (ADM) $40.62 -5.70%
United States Steel Corp. (X) $24.99 -5.48%
SCANA Corp. (SCG) $43.95 -5.48%
Alexion Pharmaceuticals Inc. (ALXN) $121.11 -5.24%
Macy's Inc. (M) $18.67 -5.21%
Nasdaq 100 - Risers
Micron Technology Inc. (MU) $44.35 6.49%
Wynn Resorts Ltd. (WYNN) $149.28 5.71%
Mondelez International Inc. (MDLZ) $41.51 5.62%
Western Digital Corp. (WDC) $89.70 4.56%
Baidu Inc. (BIDU) $243.62 3.05%
Seagate Technology Plc (STX) $37.67 2.70%
Intel Corp. (INTC) $45.51 2.58%
Expedia Inc. (EXPE) $123.26 2.53%
Skyworks Solutions Inc. (SWKS) $114.14 1.91%
Cerner Corp. (CERN) $67.70 1.87%
Nasdaq 100 - Fallers
Mylan Inc. (MYL) $35.47 -7.24%
QUALCOMM Inc. (QCOM) $50.97 -6.75%
Alexion Pharmaceuticals Inc. (ALXN) $121.11 -5.24%
Vertex Pharmaceuticals Inc. (VRTX) $144.25 -3.53%
Hasbro Inc (HAS) $92.99 -2.60%
Viacom Inc. Class B (VIAB) $23.78 -1.86%
Discovery Communications Inc. Class A (DISCA) $18.72 -1.40%
Discovery Communications Inc. Class C (DISCK) $17.69 -1.31%
Idexx Laboratories Inc. (IDXX) $162.33 -1.27%
Netflix Inc. (NFLX) $195.90 -1.25%