US open: Stocks open lower as Dow hit by Walmart and Cisco earnings misses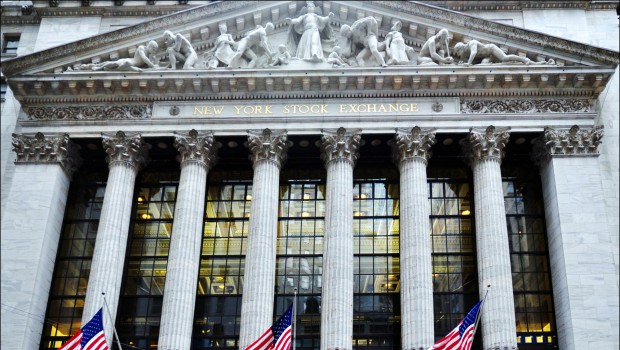 US stocks opened lower on Thursday, with Wall Street investors keeping a close eye on still-elevated bond yields, trade talks with China and a Dow being weighed down by the likes of Walmart and Cisco Systems.
At 1505 BST, the Dow Jones Industrial Average and Nasdaq had lost 0.16% and 0.02%, respectively, while the S&P 500 was flat.
Connor Campbell, a financial analyst at SpreadEx, said, "The Dow Jones wasn't ready to properly join in with the day's gains. Investors, seemingly put off by the strength of the dollar, fears over a US/China trade war, and the ongoing concerns over Trump pulling out of the Iranian nuclear deal, only sent the Dow 0.1% higher, leaving the index just shy of 24800."
Elsewhere, oil prices were in focus as Brent crude hit $80 a barrel for the first time since 2014 after France's Total threatened to withdraw from its large Iran gas field deal following the US decision to exit the Iran nuclear deal.
In the background, the US and China were set to begin their second round of talks aimed at averting a trade war.
"Interestingly though, Peter Navarro won't be the US key negotiator; instead, Steven Mnuchin, Wilbur Ross, and Robert Lighthizer will take the lead," said Hussein Sayed, chief market strategist at FXTM.
"Trump seems to have changed course with China, first in his attempt to save ZTE, and now by side-lining Peter Navarro. It's still difficult to predict how the negotiations will end, but we'll surely be in a better position compared to a few months ago."
Meanwhile, in bond markets, the yield on the 10-year Treasury note remained high at 3.11%, having risen to a seven-year peak a day earlier.
In corporate news, Cisco Systems was down 3.38% after the company's quarterly services revenue missed expectations late on Wednesday.
Video game publisher Take-Two Interactive picked up 1.25% in early trade despite displeasing results in its quarterly results late on Wednesday, as revenue forecast fell short of analysts' expectations.
Walmart lost 2.23% following the release of its first-quarter results and Children's Place lost 9.40% after its own quarterly numbers.
Elsewhere, Williams gained 1.72% after announcing that it would buy the remaining 26% stake that it does not already own in its master limited partnership, William Partners LP, for $10.5bn.
JC Penney tumbled 8.78% after posting disappointing guidance for the rest of the year.
Applied Materials and Nordstrom will release their numbers after the close of markets.
On the data front, New applications for US jobless benefits grew more than expected last week, however, the number of Americans on unemployment benefits dropped to its lowest level since 1973.
Initial claims for state unemployment benefits rose 11,000 to 222,000 for the week ended 12 May, the Labor Department said on Thursday, coming in ahead of consensus estimates that figures would jump to 215,000 in the latest week.
Claims for the week before were left unrevised.
Elsewhere, the Philadelphia Fed revealed that its manufacturing business outlook survey's current general activity index rose roughly 11 points to a reading of 34.4 in May, well above the economist consensus for a reading of 21 as manufacturers in the mid-Atlantic region, where an uptick in hiring was reported for the month so far, gave the numbers a boost. The survey's employment index rose to a seven-month high.
Readings for new orders soared in May, rising to 40.6 from 18.4 and the shipments index inched up to 25.8 from 23.9 in April.