US open: Stocks continue to push higher as dollar slips back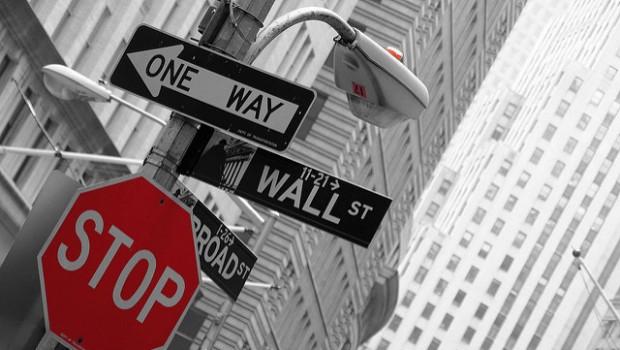 Wall Street's main market gauges are continuing to push higher, helped by another drop in the US dollar and as investors sift through earnings from the likes of JPMorgan and Wells Fargo.
As of 1558 GMT, the Dow Jones Industrials Average was up by 0.72% or 183.66 to 25,758.35, alongside an advance of 0.42% or 11.63 points to 2,779.17 on the S&P 500 and a gain of 0.46% or 33.25 points in the Nasdaq Composite to 7,244.33.
In parallel, the US dollar spot index was falling 0.62% to 91.28 and trading just off its 52-week low of 91.01, even as yields on 2-year Treasury notes topped the 2.0% mark for the first time since 2008 after the government reported a larger-than-expected 0.3% rise in 'core' consumer prices.
That reading on the cost of living in the US came alongside a stronger-than-expected 0.4% month-on-month reading on December retail sales, which was also boosting sentiment.
From a sector standpoint, the best performing areas of the market were: Coal (3.88%), Forestry&Paper (2.27%) and Oil Equipment services (2.09%).
Dragging the dollar to a three-year low against the euro was news of a breakthrough in German coalition talks after Angela Merkel's conservative Christian Democratic Union bloc and the Social Democrats agreed to a blueprint for formal coalition negotiations.
GKFX analyst David Morrison said investors were hopeful the US earnings season will provide yet more ammunition for another push higher.
"The major indices continue to record fresh record closes on an almost daily basis now. The latest leg of the rally coming in the wake of Trump's tax reforms which passed through Congress last month.
"[...] Traders continue to disregard warnings that the market is seriously overvalued while low volatility is disguising dangers inherent in the current frothy environment. Investors are still prepared to extend their exposure to stocks even as developed world central banks withdraw the monetary stimulus which boosted risk assets in the first place."
On the corporate front, earnings season kicked off in style, with money manager BlackRock posting better-than-expected fourth-quarter profit.
Shares of JPMorgan Chase were also active after its fourth-quarter earnings surpassed analysts' expectations, with earnings per share of $1.76 versus forecasts of $1.69.
Wells Fargo also posted better-than-expected fourth quarter earnings per share of $1.16, but that was not enough to push the shares to a fresh 52-week high.
Banking giants Goldman Sachs and Morgan Stanley were scheduled to release their latest earnings next week.
Elsewhere, stock in Facebook was down after the company announced plans to prioritise meaningful social interaction over branded content. In a post on the site, chief executive Mark Zuckerberg said branded content was "crowding out the personal moments that lead us to connect more with each other".
Dow Jones - Risers
Boeing Co. (BA) $334.99 2.11%
Home Depot Inc. (HD) $197.80 1.60%
Merck & Co. Inc. (MRK) $58.50 1.56%
3M Co. (MMM) $245.60 1.36%
Microsoft Corp. (MSFT) $89.26 1.34%
Unitedhealth Group Inc. (UNH) $227.74 1.04%
Travelers Company Inc. (TRV) $133.71 1.04%
Wal-Mart Stores Inc. (WMT) $100.91 0.89%
Johnson & Johnson (JNJ) $145.92 0.78%
JP Morgan Chase & Co. (JPM) $111.56 0.65%
Dow Jones - Fallers
General Electric Co. (GE) $18.90 -0.63%
Procter & Gamble Co. (PG) $89.72 -0.48%
Intel Corp. (INTC) $43.31 -0.23%
Verizon Communications Inc. (VZ) $52.05 -0.12%
American Express Co. (AXP) $100.65 -0.08%
International Business Machines Corp. (IBM) $164.14 -0.04%
Dowdupont Inc. (DWDP) $75.21 -0.01%
McDonald's Corp. (MCD) $173.39 0.00%
Coca-Cola Co. (KO) $46.05 0.02%
Chevron Corp. (CVX) $132.72 0.11%
S&P 500 - Risers
Target Corp. (TGT) $76.52 3.41%
Kohls Corp. (KSS) $63.14 3.30%
Motorola Solutions Inc (MSI) $96.54 3.20%
Seagate Technology Plc (STX) $50.49 3.03%
Nordstrom Inc. (JWN) $51.51 2.84%
Blackrock Inc. (BLK) $552.57 2.72%
Dollar Tree Inc (DLTR) $113.98 2.36%
Gen Dynamics Corp. (GD) $210.25 2.31%
Gap Inc. (GPS) $33.94 2.27%
Frontier Communications Co. (FTR) $7.89 2.18%
S&P 500 - Fallers
GameStop Corp. (GME) $17.91 -10.28%
AFLAC Inc. (AFL) $85.70 -6.53%
First Solar Inc. (FSLR) $72.59 -4.82%
Pitney Bowes Inc. (PBI) $12.81 -4.15%
Facebook Inc. (FB) $180.43 -3.91%
Spectra Energy Corp. (SE) $13.78 -3.16%
Varian Medical Systems Inc. (VAR) $108.29 -2.91%
Amer Water Works (AWK) $82.29 -2.89%
Ventas Inc. (VTR) $54.89 -2.38%
Southwestern Energy Co. (SWN) $5.41 -2.08%
Nasdaq 100 - Risers
Seagate Technology Plc (STX) $50.73 3.52%
Dollar Tree Inc (DLTR) $114.09 2.46%
American Airlines Group (AAL) $57.78 2.42%
Amazon.Com Inc. (AMZN) $1,298.52 1.71%
Illumina Inc. (ILMN) $244.10 1.69%
Baidu Inc. (BIDU) $254.45 1.69%
Adobe Systems Inc. (ADBE) $192.10 1.68%
Ross Stores Inc. (ROST) $83.74 1.43%
Netflix Inc. (NFLX) $220.25 1.39%
Microsoft Corp. (MSFT) $89.29 1.37%
Nasdaq 100 - Fallers
Facebook Inc. (FB) $180.07 -4.10%
Comcast Corp. (CMCSA) $42.20 -0.94%
Shire Plc Ads (SHPG) $147.25 -0.78%
Vertex Pharmaceuticals Inc. (VRTX) $157.21 -0.75%
Intuitive Surgical Inc. (ISRG) $418.45 -0.69%
Tesla Inc (TSLA) $335.82 -0.63%
Cintas Corp. (CTAS) $161.18 -0.53%
QUALCOMM Inc. (QCOM) $65.16 -0.41%
Mylan Inc. (MYL) $46.52 -0.41%
Cerner Corp. (CERN) $72.35 -0.40%