US close: Wall Street posts record closes as Fed looks to hike rates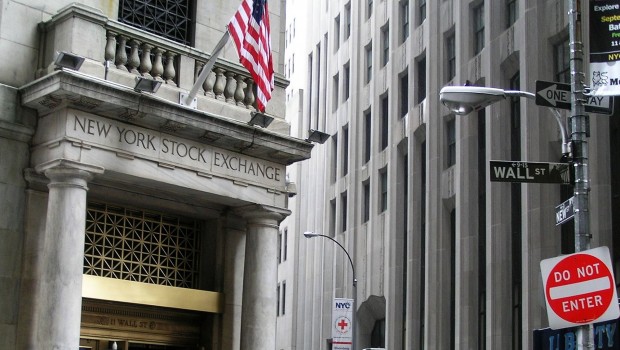 Markets on Wall Street finished at record levels on Wednesday, as traders digested the news that the Federal Reserve was likely to hike interest rates in December.
The Dow Jones Industrial Average was up 0.18% at 22,872.89, the S&P 500 added 0.18% to 2,555.24, and the Nasdaq Composite was ahead 0.25% at 6,603.55 - all record closes.
Minutes released from the most recent Federal Open Market Committee meeting showed the central bank was confident that the US economy was now resilient enough to withstand an increase in interest rate targets before the end of the calendar year.
"Consistent with the expectation that a gradual rise in the federal funds rate would be appropriate, many participants thought that another increase in the target range later this year was likely to be warranted if the medium-term outlook remained broadly unchanged," the minutes from 20 September read.
It satiated most market watchers, who were widely anticipating a rates hike come December already.
"Importantly the minutes also revealed that most FOMC participants did not assume fiscal stimulus in their individual forecasts or had lowered the expected magnitude of any stimulus," noted researchers at Oxford Economics after the release.
"This presents upside risk for short-term rates for 2018 in the event that a sizeable fiscal package is enacted.
"We look for a December rate hike as the consensus on the FOMC is poised to raise rates even though there remains great uncertainty as to why inflation rates continue to undershoot expectations."
On the corporate front, Delta Air Lines was ahead 0.7% after it released forecast-beating results, while BlackRock was up 1.81% for similar reasons.
Stock in Barracuda Networks lost 12% after the cloud computing firm made an announcement late on Tuesday that it was meeting earnings expectations, while beating forecasts for revenue.
Micron Technology was 0.41% higher after the chipmaker said late on Tuesday that it was looking to sell around $1bn of new shares.
Alibaba Group Holdings was off 0.13%, after the Chinese online retail behemoth said it was looking to triple research spending in a bid to keep up with the likes of Amazon.
Dow Jones - Risers
Johnson & Johnson (JNJ) $136.67 2.05%
Wal-Mart Stores Inc. (WMT) $85.68 1.90%
McDonald's Corp. (MCD) $163.15 1.60%
Visa Inc. (V) $108.44 1.05%
Coca-Cola Co. (KO) $46.08 0.50%
Chevron Corp. (CVX) $119.38 0.45%
Apple Inc. (AAPL) $156.55 0.42%
Exxon Mobil Corp. (XOM) $82.60 0.41%
Caterpillar Inc. (CAT) $128.58 0.32%
Unitedhealth Group Inc. (UNH) $195.27 0.30%
Dow Jones - Fallers
General Electric Co. (GE) $23.07 -1.24%
Walt Disney Co. (DIS) $98.52 -1.07%
Merck & Co. Inc. (MRK) $63.75 -1.05%
Nike Inc. (NKE) $51.03 -0.97%
Intel Corp. (INTC) $39.30 -0.88%
International Business Machines Corp. (IBM) $147.57 -0.59%
Verizon Communications Inc. (VZ) $48.85 -0.47%
United Technologies Corp. (UTX) $117.73 -0.32%
JP Morgan Chase & Co. (JPM) $96.84 -0.30%
Travelers Company Inc. (TRV) $125.61 -0.26%
S&P 500 - Risers
Endo International Plc (ENDP) $8.98 4.42%
Nucor Corp. (NUE) $57.35 3.54%
Target Corp. (TGT) $59.14 2.69%
Paypal Holdings Inc (PYPL) $67.78 2.63%
FLIR Systems Inc. (FLIR) $42.58 2.58%
Colgate-Palmolive Co. (CL) $74.71 2.52%
Dollar Tree Inc (DLTR) $91.23 2.16%
Johnson & Johnson (JNJ) $136.67 2.05%
Dollar General Corp (DG) $82.53 1.98%
FMC Corp. (FMC) $92.40 1.93%
S&P 500 - Fallers
Navient Corporation (NAVI) $11.79 -5.45%
Robert Half International Inc. (RHI) $48.74 -5.12%
Signet Jewelers Ltd (SIG) $64.09 -3.55%
GameStop Corp. (GME) $19.59 -3.16%
Best Buy Co. Inc. (BBY) $55.46 -2.96%
Coach Inc. (COH) $38.87 -2.83%
Advance Auto Parts (AAP) $89.40 -2.69%
Equifax Inc. (EFX) $110.50 -2.68%
Csra Inc. (CSRA) $31.03 -2.64%
Discovery Communications Inc. Class A (DISCA) $20.00 -2.58%
Nasdaq 100 - Risers
Liberty Global plc Series C (LBTYK) $31.49 2.71%
Paypal Holdings Inc (PYPL) $67.78 2.63%
Dollar Tree Inc (DLTR) $91.23 2.16%
Liberty Global plc Series A (LBTYA) $32.46 2.04%
Alphabet Inc. Class A (GOOGL) $1,005.65 1.81%
Broadcom Limited (AVGO) $250.40 1.79%
Alphabet Inc. Class C (GOOG) $989.25 1.71%
Intuitive Surgical Inc. (ISRG) $360.29 1.49%
CSX Corp. (CSX) $53.08 1.32%
Autodesk Inc. (ADSK) $118.57 1.30%
Nasdaq 100 - Fallers
Incyte Corp. (INCY) $111.62 -2.74%
Liberty Global Plc Lilac Class A (LILA) $23.63 -2.60%
Discovery Communications Inc. Class A (DISCA) $20.00 -2.58%
Twenty-First Century Fox Inc Class B (FOX) $25.48 -2.56%
Twenty-First Century Fox Inc Class A (FOXA) $26.11 -2.47%
Discovery Communications Inc. Class C (DISCK) $18.93 -2.42%
Ulta Salon, Cosmetics & Fragrance Inc. (ULTA) $207.89 -2.26%
Liberty Global Plc Lilac Class C (LILAK) $23.43 -2.25%
Alexion Pharmaceuticals Inc. (ALXN) $141.23 -1.81%
Regeneron Pharmaceuticals Inc. (REGN) $452.97 -1.77%