US close: Stocks finish higher on impressive factory data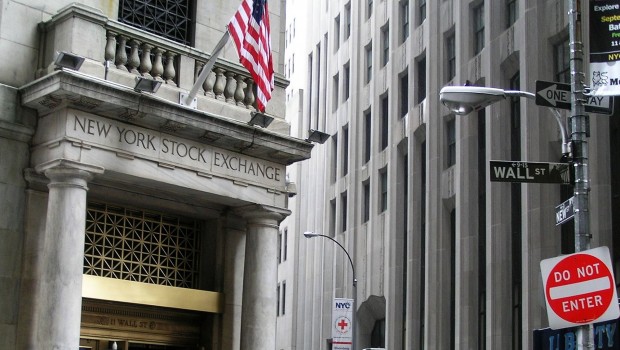 Stocks started the week higher on Monday, on the back of a stronger-than-expected reading on the Empire State factory index and amid somewhat hawkish Fedpseak.
The Dow Jones Industrial Average finished up 0.37% at 22,956.96, the S&P 500 was ahead 0.18% at 2,557.64, and the Nasdaq 100 ended the session 0.36% firmer at 6,114.53.
Contributing to those gains was the head of the Federal Reserve bank of Boston, Eric Rosengren, who on Saturday told the Wall Street Journal that the US central bank would probably need to raise short-term rates again in December and three or four more times over the course of 2018.
Additionally, he said that should inflation reached the Fed's target level even as unemployment was below 4%, that might be a signal of an 'overheating' economy.
For her part, Fed chief Janet Yellen said rate-setters continued to expect economic strength would justify gradual rate increases in order to stabilise inflation around the central bank's 2% target.
In economic news, the Empire State manufacturing index for October printed ahead of forecasts, rising from a reading of 24.4 for the month before to 30.2.
"On the face of it, the Empire State headline is consistent with the national ISM manufacturing index nudging up even further from September's already-elevated 60.1," said Ian Shepherdson at Pantheon Macroeconomics.
"Either way, the overall message from this and other surveys is that the industrial sector is very strong."
On the corporate front, Netflix finished up 1.6% ahead of earnings due after the closing bell, while banking giants Goldman Sachs and Morgan Stanley were slated to report on Tuesday.
Their shares were up 1.59% and 1.24% on Monday, respectively.
Shares of California utility PG&E were also in focus as the company said it may face liabilities resulting from the wildfires which were still raging in that US state.
It finished the session down 7.42%.
Dow Jones - Risers
JP Morgan Chase & Co. (JPM) $97.84 2.07%
Apple Inc. (AAPL) $159.88 1.84%
Travelers Company Inc. (TRV) $128.81 1.70%
General Electric Co. (GE) $23.36 1.65%
Goldman Sachs Group Inc. (GS) $242.41 1.63%
Coca-Cola Co. (KO) $46.63 0.95%
Chevron Corp. (CVX) $120.13 0.81%
Nike Inc. (NKE) $51.37 0.77%
Walt Disney Co. (DIS) $98.10 0.74%
Caterpillar Inc. (CAT) $131.47 0.58%
Dow Jones - Fallers
Wal-Mart Stores Inc. (WMT) $85.74 -1.02%
Pfizer Inc. (PFE) $35.97 -0.99%
American Express Co. (AXP) $91.96 -0.97%
Boeing Co. (BA) $259.73 -0.39%
Visa Inc. (V) $108.28 -0.35%
Johnson & Johnson (JNJ) $136.02 -0.23%
McDonald's Corp. (MCD) $165.01 -0.22%
International Business Machines Corp. (IBM) $146.80 -0.20%
Home Depot Inc. (HD) $164.18 -0.15%
Merck & Co. Inc. (MRK) $63.34 -0.08%
S&P 500 - Risers
DaVita Inc (DVA) $56.94 4.04%
Freeport-McMoRan Inc (FCX) $15.27 3.53%
Wynn Resorts Ltd. (WYNN) $146.81 3.15%
Apache Corp. (APA) $42.73 2.74%
Micron Technology Inc. (MU) $41.49 2.70%
Noble Energy Inc. (NBL) $27.88 2.69%
Diamond Offshore Drilling Inc. (DO) $15.45 2.39%
Discover Financial Services (DFS) $65.35 2.30%
Hess Corp. (HES) $46.02 2.29%
NRG Energy Inc. (NRG) $26.64 2.21%
S&P 500 - Fallers
PG&E Corp. (PCG) $53.43 -7.43%
Endo International Plc (ENDP) $7.62 -6.73%
Nordstrom Inc. (JWN) $40.40 -5.26%
Kroger Co. (KR) $20.44 -4.04%
Phillips 66 Common Stock (PSX) $90.87 -3.77%
Allergan plc (AGN) $198.40 -3.48%
Mallinckrodt Plc Ordinary Shares (MNK) $32.27 -3.06%
Legg Mason Inc. (LM) $37.62 -2.89%
United States Steel Corp. (X) $26.67 -2.52%
Bristol-Myers Squibb (BMY) $63.65 -2.51%
Nasdaq 100 - Risers
Baidu Inc. (BIDU) $272.82 3.86%
Wynn Resorts Ltd. (WYNN) $146.81 3.15%
Micron Technology Inc. (MU) $41.49 2.70%
JD.com, Inc. (JD) $39.67 2.45%
Applied Materials Inc. (AMAT) $55.04 2.04%
Incyte Corp. (INCY) $116.60 2.00%
KLA-Tencor Corp. (KLAC) $107.33 1.93%
Liberty Global plc Series C (LBTYK) $31.56 1.87%
Apple Inc. (AAPL) $159.88 1.84%
Liberty Global plc Series A (LBTYA) $32.59 1.72%
Nasdaq 100 - Fallers
Mercadolibre Inc. (MELI) $233.00 -4.86%
Ulta Salon, Cosmetics & Fragrance Inc. (ULTA) $193.70 -2.46%
Intuitive Surgical Inc. (ISRG) $353.55 -2.41%
Liberty Global Plc Lilac Class A (LILA) $22.77 -2.40%
J.B. Hunt Transport Services Inc. (JBHT) $101.64 -2.28%
Adobe Systems Inc. (ADBE) $150.46 -2.25%
Cerner Corp. (CERN) $72.08 -2.03%
Paypal Holdings Inc (PYPL) $67.31 -1.97%
eBay Inc. (EBAY) $37.77 -1.51%
Liberty Global Plc Lilac Class C (LILAK) $22.88 -1.51%