US close: Stocks end choppy session higher after Trump news conference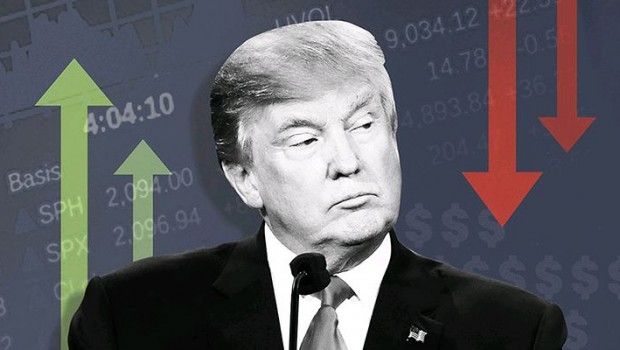 US stocks ended a choppy session higher on Wednesday, with the Dow closing less than 50 points shy of the 20,000 mark following Donald Trump's first major speech since he was elected President on 8 November.
The Dow Jones Industrial Average rose 0.5% to 19,954.28, while the S&P 500 closed up 0.3% at 2,275.32 and the Nasdaq added 0.2% to end at a record 5,563.65.
Energy-related shares posted the biggest gains as oil prices rose, but biotech and pharmaceutical companies slid after Trump said in his speech that they were "getting away with murder" when it comes to drug prices. Exxon and Chevron advanced, while Alexion Pharmaceuticals, Biomarin Pharmaceuticals, Shire, Mylan and Biogen were among the biggest losers.
Oil prices settled higher, supported by a weaker dollar following Trump's news conference, and despite data showing a larger-than-expected build in weekly US crude and fuel inventories. West Texas Intermediate and Brent crude were up 3.1% to $52.42 per barrel and $55.34, respectively.
During his speech, Trump slammed "fake news", including reports that Russia has compromising material about the country's new leader. He also criticised Obamacare as a "complete disaster" and said that it will be repealed and replaced.
Trump also said US companies will be hit with a "major border tax" in order to protect jobs if they expand manufacturing facilities abroad for products to be sold domestically.
Ahead of his speech, Russia denied that it held compromising material on Trump, saying a dossier of unverified allegations was an "absolute fabrication" and a ploy to hurt relations between the US and Russia.
Naeem Aslam, chief market analyst at Think Markets, said: "The biggest impact on markets out of Trump news conference was on Biotech firms. You cannot say that this was not going to happen, as he has mentioned this a few times last year. But the reaction by investors was pure panic and we have experienced many traders pressing the sell button.
"We expect the US biotech and pharmaceutical sector to be very volatile in the coming days and any mergers and acquisition will not be that easy. Trump is going to create more competition among drug makers which is great for consumers as the price will become more competitive but not so good if you are the shareholder of the firm.
In corporate news, Supervalu slumped after the supermarket chain reported that it swung to a surprise loss in the most recent quarter.
Synnex Corp. nudged up after posting a 37% increase in fourth-quarter profit.
Merck & Co. gained after saying late on Tuesday that the US Food and Drug Administration will grant a priority review for one of its lung cancer drugs.
S&P 500 - Risers
First Solar Inc. (FSLR) $35.00 +4.82%
CF Industries Holdings Inc. (CF) $34.19 +4.46%
Transocean Ltd. (RIG) $15.75 +4.03%
AES Corp. (AES) $11.77 +3.88%
NRG Energy Inc. (NRG) $14.10 +3.52%
Alcoa Corporation (AA) $31.97 +3.20%
Coca-Cola European Partners Limited (CCE) $32.50 +3.17%
ConocoPhillips (COP) $51.22 +3.14%
Diamond Offshore Drilling Inc. (DO) $19.47 +3.07%
Anadarko Petroleum Corp. (APC) $71.60 +2.90%
S&P 500 - Fallers
Endo International Plc (ENDP) $14.01 -8.49%
Perrigo Company plc (PRGO) $77.88 -6.90%
Mallinckrodt Plc Ordinary Shares (MNK) $50.44 -6.16%
Bristol-Myers Squibb (BMY) $56.80 -5.30%
Alexion Pharmaceuticals Inc. (ALXN) $136.66 -4.88%
AbbVie Inc (ABBV) $61.14 -4.57%
Mylan Inc. (MYL) $37.28 -4.29%
Amerisource Bergen Corp. (ABC) $81.53 -3.89%
Biogen Inc (BIIB) $287.11 -3.59%
Patterson Companies Inc. (PDCO) $40.47 -3.16%
Dow Jones I.A - Risers
Merck & Co. Inc. (MRK) $61.63 +2.85%
International Business Machines Corp. (IBM) $167.75 +1.35%
Goldman Sachs Group Inc. (GS) $245.76 +1.32%
Intel Corp. (INTC) $36.95 +1.12%
Exxon Mobil Corp. (XOM) $86.81 +1.02%
Walt Disney Co. (DIS) $109.44 +0.98%
Microsoft Corp. (MSFT) $63.19 +0.91%
Caterpillar Inc. (CAT) $94.65 +0.87%
Chevron Corp. (CVX) $115.93 +0.84%
JP Morgan Chase & Co. (JPM) $87.08 +0.75%
Dow Jones I.A - Fallers
Pfizer Inc. (PFE) $32.83 -1.82%
Johnson & Johnson (JNJ) $114.73 -1.23%
Nike Inc. (NKE) $52.69 -0.79%
Cisco Systems Inc. (CSCO) $30.15 -0.76%
Verizon Communications Inc. (VZ) $52.46 -0.57%
Home Depot Inc. (HD) $135.70 -0.29%
United Technologies Corp. (UTX) $111.00 -0.23%
Nasdaq 100 - Risers
Liberty Global plc Series A (LBTYA) $34.91 +2.65%
Cerner Corp. (CERN) $50.51 +2.52%
Microchip Technology Inc. (MCHP) $66.48 +2.51%
Intuitive Surgical Inc. (ISRG) $678.16 +2.41%
Activision Blizzard Inc. (ATVI) $39.20 +2.14%
Walgreens Boots Alliance, Inc. (WBA) $84.43 +2.13%
Sba Communications Corp. (SBAC) $104.71 +2.06%
Mondelez International Inc. (MDLZ) $45.07 +2.04%
Liberty Global plc Series C (LBTYK) $33.37 +2.02%
Fastenal Co. (FAST) $47.43 +1.98%
Nasdaq 100 - Fallers
Alexion Pharmaceuticals Inc. (ALXN) $136.66 -4.88%
Biomarin Pharmaceutical Inc. (BMRN) $86.07 -4.79%
Shire Plc Ads (SHPG) $169.57 -4.33%
Mylan Inc. (MYL) $37.28 -4.29%
Biogen Inc (BIIB) $287.11 -3.59%
Incyte Corp. (INCY) $115.29 -3.36%
Regeneron Pharmaceuticals Inc. (REGN) $364.47 -2.29%
Celgene Corp. (CELG) $117.24 -2.28%
T-Mobile Us, Inc. (TMUS) $57.46 -2.18%
Seagate Technology Plc (STX) $36.87 -2.02%