US close: S&P 500 sets new record as oil and tech stocks gain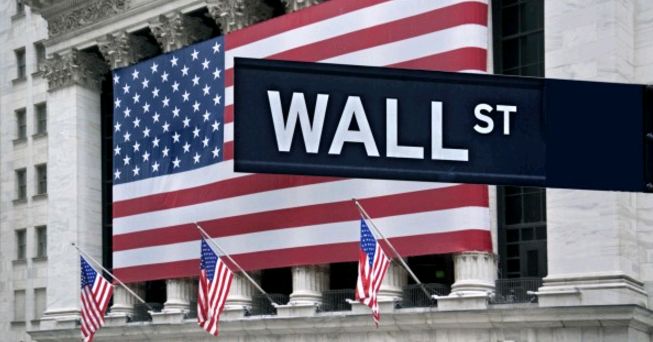 Wall Street got off on the front foot as trading floors opened for 2018 with stock indices led higher by oil and tech as the dollar and Treasuries suffered a new year hangover.
The S&P 500 added 22.2 points or 0.8% to reach a record closing high of 2,695.81, while the Dow Jones Industrial Average gained 104.79 points or 0.42% to 24,824.01 by Tuesday's closing bell and the Nasdaq Composite regained the 7,000 mark with a rise of 103.5 points or 1.5%. Earlier, European stocks finished lower but Asian markets enjoyed a strong session.
US equities were helped by a fall in the dollar, with the dollar index down 0.4% lower to 91.87, while the yield on the benchmark 10-year US Treasury note was up five basis points to 2.46%.
Oil started strong and while not able to gain new highs, West Texas Intermediate hung onto the $60, which remains not far from three year highs. Anti-government protests in Iran have helped fuel buying in the energy market as the country is one of the biggest oil producers in the world.
"Whenever there is political upheaval in the Middle East oil traders usually fears for the worst and stock up as they fear that supply lines will be disrupted," said analyst David Madden at CMC Markets.
A slight boost for markets was also incoming from the strongest reading on the manufacturing sector from IHS Markit's purchasing managers' index since March 2015. The December PMI climbed to 55.1 points from 53.9 the month before, though the Street consensus had been for a rise to 56.1.
Chris Williamson, chief business economist at Markit said: "The combination of strengthening growth, a solid labour market and rising prices will add to expectations that the Fed will remain on track for another rate hike in the near future, with March looking a likely possibility."
Corporate news was sparse apart from thanks to broker action, although Apple was making headlines after analysts at Piper Jaffray reiterated their 'outperform' stance and $200 target price for the iPhone maker, telling clients the company was in a "super-long cycle".
Likewise, Netflix and Disney were up on renewed talk that Donald Trump's newly passed tax cuts could allow Apple to splash some of the $220bn of cash it is due to bring back into the country on some acquisitions in the media space.
Retailers JC Penney, Nordstrom and Kohl's made ground after a bullish Citigroup note on the sector also set out potential benefits from the new corporate tax regime.
Software heavyweight Oracle on the other hand was under pressure on the heels of a report that Amazon and Salesforce were developing their plans to use their own in-house database solutions.
Casino operators Wynn Resorts and Melco Resorts slipped on data showing a disappointingly low rise in Macau gambling revenue last month.
Dow Jones - Risers
Walt Disney Co. (DIS) $111.80 3.67%
General Electric Co. (GE) $17.98 3.04%
Apple Inc. (AAPL) $172.26 1.79%
Chevron Corp. (CVX) $127.58 1.74%
Exxon Mobil Corp. (XOM) $85.03 1.66%
Nike Inc. (NKE) $63.49 1.50%
Intel Corp. (INTC) $46.85 1.49%
Cisco Systems Inc. (CSCO) $38.86 1.46%
Verizon Communications Inc. (VZ) $53.52 1.13%
Dowdupont Inc. (DWDP) $71.89 0.95%
Dow Jones - Fallers
Travelers Company Inc. (TRV) $131.98 -2.70%
Procter & Gamble Co. (PG) $90.65 -1.34%
Home Depot Inc. (HD) $188.03 -0.79%
Coca-Cola Co. (KO) $45.54 -0.74%
American Express Co. (AXP) $98.94 -0.37%
Johnson & Johnson (JNJ) $139.24 -0.35%
Caterpillar Inc. (CAT) $157.02 -0.34%
Wal-Mart Stores Inc. (WMT) $98.59 -0.16%
Merck & Co. Inc. (MRK) $56.22 -0.09%
3M Co. (MMM) $235.64 -0.05%
S&P 500 - Risers
Frontier Communications Co. (FTR) $7.27 7.54%
Advance Auto Parts (AAP) $106.12 6.41%
United States Steel Corp. (X) $37.42 6.34%
Micron Technology Inc. (MU) $43.67 6.20%
Southwestern Energy Co. (SWN) $5.91 5.91%
Tenet Healthcare Corp. (THC) $16.00 5.47%
Range Resources Corp. (RRC) $17.93 5.04%
Biogen Inc (BIIB) $334.17 4.90%
Apache Corp. (APA) $44.30 4.88%
Patterson Companies Inc. (PDCO) $37.88 4.84%
S&P 500 - Fallers
VeriSign Inc. (VRSN) $109.47 -4.34%
XL Group Ltd (XL) $34.02 -3.24%
Chubb Corp. (CB) $142.28 -2.80%
Travelers Company Inc. (TRV) $131.98 -2.70%
Allstate Corp (The) (ALL) $101.92 -2.66%
Amer Water Works (AWK) $89.07 -2.63%
Wynn Resorts Ltd. (WYNN) $164.30 -2.54%
Clorox Co. (CLX) $144.99 -2.52%
Cincinnati Financial Corp. (CINF) $73.08 -2.52%
Willis Towers Watson Public Limited Company (WLTW) $146.99 -2.46%