Josh White Sharecast | 10 Aug, 2017
21:39

- Updated: 21:39
US close: Markets lower as Korea tensions increase safe haven appeal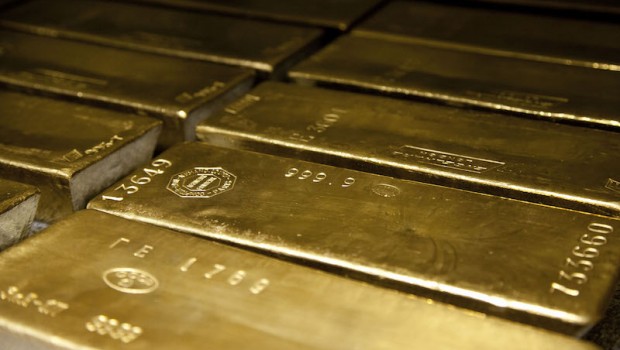 Simmering tensions around the Korean peninsula saw Wall Street steer a wide berth around stocks amid the still unsettled geopolitical waters on Thursday
The Dow Jones Industrial Average was 0.93% lower at 21,844.01, the S&P 500 lost 1.45% to 2,438.21, and the Nasdaq 100 was 2.22% softer at 5,788.19.
At the same time, the Chicago Board of Options Exchange's options volatility index, or VIX, was up by 44.37%.
Commodity investors were looking at a positive start to the day earlier, with both gold and crude oil futures wanted.
Oil prices finished lower, however, with Brent crude last down 1.82% at $51.76 per barrel, and West Texas Intermediate losing 2.31% to $48.44.
The price was boosted earlier by reports the world's thirst for black oil would reach 1.37m barrels a day in 2017, OPEC said in its Oil Market Report for August.
That was 100,000 b/d more than it had forecast in July.
Gold was still positive as investors clambered for safe havens, with the spot price last up $12 to $1,288.30 per ounce.
Setting the mood music for markets on Thursday, the head of North Korea's Strategic Forces, General Kim Rak Gyom, continued the war of words between Pyongyang and DC overnight.
"Sound dialogue is not possible with such a guy bereft of reason and only absolute force can work on him," the general reportedly said.
In economic news, the latest readings on the US jobs market and factory gate prices came in as expected.
The US jobs markets continued to tick along at a solid pace last week with just a very slight increase in the pace of layoffs, according to the Department of Labor.
Initial unemployment claims edged higher by 3,000 to reach 244,000 over the week ending on 5 August, while economists had penciled in an unchanged reading of 240,000.
A separate report showed US factory gate prices dipped by 0.1% month-on-month in July, in line with the consensus and alongside a flat reading at the 'core' level, which was forecast to rise 0.2%.
On the corporate front, shares of department store operator Macy's took a 10.25% hit after the firm reaffirmed its guidance for a drop of between 2.2% and 3.3% in its full-year like-for-like sales on an owned basis.
Dow Jones - Risers
McDonald's Corp. (MCD) $156.62 1.10%
Coca-Cola Co. (KO) $45.74 0.33%
International Business Machines Corp. (IBM) $141.84 0.05%
Pfizer Inc. (PFE) $33.42 -0.09%
Johnson & Johnson (JNJ) $133.14 -0.11%
3M Co. (MMM) $206.32 -0.12%
Procter & Gamble Co. (PG) $91.76 -0.20%
Travelers Company Inc. (TRV) $129.69 -0.35%
United Technologies Corp. (UTX) $116.76 -0.38%
Verizon Communications Inc. (VZ) $48.02 -0.41%
Dow Jones - Fallers
Apple Inc. (AAPL) $155.32 -3.56%
Goldman Sachs Group Inc. (GS) $225.50 -2.39%
Cisco Systems Inc. (CSCO) $31.00 -1.96%
General Electric Co. (GE) $25.30 -1.59%
Exxon Mobil Corp. (XOM) $78.97 -1.55%
Visa Inc. (V) $99.49 -1.47%
Microsoft Corp. (MSFT) $71.41 -1.46%
Walt Disney Co. (DIS) $101.35 -1.44%
JP Morgan Chase & Co. (JPM) $92.19 -1.43%
Nike Inc. (NKE) $59.07 -1.39%
S&P 500 - Risers
Perrigo Company plc (PRGO) $76.84 15.78%
Darden Restaurants Inc. (DRI) $82.59 1.54%
FirstEnergy Corp. (FE) $32.04 1.36%
CBS Corp. (CBS) $66.19 1.29%
AES Corp. (AES) $11.39 1.16%
McDonald's Corp. (MCD) $156.62 1.10%
Newmont Mining Corp. (NEM) $36.44 0.94%
Monster Beverage Corp (MNST) $52.52 0.94%
General Mills Inc. (GIS) $56.29 0.93%
L3 Technologies Inc (LLL) $183.31 0.86%
S&P 500 - Fallers
Macy's Inc. (M) $20.67 -10.25%
Signet Jewelers Ltd (SIG) $55.65 -7.63%
Urban Outfitters Inc. (URBN) $17.19 -6.07%
Kohls Corp. (KSS) $39.50 -5.80%
Chesapeake Energy Corp. (CHK) $4.13 -5.26%
Endo International Plc (ENDP) $7.55 -4.91%
Stericycle Inc. (SRCL) $71.44 -4.82%
Bed Bath & Beyond Inc. (BBBY) $28.40 -4.63%
Alliance Data Systems Corp. (ADS) $222.14 -4.40%
Nordstrom Inc. (JWN) $44.87 -4.29%
Nasdaq 100 - Risers
Monster Beverage Corp (MNST) $52.52 0.94%
Mylan Inc. (MYL) $32.29 0.65%
Liberty Global Plc Lilac Class C (LILAK) $26.61 0.30%
Comcast Corp. (CMCSA) $40.73 0.25%
Twenty-First Century Fox Inc Class A (FOXA) $27.88 -0.07%
J.B. Hunt Transport Services Inc. (JBHT) $92.10 -0.08%
Costco Wholesale Corp. (COST) $156.64 -0.14%
Twenty-First Century Fox Inc Class B (FOX) $27.47 -0.15%
Paychex Inc. (PAYX) $54.78 -0.24%
Viacom Inc. Class B (VIAB) $30.07 -0.33%
Nasdaq 100 - Fallers
NetEase Inc. Ads (NTES) $284.25 -9.78%
Mercadolibre Inc. (MELI) $232.64 -7.51%
Incyte Corp. (INCY) $122.12 -6.12%
Ctrip.Com International Ltd. Ads (CTRP) $54.55 -5.48%
Nvidia Corp. (NVDA) $164.74 -4.28%
Tractor Supply Company (TSCO) $53.20 -4.13%
Applied Materials Inc. (AMAT) $42.03 -4.06%
Celgene Corp. (CELG) $130.37 -3.84%
Micron Technology Inc. (MU) $27.49 -3.81%
Netflix Inc. (NFLX) $169.14 -3.78%