US close: Markets finish higher as Trump addresses UN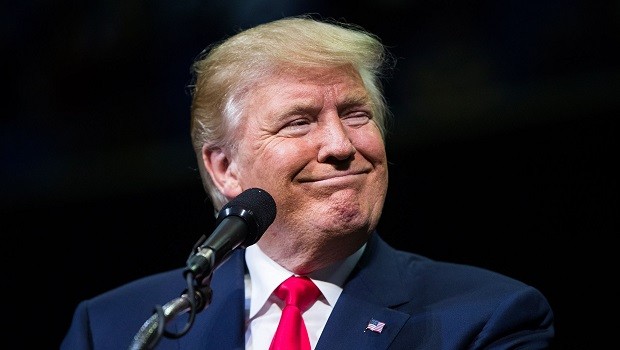 Stocks on Wall Street finished higher on Tuesday as investors listened in on a speech by the American president to the United Nations general assembly, and ahead of the US Federal Reserve's policy decision the next day.
The Dow Jones Industrial Average added 0.18% to 22,370.80, while the S&P 500 finished ahead 0.11% at 2,506.65 and the Nasdaq 100 was 0.17% firmer at 5,991.08.
Giving sentiment a boost, a CNBC report reignited speculation of a potential merger between Sprint and T-Mobile, lighting a fire under the entire telecoms space.
Additionally, in a speech at the UN's New York headquarters US president Donald Trump told the General Assembly "much more" needed to be done on North Korea and labelled Tehran a "murderous regime".
Looking out to the next session, following their two days of meetings rate-setters at the US central bank were expected to announce the start of their balance sheet tapering, which many analysts appeared to believe would go largely unnoticed because it had been clearly 'telegraphed' for some time now.
However, there was slight uncertainty about by just how much the Fed would adjust its guidance for interest rate increases over the next two years, although quite a few analysts appeared to be rather skeptical that it would be able to raise the Fed funds rate by more than twice or thrice by year-end 2018.
On a related note, perhaps, Jim Reid at Deutsche Bank told clients: "there are a number of areas of the global financial system that look at extreme levels.
"This includes valuations in many asset classes, the unique size of central bank balance sheets, sky high debt levels, ultra-low interest rates and even the level of potentially game-changing populist political support around the globe.
Economic data on Tuesday came in mixed, with US housing starts printing at an annualised pace of 1.18m for August, according to the Department of Commerce, as economists correctly forecast.
Meanwhile, according to the Bureau of Economic Analysis over the three months to June the country's shortfall on its current account deficit grew from -$113.5bn one year ago to -$123.1bn (consensus: -$110.5bn).
In other corporate news, privately-held Toys R' Us vied with telecoms shares for investors' attention after the toy retailer succumbed to pressure from its digital rivals, forcing it to file for Chapter 11.
The news dragged down its suppliers such as Mattel initially, although that stock finished 1.21% above the waterline.
Pharmacy retail giant Walgreens Boots Alliance announced plans to buy 1,932 establishments and three distribution centres from rival Rite Aid for $4.38bn, sending its stock down 1.68%.
Post Holdings was also in the headlines after disclosing it would buy Bob Evans Farms' equity for roughly $1.5bn - its shares finished 0.62% higher.
Shares in AutoZone slid 5.87%, despite the company posting better-than-expected top and bottom line figures for its fiscal fourth quarter.
Dow Jones - Risers
Verizon Communications Inc. (VZ) $49.35 2.60%
American Express Co. (AXP) $89.00 1.29%
JP Morgan Chase & Co. (JPM) $93.94 1.10%
Procter & Gamble Co. (PG) $94.21 1.10%
Chevron Corp. (CVX) $116.34 1.00%
United Technologies Corp. (UTX) $113.55 0.78%
Caterpillar Inc. (CAT) $124.74 0.73%
Intel Corp. (INTC) $37.23 0.62%
Goldman Sachs Group Inc. (GS) $228.91 0.61%
Visa Inc. (V) $105.41 0.55%
Dow Jones - Fallers
Unitedhealth Group Inc. (UNH) $194.62 -1.79%
General Electric Co. (GE) $24.20 -1.06%
Nike Inc. (NKE) $53.33 -0.32%
Coca-Cola Co. (KO) $45.98 -0.28%
Pfizer Inc. (PFE) $35.47 -0.28%
Boeing Co. (BA) $252.68 -0.24%
Johnson & Johnson (JNJ) $135.22 -0.12%
Travelers Company Inc. (TRV) $120.58 -0.12%
International Business Machines Corp. (IBM) $144.40 -0.11%
Home Depot Inc. (HD) $157.66 -0.10%
S&P 500 - Risers
Leucadia National Corp. (LUK) $24.29 3.94%
NRG Energy Inc. (NRG) $24.62 3.27%
Alcoa Corporation (AA) $46.20 2.87%
Progressive Corp. (PGR) $47.62 2.85%
Deere & Co. (DE) $123.09 2.66%
NetApp Inc. (NTAP) $41.71 2.66%
Verizon Communications Inc. (VZ) $49.35 2.60%
Freeport-McMoRan Inc (FCX) $14.48 2.48%
Wynn Resorts Ltd. (WYNN) $147.01 2.20%
AT&T Inc. (T) $38.23 2.11%
S&P 500 - Fallers
Best Buy Co. Inc. (BBY) $52.75 -8.00%
Centene Corp. (CNC) $89.77 -5.08%
AutoZone Inc. (AZO) $535.19 -5.01%
Frontier Communications Co. (FTR) $11.97 -4.39%
Seagate Technology Plc (STX) $32.18 -4.00%
Kellogg Co. (K) $65.87 -3.99%
Advance Auto Parts (AAP) $94.85 -3.78%
O'Reilly Automotive Inc. (ORLY) $202.91 -3.41%
Humana Inc. (HUM) $240.04 -3.38%
Under Armour Inc. Class A (UAA) $16.81 -3.22%
Nasdaq 100 - Risers
T-Mobile Us, Inc. (TMUS) $65.42 5.86%
Wynn Resorts Ltd. (WYNN) $147.01 2.20%
Hasbro Inc (HAS) $94.99 1.88%
Marriott International - Class A (MAR) $107.35 1.71%
Facebook Inc. (FB) $172.52 1.48%
Micron Technology Inc. (MU) $35.95 1.47%
Paypal Holdings Inc (PYPL) $63.83 1.45%
Mattel Inc. (MAT) $15.05 1.21%
Symantec Corp. (SYMC) $34.16 1.15%
KLA-Tencor Corp. (KLAC) $102.01 1.09%
Nasdaq 100 - Fallers
Seagate Technology Plc (STX) $32.18 -4.00%
O'Reilly Automotive Inc. (ORLY) $202.91 -3.41%
Tesla Inc (TSLA) $375.10 -2.57%
Henry Schein Inc. (HSIC) $79.14 -2.18%
Illumina Inc. (ILMN) $204.95 -2.13%
American Airlines Group (AAL) $44.38 -2.05%
NetEase Inc. Ads (NTES) $287.28 -2.05%
Walgreens Boots Alliance, Inc. (WBA) $81.21 -1.68%
Mylan Inc. (MYL) $30.98 -1.65%
Express Scripts Holding Co (ESRX) $61.00 -1.63%