US close: American Express lifts Dow as sector earnings continue to impress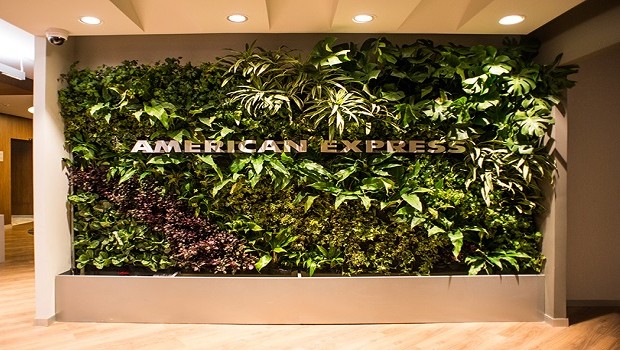 Wall Street marched higher on Thursday as American Express earnings highlighted consumer spending strength, while a combination of strong financial sector earnings and a oil prices in the previous session.
At the close, the Dow Jones Industrial Average had added 0.85% to 20,578.71, the S&P 500 0.76% to 2,355.84, and the Nasdaq 0.92% to 5,916.78.
Meanwhile, oil prices consolidated after heavy losses the previous day, as data showed an unexpected 1.5m barrel build in gasoline stocks last week. West Texas Intermediate and Brent crude were little moved at $50.27 and $52.99 per barrel, respectively.
Earlier, Saudi Arabia's energy minister Khalid al-Falih said that Opec is likely to agree to extend production cuts into the second half of 2017 at the cartel's next meeting on 25 May.
Jasper Lawler, senior market analyst at London Capital Group, said that with US output rising, Opec had not quite done enough to reduce the supply-glut and he expects the extension to go ahead.
In currency markets, the dollar index was little changed. The greenback regained ground against the euro to 1.0713 after the single currency hit a three-week high on a poll that showed that centrist Emmanuel Macron would likely win the French presidential election. Against the pound the greenback fell 0.28% to 0.7804 and versus the yen it rose 0.48% to 109.38.
Investors were also keeping an eye on events in Washington and a possible government shutdown.
Lawler said: "Investors remain concerned that Donald Trump's tax and spending plans are getting derailed by foreign affairs. House speaker Paul Ryan saying he sees a long battle over tax reform is a reality many 'reflation'-inspired investors are loath to face up to."
On the data front, the number of Americans claiming unemployment fell to 17-year low in April, suggesting that the labour market is tightening.
Initial jobless claims increased 10,000 to 244,000 for the week ended 1 April.
The number of new applicants for unemployment benefits registered less than 300,000 for 111 straight weeks. Continuing jobless claims fell by 49,000 to 19.98m.
Meanwhile, the Philadelphia Fed manufacturing index fell to 22.0 in April from 32.8 the month earlier and lower than the 25.5 reading expected.
Earnings season kept corporate watchers busy, with American Express the next in line from the banking sector to beat expectations as profits of $1.34 a share came in well above expectations as revenues rose on the back of higher spending by consumers on their cards.
Credit card rival Visa was lifted higher too while Goldman Sachs bounced a little from its big earnings-miss fall on Tuesday.
In the wider financials space, investment giant Blackstone Group climbed after beating first quarter profit expectations, while insurer Travelers fell 1.84% after the company boosted its dividend but reported a 12% fall in first quarter profit.
United States Steel was one of several steel companies that surged after Trump signed a directive demanding an immediate investigation into whether imports of foreign-made steel were hurting US national security.
Alliance Data Systems impressed by holding its earnings flat and maintaining its outlook.
Among fallers, Philip Morris International fell after the tobacco company missed first quarter earnings and profit forecasts, while Ebay was down after its first-quarter profit and revenue rose but the company said second-quarter profit will be below expectations.
Foot Locker tripped lower after the company cut its full-year earnings per share growth outlook to mid-single digits from double-digit.
Chip designer Qualcomm lost ground despite its second-quarter earnings late on Wednesday beating analysts' estimates, while Verizon Communications was weaker after its first-quarter earnings disappointed.
Dow Jones - Risers
American Express Co. (AXP) $80.02 5.92%
Goldman Sachs Group Inc. (GS) $218.07 1.85%
Visa Inc. (V) $91.15 1.56%
Unitedhealth Group Inc. (UNH) $171.54 1.35%
JP Morgan Chase & Co. (JPM) $85.56 1.29%
Caterpillar Inc. (CAT) $94.66 1.27%
Apple Inc. (AAPL) $142.44 1.25%
Home Depot Inc. (HD) $148.72 1.02%
Wal-Mart Stores Inc. (WMT) $74.80 0.99%
Nike Inc. (NKE) $56.40 0.97%
Dow Jones - Fallers
Travelers Company Inc. (TRV) $118.88 -1.26%
Verizon Communications Inc. (VZ) $48.41 -1.08%
Coca-Cola Co. (KO) $43.12 -0.32%
Procter & Gamble Co. (PG) $89.33 -0.30%
Merck & Co. Inc. (MRK) $62.55 -0.14%
International Business Machines Corp. (IBM) $162.30 0.38%
Pfizer Inc. (PFE) $33.74 0.39%
Johnson & Johnson (JNJ) $121.87 0.41%
McDonald's Corp. (MCD) $133.28 0.47%
Boeing Co. (BA) $179.30 0.50%
S&P 500 - Risers
Alliance Data Systems Corp. (ADS) $260.62 8.30%
United States Steel Corp. (X) $30.51 7.35%
Quest Diagnostics (DGX) $104.04 6.03%
Navient Corporation (NAVI) $16.01 5.96%
American Express Co. (AXP) $80.02 5.92%
Snap On Inc. (SNA) $173.12 5.72%
CSX Corp. (CSX) $49.56 5.60%
Gap Inc. (GPS) $25.42 4.95%
Keycorp (KEY) $18.21 4.84%
Nucor Corp. (NUE) $60.35 4.74%
S&P 500 - Fallers
United Rentals Inc. (URI) $113.24 -5.20%
Danaher Corp. (DHR) $82.89 -4.11%
eBay Inc. (EBAY) $32.53 -3.91%
NRG Energy Inc. (NRG) $17.24 -3.58%
PulteGroup Inc. (PHM) $23.34 -3.51%
Philip Morris International Inc. (PM) $109.98 -3.45%
Tenet Healthcare Corp. (THC) $14.99 -3.17%
D. R. Horton Inc. (DHI) $33.10 -2.50%
H&R Block Inc. (HRB) $23.64 -2.39%
Kimberly-Clark Corp. (KMB) $131.25 -1.47%