London pre-open: Stocks seen up as May heads to Brussels for more Brexit talks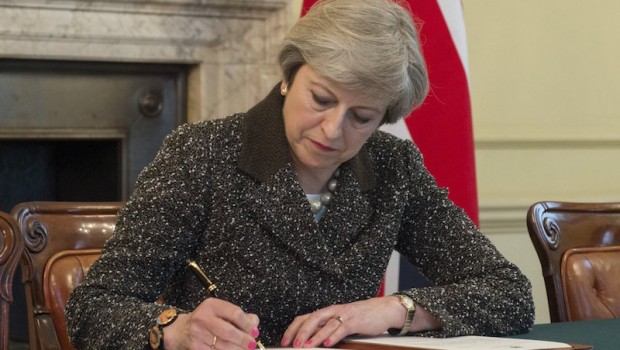 London stocks looked set to make solid gains at the start on Monday as Prime Minister Theresa May makes her way to Brussels for more Brexit talks.
The FTSE 100 was expected to open 56 points higher at 7,356.
CMC Markets analyst Michael Hewson said: "Having come under fire from some quarters for agreeing a figure of up to €50bn to settle UK obligations with respect to a so called divorce bill, the UK government have been given a deadline of today to come up with proposals with respect to the Irish border issue. This is in order for there to be a chance to move onto trade talks when EU officials meet later this month.
"Last week Donald Tusk, the European Council President on a trip to Dublin to show solidarity with Ireland cranked up the pressure by giving the Irish government an effective veto on any proposals put forward by the UK. It has been suggested that this showed that the EU were as united as one behind the Irish government.
"His insistence that the UK's future lay in the hands of the Irish may well have been an attempt to increase the pressure on the UK, but it also raises the stakes for Ireland, whose economy would take a huge hit if talks were to break down, especially if the UK were to then withdraw its €50bn offer.
"At the risk of being cynical it also gets the EU off the hook, because they can then blame Ireland if the talks were to hit a wall at this stage."
On the data front, the UK construction purchasing managers' index for November is at 0930 GMT. It is expected to have risen from 50.8 to 51.2.
In corporate news, bus and coach operator National Express Group has enjoyed good trading performance across all of divisions in the autumn, completed two overseas acquisitions and taken increased levels of festive orders.
Two small acquisitions were completed in November; in the US and Spain, that are both designed to enable further expansion in existing markets and are expected to deliver returns of 15-20%.
Rio Tinto has appointed non-executive director Simon Thompson as chairman, with effect from 5 March 2018.
He succeeds Jan du Plessis, who will step down as chairman and from the Rio Tinto board on the same date after almost nine years in the role. Thompson has over 20 years' experience working across five continents in the mining and metals industry. From 1995 to 2007, he held a number of senior positions at Anglo American group, including executive director of Anglo American plc, chief executive of the base metals division, chairman of the exploration division, and chairman of Tarmac.
Business information and events group Euromoney Institutional Investor has acquired 100% of Seven Site Media, trading as TowerXchange, it announced on Monday, in a transaction of undisclosed value.
The company described TowerXchange as a "fast-growing" information and events business which had become the "leading source" of information on the tower market - the infrastructure supporting the growth of the mobile telecoms market.