London pre-open: FTSE 100 called lower after China CPI, ahead of ECB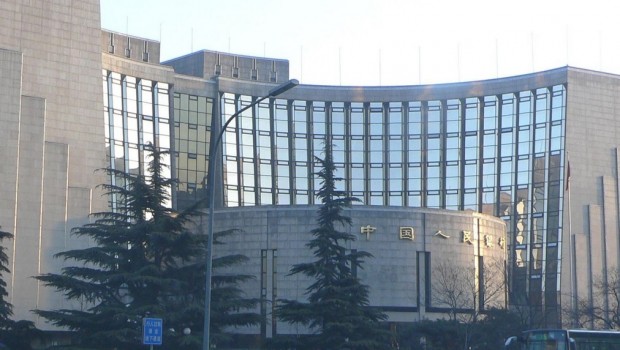 Chinese data published overnight delivered another surprise for investors, pushing stock futures lower ahead of a key policy meeting at the European Central Bank.
The cost of living in China fell sharply in February with the headline consumer price index dropping from a 32-month high of 2.5% year-on-year in January to 0.8% (consensus: 1.7%).
Hence, if the People's Bank of China tightened monetary policy in 2017 it was unlikely to be as a result of heightened inflationary pressures, economists said.
As of 0818 GMT futures were pointing to a 21 point dip for the FTSE 100 from Wednesday´s closing mark of 7,334.61.
In parallel, the rate of Chinese producer price inflation picked up from 6.9% year-on-year to 7.8%.
"Since consumer price inflation in the coming quarters is unlikely to breach the 3% upper bound of policymakers' comfort zone announced on Sunday at the National People's Congress, we expect any further tightening of policy this year to be driven by concerns about credit risks rather than efforts to contain inflation," said Julian Evans Pritchard, China economist at Capital Economics.
Nonetheless, the day´s main event would be the ECB's policy meeting and follow-up press conference from its chief Mario Draghi.
Although no major policy changes were anticipated, traders were well aware of Draghi's propensity for often surprising markets in one manner or another.
House prices in the UK held up better than expected in February, with the Royal Institute of Chartered Surveyors's price gauge printing at +24 for February, down from a preliminary reading of +25 for January but ahead of the +23 forecast by economists.
BHP Billiton, CRH, Hargreaves Lansdown, Land Securities Group, Persimmon and Shire will go ex-dividend on Thursday.
Tills overflowing at Morrisons
Helped by a strong fourth quarter, Morrisons grew annual like-for-like sales and underlying profits before tax for the first time in five years and declared a 3.85p final dividend to celebrate. LFL sales jumped 2.5% in the three months to 29 January, lifting the year's total to 1.7% and turnover up 1.2% to £16.3bn.
Oil giant Royal Dutch Shell is to sell all of its oil sands interests in Canada and reduce its share in the Athabasca oil sands project to 10% from 60% for $7.25bn.Shell will remain the operator of Athabasca's Scotford upgrader and the Quest carbon capture and storage project.
Insurer Aviva said it was making a £380m charge to account for the change in the Ogden rate – the discount on personal injury claim payouts – as it revealed full year operating profits up 12% to £3bn."Fund management delivered a breakout year with strong positive net flows and operating profit up 30%. General insurance is growing, with operating profit up 17%1, and in UK Digital we have doubled online registrations to five million. We are becoming a digital disruptor for the benefit of our customers," the company said.The total dividend is up 12% to 23.3p.
BT Group announced on Thursday that Jan du Plessis would succeed Sir Mike Rake as chairman.The FTSE 100 firm said du Plessis would join the board as a non-executive director from 1 June, and become chairman with effect from 1 November when Rake was retiring from BT, following 10 years as chairman.Du Plessis has been chairman of Rio Tinto since 2009, a role he was retiring from no later than the 2018 annual general meeting.