Europe midday: Stocks dip amid post-Brexit deal political convulsions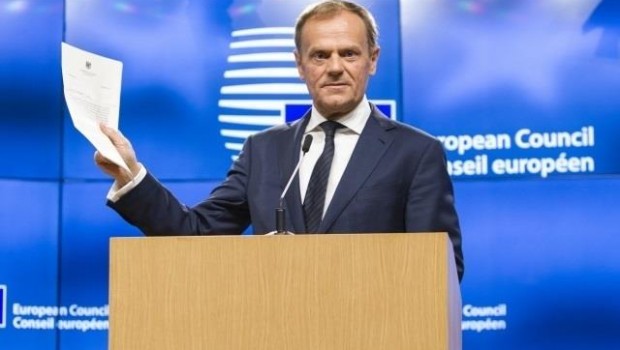 Stocks across the Continent are trading slightly lower as investors digest the ongoing political convulsions in London, even as they keep a wary eye on the Italian government's antics with Brussels over its 2019 budget.
"It is turning into one of those mornings. As the steady drip of resignations hits the government, the UK's deal with the EU appears to be dead in the water already. Ministers now appear to be resigning at a steady pace, and at this rate the statement to the House today may not even happen," said IG's Chris Beauchamp.
"Risk appetite has taken a hit across the board, as this breakdown comes just as Italy ramps up its standoff with Brussels, and investors continue to fret that the great boom in tech earnings has come to an end."
Overnight, Prime Minister Theresa May announced that the Cabinet had approved her proposals for a deal with the European Union, but come Thursday morning in Westminster, there was talk of an imminent leadership challenge and perhaps even the possibility that a second referendum might be held.
However, in parallel Bloomberg was reporting that officials in Beijing had outlined some of the concessions that China might be willing to make, which appeared to be propping up risk appetite globally.
As of noon, the benchmark Stoxx 600 was down by 0.59% or 2.15 points to 360.12, alongside a 0.54% or 103.57 point fall on the FTSE Mibtel to 18,975.79.
Germany's Dax on the other hand was higher by 0.07% or 7.90 points at 11,420.54, while the Spanish Ibex 35 was down by 0.27% to 9,081.0.
In parallel, the pound was sliding 1.29% versus the euro to 1.1342.
Commenting on the outline of the deal agreed with the British government, European Council President, Donald Tusk said that it would limit the damage to both parts caused by Brexit and had secured the vital interest and principles of the 27 member states and the European Union as a whole.
Tusk also called a European Council meeting for Sunday, 25 November, to ratify the agreement, adding that his intention was to make Britain's withdrawal as little painful as possible.
According to one of the persons cited by Bloomberg, talks between the world's two biggest economies were ongoing and constructive: but another two said those concessions fell short of what the US administration was seeking, meaning that a deal between the leaders of the two countries on the sidelines of the G-20 meeting at the end of the month was unlikely.
Economic data published thus far on Thursday was underwhelming at best, with the latest available figures revealing a sharp reduction in the Eurozone's trade surplus.
Eurostat said the euro area's seasonally-adjusted trade surplus shrank from €16.8bn in August to €13.4bn for September.