Europe close: Stocks slip as traders mull ECB's next move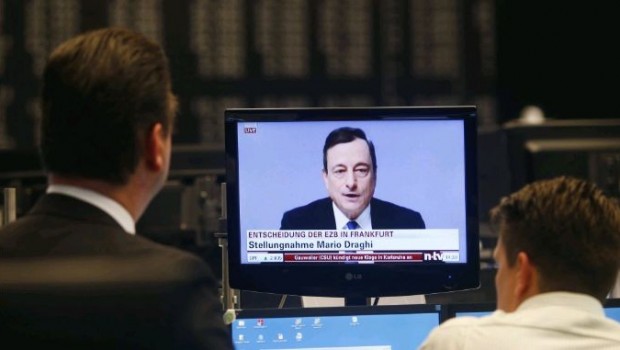 Stocks finished lower, tracking a weak start to trading on Wall Street and on the back of a mixed batch of economic data out of China overnight and a tweak in monetary policy by the People's Bank of China - a timely reminder perhaps of the potential ripple effects of US policy decisions and vice-versa.
As of the closing bell, the benchmark Stoxx 600 was down by 0.46% or 1.79 points to close at 388.91, alongside a fall of 0.44% or 57.56 points to 13,068.08 in the Dax and a 0.78% or 42.31 point dip for the Cac-40 to 5,357.14.
The European Central Bank kept all its main policy rates unchanged, as expected, and projected that Eurozone consumer prices would continue to fall short of its target in 2020, a dovish signal.
Nonetheless, in his post-meeting press conference ECB chief Mario Draghi indicated he was more confident than just a couple of months ago that prices were headed in the right direction.
"President Draghi did not give much details during the Q&A session on the current state of the debate within the GC, which was highlighted in the minutes of the October meeting showing that dissenting views were emerging about QE and the forward guidance. He did not elaborate either on possible financial stability risks stemming from low rates and ample liquidity for a long time, arguing that it was not up to monetary policy but to macro-prudential policies to be adjusted accordingly.
"We maintain our out-of-consensus view that the ECB will likely end QE by Q4 18 and negative rates by the end of Q1 19," commented analysts at Barclays Research.
In the background, on Wednesday evening, rate-setters in the States tightened policy yet again, as expected, raising the target range for the main policy rate by 25 basis points to between 1.25% and 1.50%, as expected.
However, two top officials dissented from the decision, saying instead that they would prefer to keep rates on hold.
They were backed up to an extent by a rather glum assessment from outgoing Fed chair Janet Yellen regarding the potential impact that Republican's proposed tax cuts would have on economic growth.
Meanwhile, the latest readings on Chinese industrial production, fixed asset investment and retail sales for November came in roughly as economists had projected - except for the latter.
Yet looking at the figures in greater detail some economists continued to see signs of an impending slowdown in the near-term.
On top of that, in reaction to the Fed's decision the PBoC raised two of its secondary lending rates slightly higher.
That prompted analysts at Capital Economics to tell clients: "Our best guess is that they are doing the minimum possible in order to still be seen as 'following the Fed' with the goal of supporting sentiment on the renminbi, which has weakened during the past 24 hours in response to Fed tightening.
"Indeed, for this reason we still think that Chinese monetary conditions are more likely to end next year looser than they are now rather than tighter."
On a positive note on the other hand, IHS Markit's composite euro area purchasing managers' index jumped from a reading of 57.5 for October to 58.0 in November (consensus: 57.2) - an 82-month high.
Airbus continued to be on traders' radar, with Reuters reporting that according to two people familiar with the matter Delta Air Lines had "looked closely" at putting in an order for 100 Airbus A321neo jets.