London close: Talk of tax hikes for middle class hits shares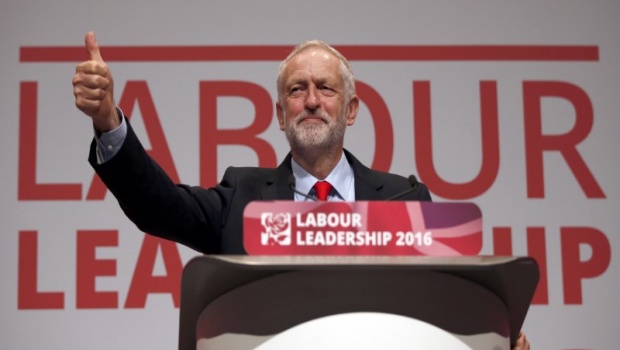 Strength in Sterling capped gains on London's top flight index following the Shadow Chancellor's remarks that Labour would look into taxing higher income earners more heavily.
The FTSE 100 edged up 0.06% to 7,118.54, while the pound was 0.4% firmer against the dollar at 1.2829. A stronger pound tends to dent the index, as around 70% of its constituents derive their earnings from overseas.
John McDonell said on Wednesday the "rich" - those that earn more than £70,000 a year - should "pay their way more".
His remarks likely accounted for weakness in London's second-tier index too, which retreated 0.20% to 19,378.75.
On a similar note, today Jeremy Corbyn vowed to "overturn the rigged system", attacking what he described as the "morally corrupt" Conservatives who refused to stand up to tax dodgers and others from the "gilded elite".
Commenting on the impact which McDonell's remarks had, Jasper Lawler, senior market analyst at LCG said: "Talk of a tax hike on middle class earnings by Labour are reminiscent of the party's disastrous 1983 manifesto that saw Margaret Thatcher stampede to victory. Brexit negotiations seem to have been side-lined by the French and now British elections. The absence of Brexit in the mind set of forex traders can only be a positive for Sterling."
Also making the headlines on Thursday, after the close of trading Bank of England Governor Mark Carney called for an end to regulators' "excessive reliance" on "punitive" fines on lenders.
"We must move from an excessive reliance on punitive, ex post fines of firms to greater emphasis on more compelling ex ante incentives for individuals, and ultimately a more solid grounding in improved firm culture," Carney said on the sidelines of the Institute of International Finance's Policy Summit in Washington DC.
UK lenders upped mortgage lending by 19% in March compared to February, according to the Council for Mortgage Lenders.
Acting as a backdrop, equity traders on the other side of the Channel pushed French stocks higher ahead of next Sunday's first round of voting in the country's presidential elections, as polls showed support for the centrist candidate Emmanuele Macron firming.
However, a key gauge of investor caution, the VStoxx gauge for volatility in the EuroStoxx 50 stock benchmark was also higher, gaining 2.885 to 24.90 and holding near its best levels since November.
Unilever, Man Group stand out
Equipment rental firm Ashtead was a big faller, with its shares retreating after results from US peer United Rental showed rental rates were under pressure in the first quarter.
Retailer Debenhams slumped after new chief executive Sergio Bucher unveiled his strategic vision for growing the company, and following the release of in-line interim results.
Acacia Mining shares lost their shine after the company's first-quarter results showed a 15% increase in gold production but that sales were lower than the same period last year due to the Tanzanian government's gold and copper export ban.
Technical products supplier Diploma ended higher even as it announced the acquisition of Abacus ALS, the largest privately owned supplier of in-vitro diagnostics products in Australia and New Zealand, for up to £15.7m (AU$26m).
Barratt Developments, Petrofac, Smurfit Kappa, Mondi, Hochschild, John Laing, and Inmarsat all went ex-dividend.
Going the other way, Unilever shares made headway after the group upped its quarterly dividend 12% as underlying sales grew 2.9% in the first three months of the year, despite sales volumes remaining in the red for the third consecutive quarter.
Rio Tinto was also in the black despite saying that first quarter copper production fell 37% month on month and year on year due to issues at its mines in Chile and Indonesia. Rio cut its mined copper guidance to between 500,000 and 550,000 tonnes for the year from its previous guidance of between 525,000 and 665,000 tonnes.
Stock in paper and plastics product supplier Essentra rallied after confirming that trading for the financial year to date had been in line with the board's expectations.
Sky ticked up after saying it has signed a multi-year $250m (£195m) co-production deal with US television network HBO as operating profits fell 11% to £1.01bn for the nine months to April.
Asset manager Man Group surged as it reported a 10% jump in funds under management for the first quarter, boosted in part by a recent acquisition.
Transport operator Go-Ahead also racked up strong gains after it reiterated its expectations for the full year as it said service levels on the Govia Thameslink Railway, which it runs, have stabilised following recent industrial action.
WPP was boosted by well-received results from French peer Publicis.
Market Movers
FTSE 100 (UKX) 7,118.54 0.06%
FTSE 250 (MCX) 19,378.75 -0.20%
techMARK (TASX) 3,416.95 0.39%
FTSE 100 - Risers
St James's Place (STJ) 1,078.00p 1.89%
GKN (GKN) 350.90p 1.83%
Burberry Group (BRBY) 1,592.00p 1.66%
Royal Bank of Scotland Group (RBS) 239.50p 1.61%
Prudential (PRU) 1,646.00p 1.54%
CRH (CRH) 2,676.00p 1.52%
Pearson (PSON) 627.50p 1.46%
Whitbread (WTB) 4,219.00p 1.42%
Glencore (GLEN) 300.45p 1.40%
Micro Focus International (MCRO) 2,500.00p 1.30%
FTSE 100 - Fallers
Intu Properties (INTU) 274.80p -4.18%
Ashtead Group (AHT) 1,580.00p -2.71%
Barratt Developments (BDEV) 576.00p -2.04%
Kingfisher (KGF) 329.20p -1.94%
Fresnillo (FRES) 1,517.00p -1.81%
BAE Systems (BA.) 619.50p -1.74%
Centrica (CNA) 206.20p -1.53%
Hikma Pharmaceuticals (HIK) 1,845.00p -1.39%
Marks & Spencer Group (MKS) 353.70p -1.31%
Smurfit Kappa Group (SKG) 1,962.00p -1.31%
FTSE 250 - Risers
Cobham (COB) 134.70p 6.57%
Essentra (ESNT) 532.50p 5.86%
Man Group (EMG) 150.80p 4.43%
Go-Ahead Group (GOG) 1,788.00p 3.07%
Paragon Group Of Companies (PAG) 450.70p 2.85%
Senior (SNR) 212.00p 2.56%
Homeserve (HSV) 659.50p 1.70%
Polypipe Group (PLP) 402.50p 1.67%
Thomas Cook Group (TCG) 90.05p 1.58%
Auto Trader Group (AUTO) 404.50p 1.53%
FTSE 250 - Fallers
Acacia Mining (ACA) 418.50p -8.43%
Petrofac Ltd. (PFC) 825.50p -5.28%
Debenhams (DEB) 52.50p -5.06%
Hochschild Mining (HOC) 261.00p -4.95%
Drax Group (DRX) 295.80p -3.99%
PayPoint (PAY) 1,015.00p -3.59%
Dixons Carphone (DC.) 323.80p -2.76%
NewRiver REIT (NRR) 336.80p -2.65%
International Public Partnerships Ltd. (INPP) 154.40p -2.53%
Workspace Group (WKP) 840.00p -2.44%