Asia report: Most markets higher after feel-good North Korea summit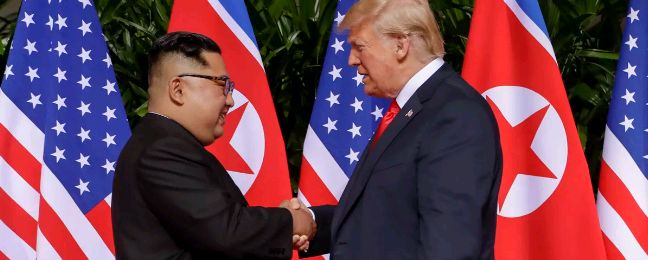 Most markets in Asia spluttered to life to finish higher on Tuesday, as investors looked past a rocky weekend at the G7 meeting and instead focussed on the landmark meeting between US president Donald Trump and North Korea leader Kim Jong-un.
In Japan, the Nikkei 225 was ahead 0.33% at 22,878.35, as the yen weakened 0.29% against the dollar to last trade at JPY 110.35.
Food, land transport and retail were the best performing sectors on the Tokyo bourse, all up more than 1% by end-of-play.
On the mainland, the Shanghai Composite was up 0.91% at 3,080.55, and the smaller, technology-heavy Shenzhen Composite rose 1.03% to 1,759.16.
South Korea's Kospi slipped 0.05% after a turbulent day to close at 2,468.83, while the Hang Seng Index in Hong Kong added 0.13% to 31,103.06.
Investor attention was very much turned to Singapore, where Trump and Kim were holding their landmark summit, even though market analysts had said they expected little in the way of economic impact from the meeting.
The meeting ended with the two leaders signing a joint statement, pledging to a lasting "peace regime on the Korean peninsula".
From a stability perspective, it was a welcome development barely a year after a series of belligerent nuclear tests by Pyongyang.
"Aside from the photo opportunities that today brings, from a financial markets perspective, today ranks as a 'meh'," quipped ING Asia Pacific head of research Robert Carnell.
He said current negative developments on the trade front were a much bigger existential threat, referring to the tit-for-tat tariff talk being fuelled by the Trump administration's apparent keenness to apply punitive tariffs to a broad number of markets.
Markets were also looking to the Federal Reserve, which was set to begin its two-day policy meeting on Tuesday.
By and large, investors have been anticipating a 0.25 percentage point hike in the Fed's interest rate targets.
Later in the week, both the Bank of Japan and the European Central Bank have meetings planned.
Oil prices were lower, with Brent crude last down 0.5% at $76.08 per barrel, and West Texas Intermediate sliding 0.21% to $65.96.
In Australia, the S&P/ASX 200 ended the session 0.15% higher at 6,054.40, while across the Tasman Sea, New Zealand's S&P/NZX 50 slipped just 0.01% to close at 8,958.81.
Both of the down under dollars were slightly weaker, with the Aussie last off 0.09% against the greenback at AUD 1.3152, and the Kiwi slipping 0.01% to NZD 1.4237.