Market buzz: Summit for nowt? Withdrawal Bill debate in focus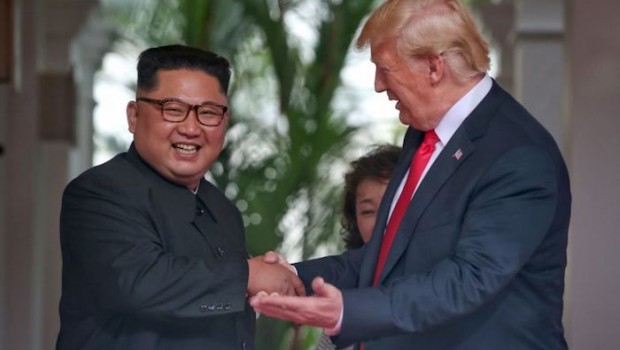 1700:Close Stocks dipped and the pound edged higher after the first day of the Commons debate on the proposed amendments to the Withdrawal Bill.
Although the government saw off the challenge, it appears (the details are not yet clear) that it was forced to make concessions, which some observers said might lower the risks of a no-deal Brexit - or so it was hoped.
Dampening sentiment a bit, the latest ONS data showed core average weekly earnings expanded at a quarterly annualised pace of 2.8% in April (consensus: 2.9%), which was a tenth of a percentage point lower than the prior month's reading.
A higher than expected reading on US headline CPI of 2.8% for May did little to buoy sentiment in its place, especially coming as it did ahead of the US central bank's policy meeting scheduled for the next day (with the ECB set to follow on Thursday).
As for the results of the US-North Korea summit, analysts were left dividend, with some seeing it as the start of a long process and others pointing to the lack of any detail as a big negative.
Miners and homebuilders were the weakest segments of the marketplace, with the former dented by weak figures on new bank loans in China and the latter flattened by a warning on costs and flat selling prices out of Crest Nicholson.
FTSE 100 down 33.62 points to 7,703.81.
1647: Theresa May's government appears to have made last-minute concessions with regard to an amendment from the House of Lords which could see the Commons direct Brexit negotiations if no deal is agreed by 30 November.
An amendment from MP Dominic Grieve, the former attorney general, was poised to split the Tory party before a number of MPs earmarked as rebels backed down on twitter at the news of government concessions.
"Following further assurances that further Govt amendments will come forward in the Lords, I will now be supporting the Govt," said Sarah Wollaston MP on the social media platform, just minutes before the vote.
1558: Theresa May's government looks like it may be in store for a shock defeat in the House of Commons over a Brexit amendment that could give parliament the final say on a final deal with the EU.
Tory rebels appear to have been emboldened by Justice Minister Phillip Lee's resignation over Downing Street's handling of Brexit on Tuesday.
Just minutes before the vote in the Commons, Tory whips appeared to be scrambling to corral Tory remainers into remaining loyal to party voting lines.
1536: On the result of the US-North Korea summit overnight, analysts at Rabobank say: "The signed document can at best be seen as a declaration of intent and therefore lacks strength.
In terms of the implications, the Dutch broker adds that Pyongyang can now play off the US against China.
According to analyst Jan Lambregts, the post-summit press conference also points to a desire by the Trump administration to lower reduce its security commitment towards the Korean peninsula.
1348: The High Court has given CityFibre permission for a judicial review of the advertising regulator's decision on the use of "fibre" in broadband advertising.
Greg Mesch, CityFibre's chief executive, said: "The High Court is seeing sense where the ASA failed to: this is the right decision for consumers and our economy. CityFibre challenged the ASA's decision because consumers must not be misled into thinking they can get full-fibre benefits on a copper broadband network - they can't: copper is dead."
1329: Four more ministers are prepared to quit over Brexit after Phillip Lee's "warning shot" resignation, the Daily Telegraph is reporting.
1257: Analysts at Berenberg see pub operator Greene King as the biggest beneficiary from the World Cup effect, as it makes a significant feature of games across the majority of its managed pub estate. "Despite that short-term tailwind, we remain bearish on the longer-term outlook for Greene King and would use any strength as a selling opportunity."
Elsewhere, the City Pub Company and Fuller's are both 'buy' rated by the firm, with JD Wetherspoon and Marston's both at 'hold' and also expected benefit, although likely to a lesser extent than Greene King, with many sites not showing the tournament, or the number of screens showing it will be fewer and sound will be off.
Outside of the pub names, Domino's Pizza should also profit, with a range of promotions planned to target home viewers – albeit this is likely to be more weather-dependent.
Losers were suggested as the Restaurant Group and Mitchells and Butlers "likely to fare worst, given their high exposure to destination casual dining, which is likely to be substituted in favour of spend at wet-led pubs screening football, and take-out for those watching at home". Cineworld and bowling operators Hollywood Bowl and Ten Entertainment are all 'buy' rated but could be considered potential losers, though Cineworld's exposure to the UK is just circa 15% following its recent US acquisition.
1228: The market is fully priced for a June rate hike from the Fed and, says Michael Hanson of TD Securities, with risks largely balanced "another non-committal press conference from Powell could leave uncertainty elevated", with a drift up in the dot-plot estimates of further hikes or emphasis on hiking beyond neutral "would be seen as hawkish".
Conversely, TD said discussion of trade concerns or decelerating global growth would be viewed dovishly, as would support for a protracted inflation overshoot.
TD said it remained long 3yr nominal Treasuries, long 10yr real rates, and long 5yr TIPS BEs. "Limited market impact from technical adjustment to IOER. We think the USD should be largely unperturbed by a widely-expected rate hike and ultimately will depend on the ECB meeting."
1216: The London midday market report finds stocks falling into the red as traders seemed unimpressed by a historic US-North Korea summit in Singapore, with housebuilders under the cosh after the cost warning from Crest Nicholson and the pound firmer following the jobs data.
The FTSE 100 was down 0.3% at 7,714.62 as the pound reversed earlier losses to trade up 0.1% versus the dollar and the euro at 1.3386 and 1.1359.
On the broker note front, Centrica was sitting pretty at the top of the FTSE 100 leader board, boosted by an upgrade to 'buy' at Jefferies, while IMI rallied on the back of an upgrade to 'overweight' at Morgan Stanley.
Rotork and Tate & Lyle both retreated after downgrades by Morgan Stanley and Kepler Cheuvreux, respectively.
1135: Noteworthy note from Jefferies yesterday on Inmarsat, with analysts saying that management must hold out for a higher offer from Echostar or another. Key to this is that Ligado, a key rival to EchoStar's sister company, Dish Network, filed a material amendment last month "that could finally unpick the regulatory gridlock around its L-band license modification", with Dish the party most at risk from a raft of this high quality mid-band spectrum coming to the wireless ecosystem in the US.
"The EchoStar share price has come down materially of late meaning the maximum offer price for Inmarsat that still allows for year 3 FCF per share accretion is £11. Grounds enough for Inmarsat to negotiate hard. Quantifying the importance to EchoStar/Dish of negotiating leverage around its mid-band spectrum is difficult, but if we're right in our assessment, then Inmarsat has grounds to secure an offer even higher."
1134: Ahead of the first of two days of crucial Brexit debates in the House of Commons, justice minister Phillip Lee has resigned in protest against the government's handling of the divorce, dealing a major blow to Theresa May, who had presumably been feeling pretty good after avoiding a humiliating defeat on customs union vote after reaching a compromise with pro-EU rebels and leading Brexiters.
But in a major blow for the PM, the Remain supporting Lee said he felt the need to serve the best interests of his constituents and future generations by standing down.
Ahead of key votes on the EU withdrawal bill, BBC chief political reporter Laura Kuenssberg said on Twitter that there was "a lot of chatter that govt may well lose the meaningful vote now if they don't give some kind of concession".
1. If govt does move on meaningful vote they'd be advised to do it soon, MPs warn privately - in December they only conceded an inch at the v end of the debate (was Dominic Raab as minister) and lost the vote partly as a result of hanging on until v last minute

— Laura Kuenssberg (@bbclaurak) June 12, 2018
1109: It looks a lot like 'buy the rumour, sell the fact' where the Trump-Kim summit is concerned, says Chris Beauchamp, chief market analyst at IG. "Having shrugged off the failed G7 meeting, markets are finding it hard to make progress this morning despite the bullishness that was very much in evidence yesterday. Perhaps the upcoming Fed and ECB meetings are keeping sentiment in check for the time being."
Ahead of the Wall Street open, IG expects the Dow to start at 25,309, down 13 points from Monday's close.
1038: The ongoing wage negotiations at several copper mines are likely to keep prices well supported in the short term, but Capital Economics thinks that "growing supply and only subdued demand will weigh on copper prices in the second half of the year".
1027: Randgold Resources has put out a regulatory news update noting "unrest" in Mali, not far from its Gounkoto mine.
The town of Kenieba in western Mali has suffered from destruction of property belonging to the local authorities and the Malian government by local "youths". Kenieba is located 17 kilometres from Randgold's mine, which employs more than 300 people from the town.
0957: Asked by reporters at the Singapore summit about war games, Trump says they're "very expensive", and then rants about the cost of US bombers flying from Guam and "dropping bombs all over the place". Then, extraordinarily, repeats that they're "very provocative" and "inappropriate", saying the US needs to speak to South Korea about them. "I know a lot about airplanes," the US president adds.
0951: The pound has reversed earlier losses and is now up 0.2% against the dollar at 1.3404.
UK employment data could be described as "pretty solid overall", says David Cheetham, chief market analyst at XTB, although wage growth has slightly missed the consensus forecast.
"The squeeze on real wages seems to be alleviating somewhat, as inflation has drifted back towards target after peaking near the back-end of last year and we'll get the latest CPI release out tomorrow, which is expected to remain at 2.4%," he says.
"The pound is gaining against the majority of its peers this morning, with sterling already on the rise before the data release. As well as the growth in real wages there were other positives from the report with the claimant count change unexpectedly falling for the first time this year while the unemployment rate remains at multi-decade lows of 4.2%."
0940: UK jobs data from the ONS shows average wage growth dipped slightly to 2.5% in April from 2.6% a month before. Excluding bonuses, weekly earnings growth slipped to 2.8% from the 2.9% at which it was expected to remain.
The ILO unemployment rate stayed at 4.2%, though there was an increase in employment of 146K in the three months to April and unemployment also fell 38K.
The May claimant count remained at 2.5%, while jobless claims fell 7.7K in May after a rise of 31.2K a month earlier.
0933: Fallers among the 350 include, housebuilder Crest Nicholson as it reported a 2% drop in half-year pre-tax profit and warned that margins for the year would come in towards the lower end of its guidance range, squeezed by cost pressures.
Fellow housebuilder Bellway was also on the back foot despite saying it was on track for strong earnings growth this year and predicting record annual sales of more than 10,000 homes.
Domino's Pizza is lower after chief financial officer Rachel Osborne left the group.
Among small caps, investor favourite Boohoo.com is down despite the fast fashion retailer posting a 53% jump in first-quarter revenue.
0910: Tuesday's opening London market report finds stocks muted in early trade despite a seemingly successful US-North Korea summit in Singapore, as investors awaited the release of key UK jobs data. Not long ago, the FTSE 100 was up just 0.1% at 7,742.41, while the pound was down 0.1% against the euro at 1.1344 and flat versus the dollar at 1.3377.
Spreadex analyst Connor Campbell said investors were likely to have been left feeling "unimpressed by the flimsiness of the agreement" struck between Kim and Trump.
"The relative lack of reaction to the US/North Korea situation means the UK jobs report may end up defining Tuesday, dependent on what kind of updates the market gets on the latest Commons Brexit vote," he said.
0704: President Donald Trump and Kim Jong Un earlier signed a joint statement in an important step towards the denuclearisation of North Korea at a summit in Singapore. A historic handshake early on Tuesday morning kicked off a momentous summit between the two leaders.