Market buzz: China mulling 'other ways' to retaliate against US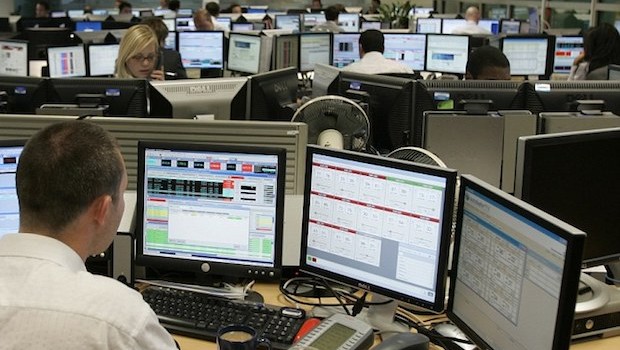 1614: Governor Carney to begin speaking at 1635 BST.
1543: Updated translations of the ECB's June policy statement and leaks to the media today suggest an earlier rate hike, says TD Securities.
The meeting yielded an announcement on QE tapering and a commitment to keep policy rates at their current levels until next year. The policy statement published in English committed "interest rates to remain at their present levels at least through the summer of 2019".
Says TD: "Unusually, the French and German translations of the policy statement were subsequently revised. The language in those new translations suggests a rate rise could occur during the summer. This accords with recent statements by some national central bank Governors, as well as leaks to the media earlier today."
1502: Watch China's currency, advises market analyst Ken Odeluga at City Index, as "in China much depends on the yuan", which is down around 0.6% against the dollar today around ¥6.67, from a high of ¥6.6784 and ¥6.6995 offshore.
"After last week's 11-month low against the dollar, roughly ¥6.70 per dollar is thought to be sensitive as that was the exchange rate at which talk of various People's Bank of China interventions reached a crescendo," he says.
The offshore rate looks to settle around 1% off last Tuesday's floor, he adds, "though trade weighted gauges, which Beijing appears more focused on, are closer to their own coincident lows. For these reasons, anticipation of additional monetary action is rising. Whilst a spate of such moves last week appeared to stabilise cross-market effect, asset price reaction, particularly equities, is difficult to predict."
The dollar's rise against the yen and continuing weakness of gold make this risk-off phase "imperfect", Odeluga says, and could eventually provide another avenue for overall sentiment to lighten.
"On the other hand, the sheer strength of the greenback bid—all major currencies are weaker—underscores that a creeping fall in dollar liquidity in emerging markets, yield, economic and other factors exerting upward pressure on the greenback, are once again front and centre. In simple terms, the orderly nature of global markets since the trade crisis escalated suggests more complacency than is acceptable given potential risks. What if China adopt a more aggressive attitude, perhaps hinting at its dollar-denominated debt holdings," he says, noting that Treasury, bund and gilt prices though are seeing temporary relief, opening a path to safety, should it be required.
1447: The Competition & Markets Authority has cleared the anticipated acquisition by Arla Foods Limited of Yeo Valley including a licence to supply certain dairy products under the Yeo Valley brand. The regulator said full text of the decision will be available shortly.
1400: The Wall Street Journal reports that China is said to be considering "other ways" of retaliating against the US, possibly including by delaying the approval of company mergers.
1241: China has an issue in retaliating with the latest US tariff threat as it is unable to match the US in the value of imports it applies tariffs to, as the US imports far more Chinese goods than the Chinese import from the US.
With the US threatening to slap tariffs on $200bn more Chinese goods, Beijing will wondering what to do as it only imported $150bn of goods from America last year.
"China will therefore have to be creative and could retaliate by using its currency to strengthen the value of USD," says Tom Milson, director at GWM Investment Management, "thereby pushing up borrowing costs in the US and making Chinese goods cheaper.
"It could also put in place measures that will make things difficult for US businesses such as increased regulations. Either way, it appears US companies don't agree with the tariffs and are suggesting that they will end up damaging the US economy in the long run."
1237: Nomura's thoughts on the US-China trade situation in short: a "significant escalation", adding that the release of this list, only four days after the initial round of tariffs took effect, "indicates that trade protectionism may escalate beyond the initial round of tariffs imposed last week" and indicates more impact on consumers.
The initial round of tariffs, at 25% targeting $50bn of Chinese imports, focused primarily on capital goods, mitigating any potential impact on consumers, but the the new $200bn target is almost equally split between capital and consumer goods.
"Thus, if these tariffs do indeed take effect, there would likely be a larger impact on consumers than in the initial round. Looking at more detailed categories, however, machinery and electrical equipment remains the most heavily targeted group, consistent with the administration's approach of taking aim at certain machinery and electrical equipment outlined in Beijing's "Made in China 2025" plan."
Nomura believes the impact on inflation will "likely be muted", resulting in upward pressure of about 8bp on consumer prices. "The impact on business confidence and financial conditions, however, could be larger."
1222: More fun and games in the Stobart Group boardroom battle, with the company saying retail guru Philip Day has applied too late to seek election to the board ahead of an extraordinary general meeting scheduled for next week.
1217: The London midday market report finds stocks firmly in the red due to the global trade tensions, with the FTSE 100 down 1.2% to 7,599.49, while the pound was off 0.3% against the dollar at 1.3242 and 0.1% flat versus the euro at 1.1302.
Meanwhile, speaking at Nato summit in Brussels, President Trump accused Germany of being "captive" to Russia and described the relationship between the two countries as "inappropriate".
"I think it is very sad when Germany makes a massive oil and gas deal with Russia," Trump said. "We are supposed to be guarding against Russia, and Germany goes out and pays billions and billions dollars a year to Russia."
1150: Stock markets have been unable to shake their trade war fears this morning, the boards a sea of red as investors fret over Donald Trump's latest bout of sabre-rattling.
The FTSE is down around 100 points, taking it the wrong side of 7600, as commodities especially take a hammering, with BP and Shell down 2.4% and 1.8%, while miners like Anglo American, BHP Billiton and Rio Tinto slumped anywhere between 3% and 4%.
European indices are similarly afflicted, with DAX and CAC both falling more than 1%.
"The dollar managed to sneak ahead as the session's main beneficiary, indulging in its safe haven status," says market analyst Connor Campbell at SpreadEx. "Against the pound it nudged 0.2% higher, forcing cable back to $1.324, while against the euro it was up 0.3%. It couldn't get a leg up over the yen, however, with the greenback dipping 0.1%.
"The tone of the rest of the day is likely doing to be dictated by what the US markets do after the bell rings on Wall Street. The Dow Jones is looking at a 180 point drop when things get underway stateside, a move that would see the index just about keep its ahead above 24700."
1134: Analysts at Kepler have downgraded Burberry and Vodafone today.
Burberry's first-quarter sales update was in line with consensus expectations at +3%. While Kepler lifted its 2018-2019 forecasts and its share price target to 1,870p from 1,640p, the analysts downgraded their rating from 'hold' to 'reduce'.
"Since March 2018, the share price has enjoyed a strong rally, carried by expectations for the new designer's collections. Current valuation implies a return to more positive trends as soon as next year, and we believe there is some risk of disappointment as turnaround stories often take more time than anticipated."
Meanwhile, colleagues looking at Vodafone set a price target of 180p on the telecoms giant, saying that the market positioning as an alternative to incumbents will require it to buy and build additional scale.
"These moves, combined with its relatively high dependence on wholesale access, suggest that short-term convergence will likely remain a low-return opportunity."
1050: Drinks bottler Coca-Cola HBC is being boosted by a Jefferies upgrade to 'buy' from 'hold', with the price target upped to 3,000p from 2,660p, saying the group was entering a "sweet spot" of growth and M&A optionality given the strong balance sheet.
Analysts argue the group is poised to benefit from continued strong top and bottom line momentum, with F18-20 organic sales/EBIT growth of 5.6%/11.6%. In addition, it expects key markets Russia and Nigeria to return to growth from the second quarter.
Deutsche Bank has also upped Superdry, saying its de-rating since the start of the year overdone and the valuation is now "attractive" and worth buying with a 1,610p target.
1045: Goldman Sachs on the tariff situation: "While there is a 2 month comment period between now and the final imposition of the tariffs - this is likely to hurt the already weak investor sentiment towards commodities / miners."
1015: Global stock markets have been sent crashing as Washington prepares to launch a new $200bn worth of tariffs on Chinese goods, including fruit and vegetables, handbags, refrigerators and clothing.
The proposed 10% tariffs on these goods follow President Donald Trump's June command for trade representative Robert Lighthizer to identify $200bn in Chinese goods for tariffs if Beijing retaliated against US moves aimed at clamping down on intellectual property theft in the People's Republic.