Market buzz: Italy fallout 'is being underestimated', two doses of Haldane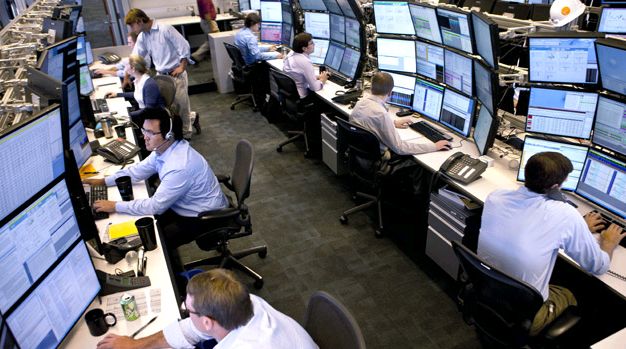 1736: London stocks closed higher on Tuesday, extending their positive run to a second day thanks in part to excitement in the paper and packaging sector after Smurfit Kappa rejected a takeover bid, but with concerns about a US trade war keeping a lid on things. The FTSE 100 closed off its morning highs but almost 31 points or 0.4% higher for the day at 7,146.75. The pound was 0.4% weaker against the euro at 1.1186, approaching levels last seen in December, but up 0.2% versus the dollar at 1.3882, off earlier highs.
1645: Downdraft in Wall Street is being put down by some observers to a Bloomberg report that White House economic adviser Gary Cohn might resign in protest over the administration's tariff plans.
1643: The market has seen a significant degree of market pessimism erased over North Korea, brokers are saying, but US trade tensions and Italian concerns are nagging.
"While the headlines have been held by North Korean concerns, there is a feeling that the threat of a breakdown in trade relations between the US and EU represents a far greater and immediate threat to financial markets," says Joshua Mahony, a market analyst at IG. "With the EU set to discuss the ramping up of taxes on around $3.5bn worth of US goods across manufacturing, cosmetics, and agriculture, there is a real threat that we will see the trade war escalate later on in the week."
The announcement of a potential breakthrough in relations between North Korea and US/South Korea was welcome news for markets, leading to a spike in treasury yields that was quickly eroded, which Mahony says highlights how little markets have been worrying about this issue of late. "For all the recent talk from Kim Jong-Un and Donald Trump, much of it cannot be taken as anything other than a tactical play, with today likely representing just another play in a risky and long term game of chess."
Italy was bugging analysts at Rabobank. "The market has taken a benign view, but we feel that the potential economic and fiscal fallout in Italy in the longer term may be underestimated. The outcome does not benefit Europe either. While Euro membership is not at risk, the next government will likely strike a more defiant tone towards Brussels," they said.
1623: Bank of England chief economist Andy Haldane is likely to be all over the business papers tomorrow.
Haldane, who is a little more hawkish than most members of the MPC but has yet to vote outside the consensus, will speak at the Royal Society of Arts a couple of hours after the market close and give a Q&A session afterwards. He has also been interviewed for the BBC's Newsnight, which will be broadcast this evening from 2230 GMT.
Last month, when speaking to the Treasury Committee, Haldane noted "the pick-up in wages is starting to take root" and that 2intelligence from our agents suggests wage settlements this year were going to pick up, perhaps with a number with a three in front of it…." as well as saying the risks for the UK economy were "to the upside".
1606: The speaker of the US House of Representatives, Paul Ryan, is reportedly arguing in favour of more surgical and targeted tariffs on steel and aluminium products, albeit while admitting there is a legitimate problem with some countries'- specifically naming China - practice of dumping both products in the US market.
1543: The yield on the benchmark 10-year US Treasury is now down by one basis point at 2.87%, versus an intra-day high of 2.91%. Market commentary is highlighting remarks overnight by House speaker Paul Ryan in favour of watering down the White House's proposed tariffs on steel and aluminium as the main reason behind the selling pressure in bonds (which pushes yields higher).
One report also cites a Tuesday sale of $44bn investment grade debt by CVS as another factor weighing on bond prices.
1317: European economists are looking forward to Thursday, where the March meeting of the European Central Bank's governing council will see the doves and hawks get together to decide whether to take another step towards policy normalisation. Here's a couple of snips from two of the notes we've received today.
Staff macroeconomic projections will be updated and may be revised up from December for both growth and inflation but Barclays' Philippe Gudin does not expect any change to the monetary policy set-up and expects forward guidance to be left unchanged, both for the asset purchase programme and for interest rates. "We maintain our view that the next move on forward guidance is likely to take place at the April meeting, when the GC will likely remove its reference to a possible QE extension and start discussing revised, more detailed forward guidance focused on the path for the main policy rate after net asset purchases end. We believe net asset purchases will end in September and we expect the first increase in the depo rate to occur in December."
Berenberg's Florian Hense says: "After a slightly more intense debate than before, we expect the doves to hold off the hawks and the ECB to leave its guidance unchanged. The doves may win over some of the hawks by arguing that the ECB should monitor two key risks: the Italian election and US-led protectionism. We forecast the ECB to drop its bias to increase asset purchases in size, if necessary, in April."
For the rest of the year, he believe the ECB is likely to normalise its monetary stance via further "baby steps", with the summer seeing the governing council linking the adjustment of inflation with the whole policy package. "This will give the ECB more policy flexibility, including the possibility of stopping its net purchases at a time when its inflation criteria have not yet been fulfilled, which may still take a little while."
1256: UK energy industry regulator Ofgem has committed to implement a price cap on domestic bills by the end of the year, subject to legislation being passed this summer. The regulator said it would publish a series of working papers over the next few months, outlining its approach to setting the default tariff cap, adding that the first paper would be published this week.
1219: The London midday market report sees stocks extending gains, underpinned by strength in the paper and packaging sector after Smurfit Kappa rejected a takeover bid, as concerns about a US trade war receded.
The FTSE 100 was up 1% to 7,185.33, while the pound was up 0.4% versus the dollar at 1.3898 and 0.1% weaker against the euro at 1.1210.
1139: Lots of interest in the paper and packaging sector today. Mondi, which announced a bumper special dividend last week, is up on the read-across from Smurfit Kappa's rejected takeover proposal from International Paper, with an upgrade by Credit Suisse also providing a boost.
Credit Suisse has upped the stock to 'outperform' from 'neutral' and rolled it price target up to 2,345p from 2,220p, saying that the shares are attractively priced. The Swiss bank notes the shares have basically flat-lined over the last 12 months, while earnings prospects and valuation metrics have improved materially.
1115: After Smurfit Kappa revealed it had received an unsolicited proposal from US rival International Paper Company, "the main question" is why Smurfit has chosen to pre-announce this transaction, analysts at Olivetree Financial are pondering.
"...there is no love lost between these two companies. It would not be a normal line of defence to announce that you have been approached. However, with potentially the threat of IP making the first public statement, and perhaps a confidence in the value defence they have hear, it may be that Smurfit is seeking to steal the initiative here. Historical transactions point to a wide range of multiples, but Smurfit's market position, strong ROCE and positive growth outlook coupled with the strong strategic merit to this transaction for IP would point to a value at the top end of this range."
Olivetree said an offer at €38 per share is 8.7x 2018 forecast EBITDA, with recent multiples justifying a price north of €40, synergies permitting. "The questions will be how close to the upper end of the historic multiple range IP is prepared to go and whether Smurfit has the support of the register such that it can push a meaningful bid/ask spread here."
1030: Rival surveys from Kantar Worldpanel and Nielsen both point to grocery price inflation easing off in recent weeks. Both surveys also find Sainsbury's was the slowest growing of the big four supermarkets.
0842: London equity markets are rising in early trade this morning, taking their cue from an upbeat session on Wall Street as paper and packaging stocks were lifted by news of a bid for Smurfit Kappa. Moments ago, the FTSE 100 was up 0.8% to 7,175.15, while the pound was down 0.2% against the euro at 1.1207 and 0.1% weaker versus the dollar at 1.3833.
0759: Just Eat has delivered some tasty full-year results, but increased investment this year means guidance numbers have disappointed analysts like a stale kebab.
"£50m is a really big hike in investment," say analysts at Canaccord Genuity. "This is the second time JE has done something like this. The first time (post 2017 interims), the market reacted negatively and then shrugged it off. We expect a similar reaction again."
0745: Smurfit Kappa announced it has rejected an "unsolicited and highly opportunistic" takeover approach from International Paper Company of the US. The proposed acquisition would have meant International Paper paying cash and shares for Smurfit Kappa, leaving shareholders of the Dublin-based company with a minority stake in the combined business.
Nice timing from Goldman Sachs yesterday, which tipped Smurfit Kappa and DS Smith were the top gainers as Goldman Sachs put out a note on packaging and paper. Goldman said it likes Smurfit in the packaging space, along with Mondi.
In particular, analysts cited how top paper packaging names appeared to be "inexpensive" even as shares of companies exposed to pulp prices - that were near all-time highs - were trading at or close to peak multiples.