Market buzz: FTSE ends flat, Moscow index falls after diplomats expelled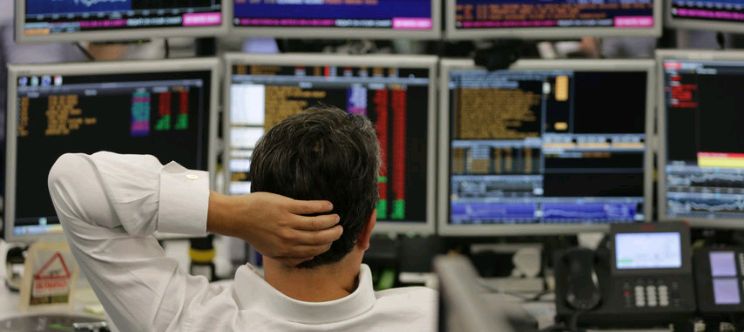 1656: Having opened higher, the FTSE 100 ended the day very slightly in the red again, falling six points or 0.085% to 7,132.69.
The main FTSE 100 fallers were Morrison, down 5%, then BP, Mediclinic, Kingfisher and Old Mutual. Among the FTSE 250 movers, Dignity rises from the ashes; Dairy Crest hit by Peel note.
1536: More reports are surfacing saying that Larry Kudlow might be the White House's pick to replace Gary Cohn as the chief White House economic adviser.
1535: Numis has reiterated its positive stance on Rentokil with the stock having fallen by around 20% from the its late 2017 peak. Having been weak since the 2017 results two weeks ago, analysts thought this was a welcome opportunity to review the investment case and kept their 'add' recommendation and 315p price target.
The note focuses in particular on management's North American ambitions to grow the region to $1.5bn of revenues and generate an 18% operating margin by 2020. Looking at the revenue and margin components in more depth, Numis concludes that management's targets are "ambitious but achievable".
1414: Moscow's RTS is down 1.59% to 1,265.32 after Theresa May ordered the expulsion of 23 Russian diplomats and announced a possible freeze on some Russian state assets if necessary following its 'unlawful use of force'.
1413: Deutsche Bank's Jim Reid pointing out NY Times report to clients which suggests more personnel changes may be in the works in the Trump administration.
"The bottom line for us is that all these moves show that the President is certainly moving a lot closer to his anti-globalist policy agenda," he adds.
1235: According to the Bureau of Labor Statistics, US final demand prices increased by 0.2% month-on-month, and by 2.8% year-on-year. Data points to stable pipeline pressures, Barclays Research says.
"Personal consumption PPI, the BLS series that tracks pipeline price pressures for CPI inflation, rose 0.2% m/m (2.8% y/y), consistent with the CPI inflation print received yesterday. Excluding food, energy and trade (core measure), personal consumption PPI was up 0.4% (2.7%)," Barclays explains.
Separately, Commerce reports retail sales volumes dipped 0.1% on the month in February (consensus: +0.3%), falling for a third straight month.
1149: "Time to catch the falling knife," RBC says in a note on Inmarsat. SocGen also has an upgrade on the shares to 'hold'.
"At 6.5x EBITDA, ISAT is at the bottom of its post IPO trading range. The market appears to be overlooking Inmarsat S-band spectrum worth £3.20/share, especially relevant given the recent spectrum driven rallies at both Intelsat and SES. PT 725p from 825p," RBC said.
1045: Three-month LME copper futures up to $6,978 per metric tonne, versus $6,907 at the Tuesday close. Data out overnight being cited by traders for the buying interest. Nickel, Zinc and lead also higher.
On that note, Rohit Arora at UBS is telling clients this morning: "Its fair to be worried about gradually compounding trade frictions, however, the gravity is also hard to defy. That's our simplistic take from today's stronger than expected China data, where the Jan-Feb IP positively surprised consensus by the largest margin since Feb-2010."
0947: Miners have started higher but not on the back of better-than-expected IP data out of China for January and February apparently; indeed economists do not appear to be altogether positive in their initial reactions.
So what's the reason? In two words, gold man.
Goldman Sachs published a note after the market close in London on Tuesday, raising their view on Miners from 'neutral' to 'attractive', Glencore remains on Conviction List and Anglo American gets a lift from 'neutral' to 'buy'. BHP and Antofagasta boosted from 'sell' to 'neutral'. Anto also gets a slight nudge from Berenberg, which is out with a raised target price of 900p, versus 865p beforehand.
0901: Morrisons shares are down despite the extra payout and expectations for continued growth.
Morrisons final results revealed a final ordinary dividend of 4.43p to lift the full year ordinary dividend for 2017 up 12.2% compared to the previous year to 6.09p and then up 86% to 10.9p by adding another 4p.
Investors should be pleased with the special dividend against a backdrop of such challenging conditions for the sector, says Laith Khalaf at Hargreaves Lansdown., though he notes that margins have slipped back and much of profits growth was not through operational improvements.
"The supermarket has used its largely British supply chain to keep prices competitive, in a market where the falling pound has increased the cost of imported food. Margins have slipped back a touch, but growing sales have helped bolster the bottom line. However much of Morrison's bumper growth in profits can actually be attributed to lower finance costs, with net debt being trimmed back to under £1 billion. This is a positive development, though perhaps not quite as inspiring as profit growth derived from improved operational performance."
0852: Comment on the Pru demerger from Richard Hunter, head of markets at broker Interactive Investor: "News of a demerger driven by geography is one which makes commercial and strategic sense. It has also propelled Prudential to being the day's star performer as the announcement has clearly been well received by investors."
Shares are up almost 6% to 1,930p.
He says there are few causes for concern within the numbers, "although the demerger could prove something of a distraction whilst being implemented" and that rising interest rates in the US would not necessarily work to Prudential's advantage, and the group's complex currency position is to an extent driven by the vagaries of sterling's performance.
"Nonetheless, the potential benefits arising from the demerger are intriguing and, should Prudential capitalise on the opportunities, the move could be extremely rewarding. Today's positive share price reaction adds to a 10% hike over the last year, as compared to a 3% dip for the wider FTSE100. In the meantime, appetite for the company remains undiminished, with the consensus coming in at a strong buy."
0839: Expect a premium performance from the Gym Group's full-year results on 20 March, says broker KBC Peel Hunt, forecasting the company's PBT to have risen by 39%. "We forecast PBT to almost triple over the four years to 2020E, despite factoring in no upside from premium pricing. Due to this upside risk, we are raising our target price to 300p."
0825: Dignity, the funeral services provider that has seen its shares tank more than 65% since November due to competitive pressures that led it to slash prices, is looking slightly more perky this morning, up 16% on its final results. Broker Panmure Gordon says the results show positive news on two of the three main drivers for 2018 and substantial consensus upgrades could be on the horizon. The run rate for simple funerals in the seven weeks since price cut at 15%, five percentage points better than initial expectations. "We can see how substantial upgrades to 2018 earnings consensus forecasts may be deliverable in due course," the broker says.
0820: Shares in Sportech are tumbling almost 60% to levels not seen since the last millennium as the company has terminated sale talks and revealed trading in the first few weeks of the current financial year has been "fairly challenging".
0801: The big company news today is that Prudential's plans to split off its UK and Europe business as the life insurer posted a rise in annual profit driven by surging sales at its Asian business. The company said it would demerge M&G Prudential, resulting in two separately listed companies. M&G Prudential will be a savings and investment provider for customers in the UK and Europe while Prudential will be left as an international insurance group focused on Asia, the US and Africa.
0748: Newspaper stories this morning include a warning from consumer rights group Which? that the UK's largest travel companies are failing to properly warn millions of holidaymakers about the risk of post-Brexit flight cancellations. The Telegraph relays the information that the consumer group has asked tour operators Thomas Cook and Tui, airline Jet2 and online travel websites Expedia and On The Beach what they were doing to inform passengers what might happen to holidays being taken after the March 29 deadline next year for a Brexit deal with the EU.
The Times has a story about the Financial Ombudsman Service coming under pressure from MPs over its "many flawed judgments", with a warning that "thousands of consumers" may want to reopen old cases amid growing concern that complaints were mishandled. There's also a yarn on Rio Tinto's troubles in Mongolia worsening with the mining giant's subsidiary receiving a request for information from the country's anti-corruption agency.
The Guardian says that accountants, bankers and lawyers will face penalties if they fail to report aggressive tax avoidance schemes that help companies or individuals move money to offshore havens, under a new European Union law.