Market buzz: Pound rises on Brexit white paper despite staunch opposition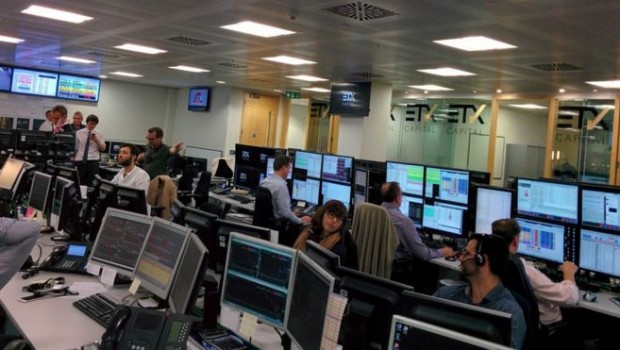 1352: UK manufacturers' trade body, the EEF, likes the look of the white paper, so does the Institute of Directors, mostly, calling for more clarity on VAT and a business dispute resolution mechanism to be proposed.
"We are pleased with the focus on a simple movement of goods, the protection of the integrated supply chain and a lack of friction at the border," says EEF chief executive Stephen Phipson. "Achieving these key outcomes will help secure the jobs and livelihoods of millions of hard working families.
"However, more work is required. It is clear that the UK has taken a very positive and constructive step forward today and we call upon the EU to respond in kind, for the benefit of all. We also repeat our request to all sides that business must play an active role in the discussions and support negotiations over the summer and autumn. The timetable is short and it is important that commercial expertise is at the table. We look forward to working with government and the EU to secure the best deal for British business and the people who depend upon it."
Stephen Martin, director general of the IoD, said: "This White Paper puts some vital meat on the bones of the Chequers plan. More specifics on its proposed customs arrangements, and its proposed free trade area in goods with the EU will be welcomed by business leaders who have delayed Brexit preparations because of a lack of detail on the future partnership. It should also give EU negotiators less scope to claim that they cannot push ahead because there is no plan from the UK. We look forward to comprehensive engagement with the Government on turning these ideas into practical realities that work for firms engaged in international trade.
"However, the Government has missed a trick by holding back on detail in several areas. Clarity about its approach to VAT arrangements, which are crucial to achieving its aim of frictionless trade with the EU, is in short supply. The paper also implies that businesses and individuals won't have access to any new dispute resolution mechanism relating to enforcement of the agreement. Given the unprecedentedly close economic arrangement the UK is hoping for with the EU as a third country, this should be in there. The Government has provided more clarity on its approach to financial services, and we look forward to them doing the same for the rest of the services sector."
1337: New Brexit minister Dominic Raab is speaking to the Commons after his snafu earlier. In the white paper on the future relationship with the EU, he says the proposal is to take the UK out of the Single Market and the Customs Union, giving the UK the flexibility we need to strike new trade deals, "in particular breaking new ground for agreements in services" and aiming to maintain frictionless trade in goods between the UK and the EU "through a new free trade area". The pound is up 0.3% to $1.3241.
The white paper proposes to "deliver on both sides' commitments to Northern Ireland and Ireland, avoiding a hard border without compromising the EU's autonomy or UK sovereignty".
The paper envisages an "economic partnership" between Britain and the EU that includes:
"a common rulebook for goods including agri-food, covering only those rules necessary to provide for frictionless trade at the border – meaning that the UK would make an upfront choice to commit by treaty to ongoing harmonisation with the relevant EU rules, with all those rules legislated for by Parliament or the devolved legislatures;
participation by the UK in EU agencies including the European Chemicals Agency, the European Aviation Safety Agency, and the European Medicines Agency – accepting the rules of these agencies and contributing to their costs, under new arrangements that recognise the UK will not be a EU member state;
a "Facilitated Customs Arrangement" to be phased in to "remove the need for customs checks and controls between the UK and the EU as if they were a combined customs territory", with the UK controlling its own tariffs for trade with the rest of the world;
"in combination with no tariffs on any goods, these arrangements would avoid any new friction at the border"
new arrangements on services and digital, "recognising that the UK and the EU will not have current levels of access to each other's markets";
new economic and regulatory arrangements for financial services, preserving the mutual benefits of integrated markets and protecting financial stability while respecting the right of the UK and the EU to control access to their own markets – noting that these arrangements will not replicate the EU's passporting regimes;
"continued cooperation on energy and transport", including developing an air transport agreement and "exploring reciprocal arrangements" for road hauliers and passenger transport operators;
another new framework that enables UK and EU citizens to continue to travel to each other's countries, and businesses and professionals to provide services – "in line with the arrangements that the UK might want to offer to other close trading partners in the future";
"binding provisions that guarantee an open and fair trading environment", meaning the UK will commit to apply a common rulebook for state aid, with cooperative arrangements between regulators on competition, and agreeing "non-regression provisions in areas including the environment and employment rules".
The paper therefore suggests such a partnership would see both sides meet their commitments to Northern Ireland and Ireland through the overall future relationship, honouring "the letter and the spirit" of the Good Friday agreement "and ensuring that the operational legal text the UK will agree with the EU on the 'backstop' solution as part of the withdrawal agreement will not have to be used."
1323: Brexit-adoring MP Jacob Rees Mogg says of the white paper, "This is the greatest vassalage since King John paid homage to Phillip II at Le Goulet in 1200. This White paper has not needed age to turn yellow."
1315: The Brexit white paper, all 104 pages, is entitled 'The future relationship between the United Kingdom and the European Union'.
In her introduction, Theresa May says that after the government and the EU both set out the principles which would guide their approach to Brexit it was expected that these would be "in tension".
"Some of the first proposals each side advanced were not acceptable to the other. That is inevitable in a negotiation. So we have evolved our proposals, while sticking to our principles. The proposal set out in this White Paper finds a way through which respects both our principles and the EU's.
"This was the spirit in which my Cabinet agreed a way forward at Chequers. It is the spirit in which my Government has approached this White Paper. And it is the spirit in which I now expect the EU to engage in the next phase of the negotiations.
"Our proposal is comprehensive. It is ambitious. And it strikes the balance we need – between rights and obligations."
1311: Bit of a shambles for the government with the Brexit white paper, with parliament suspended because new Brexit minister Dominic Raab tried to give the statement before members had a copy. The pound is currently around about flat at $1.3204.
1241: Not long ago, the UK government gave the green light for Rupert Murdoch's Fox to buy the 61% shares in Sky it does not already own.
New culture secretary, Jeremy Wright, gave Fox the go-ahead following a final consultation on plans to make the company sell Sky News to reduce Murdoch's control of UK news media. As part of the deal, Murdoch will also be required to make up for any shortfall in funding by Sky News's new owner, Disney.
1222: The midday London market report finds the FTSE 100 up 0.7% to 7,647.46, having fallen 1.3% the day before on Washington's threat to slap tariffs on an additional $200bn worth of Chinese imports.
A report from Bloomberg suggests Chinese and US officials have shown willingness to resume talks over trade between the two nations after.
Analyst Craig Erlam at Oanda says: "Many agree that tariffs will ultimately be bad for the global economy and therefore markets but there still seems to be some hope that common sense will prevail and a full blown trade war will be averted.
"With Donald Trump now pursuing another $200 billion in tariffs against China though, we may have to wait a while as he is not easing up and China - and others - is determined to prove it will not be bullied into submission. Perhaps if the economy starts to suffer or the Republicans do badly in the midterms in November Trump will be forced to consider an alternative approach."
1138: Bookmaker Paddy Power Betfair is on the rise after England was knocked out of the World Cup by Croatia, meaning there'll be no big payout to punters with big hopes for the team.
1114: UBS also has notes on the low-cost long haul airline trend and the building materials sector. "We do not believe independent LHLC carriers are a material threat to traditional network airlines, and see the growth of LHLC travel as more of an opportunity." Analysts note that a number of independent LHLC airlines have already failed, though Norwegian has reported a surprise profit today.
A number of airlines covered "look set to benefit from the LHLC trend", with analysts highlighting 'buy'-rated IAG, which owns LHLC brands such as Level and Air Lingus, as well as its basic product, and Lufthansa for its Eurowings brand in Europe; in North America there are 'buy' recommendations on Delta and United, with Singapore Airlines in Asia.
Airbus will later this year start delivering its A321neo LR/ACF, which has the longest range of any single aisle airliner of 4,000Nm. "This plane has a strong market position, supporting good earnings drop through and our 'buy' rating on Airbus."
On building materials, while the sector has seen a de-rating of around 10% over the past 12 months, UBS downgrades Kingspan to 'sell' and Travis Perkins to 'neutral'.
The de-rating of the shares is thought to reflects equity market trends with cyclicals de-rating but also weak earnings momentum.
"Growth momentum in Europe seems to be rolling over and has become somewhat more mixed, while the US continues to be the strongest area of growth. Emerging markets continue to look at risk, with margin pressure now potentially compounded by macro volatility. So where does this leave us? We think valuations are now more attractive but note that for most companies in our coverage, the weak start in 2018 and a mixed expected Q2 means earnings growth needs to pick up materially in H2 in order to hit our forecasts, which are in general below consensus."
'Buy' ratings are on Ibstock and CRH, with share price targets of 300p and 3,140p respectively.
1050: UBS expects China to strongly protest the new US trade actions, but doesn't see it degenerating soon into an all-out trade war. China may adjust the pace of domestic monetary tightening as part of its response, which could boost domestic demand to partly offset against lower exports.
Washington's announcement this week "tilts risk away from our base case and toward trade war escalation. China's response is key. We expect the sector to come under pressure as generalist investors re-assess. Bulk commodities have outperformed base metals, plus environmental/structural reform expected to aid the aluminium complex, stocks like Hydro and Alumina Ltd may provide relative performance. The large diversified miners (BHP, RIO, etc) are likely to feel selling pressure most, given liquidity and preferred play status for the generalists."
0938: Commenting on Sky's latest offer of £14.75 from Comcast, which has seen Sky's shares jump to £15.35, Russ Mould at AJ Bell says: "The stock market continues to believe that the winner of the Sky takeover battle will pay more than has currently been offered. Each time one of the suitors ups their bid, Sky's share price trades even higher."
"Investors are today betting that Comcast's £14.75 won't be the price to seal the deal...The question is whether investors are being too optimistic or accurately predicting that Fox will increase its £14 offer.
"Takeover battles don't go on forever and at some point one of the competing parties will have to admit defeat."
0917: Broadcaster ITV, pub group Greene King and retailer Sports Direct are all highlighted by market analyst Jasper Lawler as likely to benefit from England run to the World Cup semi finals.
ITV is set to benefit from colossal viewer numbers, and higher advertising revenues, as a result of the tournament, with 24.4m viewers tuning in to ITV last week to watch England's penalty shootout against Colombia, with a further 3.3m people watching the game on the ITV hub.
"And last night's semi-final against Croatia is likely to have generated more big viewer numbers, enabling the FTSE 100 company to charge vast sums for advertising slots," Lawler says.
"ITV shares have been sold down heavily over the last two years on concerns over the UK economy and the weak advertising market. These issues certainly add risk to the investment case. However, with the group set to benefit from the World Cup, as well as the success of other shows such as Love Island, the outlook may not be as poor as many believe. Trading on a low P/E ratio of just 11.1, the stock could offer appeal from a contrarian perspective."


ITV's coverage of England's World Cup semi-final against Croatia had a 15-minute peak audience of 26 million.

— Mark Sweney (@marksweney) July 12, 2018
0849: Asos, listed on AIM but with a market cap big enough for the FTSE 350 and with an ex ITV boss as its new chairman, has sunk 9% on the back of third quarter results and is now around 20% off its mid-March peak, presenting a "good buying opportunity" say some analysts.
Asos warned full-year sales growth will be at bottom end of guidance. Revenue grew 21% at constant currencies in Q3, which is below consensus estimates for more than 25% growth. However broker Liberum notes that retail gross margin has increased ahead of plan and management has reiterated its previous FY guidance.
"We are encouraged by current trading, where the company notes Q4 has started well, particularly in terms of full price sales, reflecting a disciplined approach to discounting," Liberum says. "We make no change to our earnings forecasts and do not expect a material change to consensus. Management continues to expect medium term sales growth of 20-25% p.a. and a c.4% EBIT margin. We see any further pressure on the share price (down c.10% since mid-March) as a good buying opportunity."
Similarly, analysts at Peel Hunt agree that Asos "looks good value in the e-commerce space given medium term prospects".
Elsewhere, a DFS profit warning also presents a buying opportunity, Peel Hunt says.
Hot weather and England's run in the World Cup has impacted trading, with LFL down 3% so far in H2. "Of course that's disappointing but hardly a major surprise, and we must downgrade our numbers," says the broker. "Also of note are the problems with the systems upgrades at Felixstowe, which are impacting made to order product from the Far East." But as these impacts are one-offs, the broker fully expects DFS to bounce back given a normal run at things.
"The shares may be harmed today but we would look at weakness as a buying opportunity."
0849: RBC Capital Markets says Dunelm's softer-than-expected Q4 update, with May's unexpected announcement that PBT is likely to be "moderately" below £109.3m, followed up with today's PBT guidance for the full year of £102m. This is well below the consensus forecast of £106m.
0840: Thursday's London open market report shows stocks bouncing back from the heavy losses seen in the previous session after tensions between the US and China escalated. The FTSE 100 was up 0.3% to 7,613.58, having fallen 1.3% on Wednesday after US President Trump followed through with his threat to slap tariffs on an additional $200bn worth of Chinese imports.
Halma, Primary Health Properties, Safestore, Superdry, Telecom Plus and WH Smith were among the companies whose stock went ex-dividend.
On the broker note front, Goldman Sachs has a note on ITV downgrading the shares to 'neutral', while Pagegroup is cut to 'hold' at Kepler Cheuvreux and Intu is reduced to 'sell' at Deutsche Bank.
Indivior got a boost as Bank of America Merrill Lynch upgraded the stock to 'buy' following recent share price weakness.
0832 The FTSE 100 has started on the front foot as traders in London shrug off the end of England's World Cup dreams, with the blue chip index rising 19 points or 0.25% to 7,611.09, with the FTSE 250 up 0.1%.
Sky is one of the risers after US media giant Comcast raised its bid for the broadcaster.
Computacenter is climbing higher after saying 2018 results are likely to be "comfortably in excess" of the expectations it set out in its first quarter trading update.
Dunelm is down after reporting flat like-for-like revenues and saying full year underlying profits are expected to fall almost 7%. However this will be an improvement on the 8% drop in the first half. Underling margins were much improved, though a large pile of unsold clearance stock in the fourth quarter meant a charge needed to be taken.
0801: Asia stock markets have rebounded following yesterday's global sell-off on the concerns about the renewed US-China trade conflict, Trump's confrontational attitude at NATO and a sharp decline in oil prices. "Sentiment improved thanks to suggestions that US and Chinese officials are considering resuming trade negotiations, which might avoid a further escalation in harmful tariffs," says analyst Mike van Dulken at Accendo Markets.
"Major currencies are largely flat overnight with the weaker GBP benefiting the FTSE's global players. Oil prices are off their overnight lows, paring some of yesterday's losses which may help energy equities, as supply imbalances round the world (large draw in EIA oil inventories versus Libya reopening 4 major oil exporting ports and Saudis removing production caps) rocked commodities.
"Copper well off lows should lows could offer support to miners, though trade tensions with China are counterbalancing the effect of stronger commodities."
0750: Later the government is set to publish its long-awaited Brexit white paper, giving a full run-down of its proposal for a divorce from EU. Running at more than 100 pages, the document that is based on agreements reached by PM May's cabinet in Chequers last week, should serve as a blueprint for future negotiations with Brussels.
The Times is reporting that plans for the future relationship with the EU in financial services after Brexit will not be included in the white paper. "Instead the new approach to the City's relationship with Brussels, which will mean less access to the European market for UK-based financial service groups, has been described as 'cohabiting but without the same commitment as marriage'."
The paper also reports that Theresa May faces a rebellion by dozens of her own MPs on Monday in a Commons vote that they hope will deliver a blow to her Chequers plan for Brexit. Jacob Rees-Mogg, who leads the European Research Group of Brexiteer Tory MPs, is tabling amendments to a bill that would challenge the plan.
Elsewhere in Thursday's newspapers, the Guardian says hardline Tory Brexiters are planning to try to force the PM to publish a rival draft of the white paper drawn up by David Davis in the run-up to last week's Chequers summit, which Downing Street ditched. "The abandoned draft set out something closer to a Canada-style trade deal, with additional elements drawn from other EU agreements, sources said – an alternative to the approach to be set out in the government's Brexit white paper, due to be published on Thursday."