Market buzz: Tusk tears into Brexit plans, Synthomer upgraded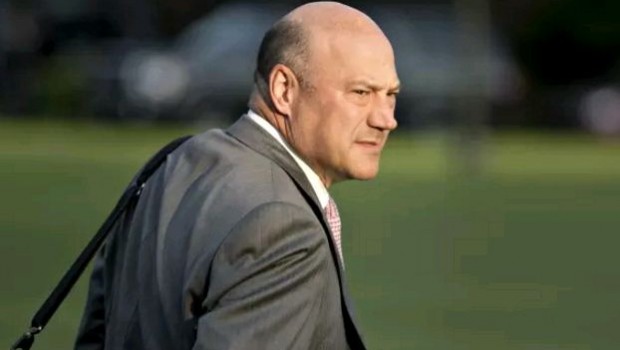 1357: Several Goldman Sachs staff in London have been "put on notice" about moving to Frankfurt within weeks, Reuters is reporting. The US investment bank has apparently begun to take the steps to minimize disruption to clients, with the first to move being derivatives and debt capital markets teams working on German accounts.
1340: Synthomer has been upgraded by Credit Suisse to 'neutral' from 'underperform', with forecast earnings increased by an average 5% and increased the target price to 460p per share from 390p. "We believe negative risks surrounding oversupply & raw materials prices are now abating and 2018 pricing risk is skewed to the positive. We credit Management for successfully limiting the negative profitability impact of nitrile oversupply and significant raw material price inflation in 2017 - we believe the business is now well positioned for further cost saves in 2018, organic growth in 2019 and potential large-scale M&A."
The Swiss bank remained neutral on Royal Bank of Scotland with an unchanged 290p target price on Wednesday. Despite "disappointing cost guidance and larger forecast litigation" driving EPS lower in 2018/19E, Credit Suisse's 2020 expected EPS is unchanged at 29p due primarily to better net interest margin. "We remain 'neutral' given up/downside is largely dependent on litigation/pension settlements coming in better/worse than expectations."
1255: European Council President Donald Tusk is tearing a few holes in Theresa May's Brexit speech from last Friday. This line is quite a stinger: "One thing must be clear: there's no possibility to have some sort of exlcusive access to the single market for some parts of our economies."
Draft guidelines from the EU on the next phase of Brexit talks were revealed earlier, with a renewed warning-off about "cherry-picking". However, there was the sort of glimmer of light that will have David Davis licking his lips, with the EU's suggestion that it is ready to change its stance if the UK position "evolves". As the famous Lloyd Christmas line goes: "So you're telling me there's a chance." The pound was down 0.2% against the euro to 1.1171.


EU27 wants UK as close friend & partner and will enter talks on future with open, positive mind. But given UK red lines only an FTA is possible. It will be the first FTA in history to loosen, not strengthen economic ties. Drifting apart is essence of #Brexit.

— Donald Tusk (@eucopresident) March 7, 2018
President Trump said: 'trade wars are good and easy to win'. But the truth is trade wars are bad and easy to lose. EU's goal is to keep world trade alive and if necessary to protect European by proportionate responses.

— Donald Tusk (@eucopresident) March 7, 2018
1249: Wall Street is expected to open with sizeable losses today. US futures pointed to heavy losses at the open as investors react to confirmation of Cohn's resignation, reigniting fears of a damaging trade war. The Dow Jones Industrial Average futures were down 0.97%. Stocks ended in the black on Tuesday as Cohn's resignation was announced after the closing bell.
1220: The London midday report has stocks paring losses, helped by a stellar performance from Rolls-Royce, which is up around 13%. However the resignation of US President Trump's chief economic advisor Gary Cohn and the prospect of a trade war is keeping investors on edge. The FTSE 100 was off 0.1% to 7,138.86, while the pound was down 0.2% against the dollar at 1.3860 and 0.3% weaker versus the euro at 1.1159.
The European Union responded to Trump's plans on Wednesday, with commissioner for trade Cecilia Malmstrom saying that the EU is working hard to ensure any tariffs imposed comply with WTO rules. Malmstrom tweeted: "We have made it clear that a move that hurts the EU and puts thousands of European jobs in jeopardy will be met with a firm and proportionate response."
1154: Capita's forthcoming financial restructuring and rights issue is seen as likely to be "significantly dilutive" to current equity holders in order to attract new investors, reckons Shore Capital, with recent media reports that private placement bond holders are seeking representation to protect their interests, which analysts assume is with the view of the circa £1.0bn of cash and some sort of ring fencing arrangement. "We also fear a significant overhang from 'unsold rights' from investors unwilling to subscribe."
ShoreCap has removed Capita from its 'sell' but said instigating a 'hold' stance was done "with no great enthusiasm".
"To be clear, we are fully behind CEO Jonathan Lewis's strategy of restructuring the group, simplifying operations and refocusing upon a core of technology based service solutions. We simply fear that the group's complexity and past growth by acquisition strategy hides a myriad of issues that may cost more and take longer to resolve than can yet be judged with any great visibility."
1028: Ahead of Inmarsat's results on Friday, Numis was rather cautious. Management should give FY19 guidance for the first time this Friday and if Maritime is still in recession, the company "may well miss consensus forecasts for its revenue growth in FY18 and FY19". According to the company, consensus expects +2% and +3% year-on-year growth in FY18 and FY19, respectively but Numis thinks these numbers may instead be -1% and +1%, respectively.
1025: Looking at Royal Mail, Barclays has raised its forecasts and price target and reiterated its 'overweight' rating following the recent agreement with unions. "We regard the recent broad set of agreements between the two parties as a landmark. To have closed, with a small surplus, one of the larger defined benefit pension schemes in the UK; to have replaced it with an affordable defined contribution scheme (possibly collective subject to government negotiation); and to have agreed on a pay deal to April 2020, without industrial action, is a remarkable and forward thinking effort by all involved, in our view."
The bank also hiked its price target for Ibstock's shares after the brick-maker's full year operational results were broadly in line with forecasts. Analysts said the focus of the day was on Ibstock's capital allocation as the company announced its new supplementary dividend policy. "With a confident outlook into 2018, a supplementary dividend is expected to be announced in August 2018. We believe shareholder returns will remain the main priority as long as the company's above-average cash generation features are maintained."
1021: Real GDP in the Eurozone rose 0.6% quarter-on-quarter in Q4, in line with the consensus and initial estimate. The year-over-year rate fell to 2.7% year-over-year in Q4 from 2.8% in Q3, also in line with the consensus and first estimate.
The final reading on Q4 growth came with details on its constituent parts, showing investment performed strongly, rising 0.9% quarter-on-quarter, but also revealing a significant downward revision of the Q3 data to a 0.2% fall in contrast to the original estimate of a 1.1% increase.
"This is a huge change, but unfortunately not unprecedented given the large share of construction and intellectual property expenditure in the gross capex data," said Claus Vistesen at Pantheon Macroeconomics. "Consumers' spending rose 0.2%, slowing from an already lacklustre 0.3% rise in Q3. January hard data have been soft, but we are confident that Q1 as a whole will see a rebound in spending. Government spending increased 0.3%, slowing from an upwardly-revised 0.4% rise in Q3. Net trade continued to perform strongly, in part as a result of higher oil prices lifting the import price deflator."
0959: China's foreign exchange reserve figures suggest that the People's Bank did not dabble much in the market last month. FX reserves fell to $3.13trn in February from $3.16trn in January, below the consensus $3.16trn.
"But its pledge to allow a more market-driven exchange rate will be tested if the renminbi comes under renewed pressure due to trade tensions or weaker economic growth," says Capital Economics.
0941: More comment on the theme that investors are worried that Cohn's departure removes a key calming influence on Trump and an opponent to the President's protectionist leanings.
Matt Simpson, market analyst at Faraday Research, said: "The revolving door in the Whitehouse gets another spin, but the ramifications from Cohn's exit has the potential to be huge. As his departure was announced after the US markets closed we're yet to see a real reaction from the US. But as Cohn was Wall Street's main man in Washington, we doubt they'll be so happy about it. An advocate of free trade and the biggest critic of tariffs, markets fear his absence from the White House could make the tariffs inevitable. Such tariffs didn't work out well for the Bush administration, so its difficult for markets to fathom a better outcome this time around."
0847: Commenting on the latest personel changes in the White House overnight, Jim Reid at Deutsche Bank says: "[the news suggests] that Trump is leaning heavily towards some form of protectionist measures. Needless to say that Cohn's resignation also leaves further question marks around Trump's economic agenda. On a similar note, overnight, news has also emerged that Trump is considering further measures, specifically for China imports and investments, supposedly following theft of intellectual property rights. An investigation by the US Trade Representative's office into China's intellectual property practices is expected in the coming weeks."
0840: China's official FX reserves slipped by $27bn in February to $3.134trn (Consensus: $3.15trn). On the back of today's data and given the current backdrop, Julian Evans-Pritchard at Capital Economics says: "concerns about US protectionism continue to build, it will weaken global investors' appetite for EM assets. In both cases, capital outflows from China will likely pick up. If the PBOC has learnt the lessons from the renminbi panic a couple of years ago, they will promptly step up FX sales to prevent the currency from weakening too rapidly as a result. If they don't, it would spark speculation that the PBOC wants the renminbi to weaken which, regardless of whether true or not, would spur further outflows and depreciation pressure."
0804: The top flight index has gotten off to a poor start following news overnight of White House economic adviser Gary Cohn's decision to step down after failing to convince the US administration to reconsider proposals for steel and aluminium tariffs, which served to send US equity futures duly lower, although they have since cut their losses.
Against that backdrop, as of 0804 GMT the FTSE 100 is down 28.09 points to 7,116.78, while the S&P 500 'mini' futures contract is down by 22.0 points to 2,702.0.
To take note of, according to Bloomberg USTR was conducting a probe into China's practices with regards to intellectual property.
Rolls Royce is an early top riser, with shares rocketing 10%.
On the economic calendar for Wednesday, the two main risk events scheduled are the US ADP jobs report at 1315 GMT, followed by Bank of Canada's rate decision at 1500 GMT. The latter is of special interest given ongoing negotiations with the US and Mexico on NAFTA.
Chinese foreign reserve figures for February may also be released.