Turmoil for Spain as Catalan pro-independence parties win regional majority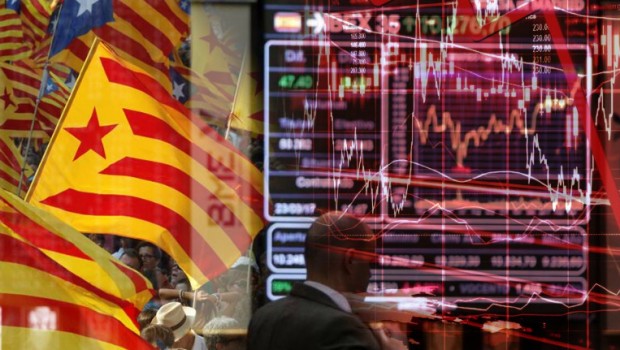 Catalan separatist parties have won a narrow but absolute majority in the regional elections, confirming the worst fears of the Madrid central government and European stock markets.
Election results showed that, far from reducing political uncertainty as Spanish President Mariano Rajoy's government had hoped, Catalonia has been fractured into two clearly separated blocks either side of the issue of the region's push for independence and sets the scene for a return of confrontations with Madrid.
With nearly all the votes counted in Catalonia, the unionist Ciudadanos party was set to become the biggest party with 37 seats, but three pro-independence parties looked to have won a majority of 70 of the 135 seats.
In the short term, European bourses all fell on Friday morning, with the Spanish Ibex tumbling 1.3%. The euro fell sharply lower, hitting 1.1815 against the dollar before rebounding slightly to 1.1845. Spanish 10-year yields popped up on Friday morning, albeit only marginally
As largest party, Ciudadanos will be the first to try to form a coalition government.
"That won't be easy," said Claus Vistesen, economist at Pantheon Macroeconomics. "A pro-independence majority in theory sets up the scene for a repeat of the chaos earlier this year."
But he doubted that the pro-separatist coalition will try to engineer a second unilateral declaration of independence, though the possibility cannot be ruled out.
The leader of the main independence party Carlos Puigdemont, from his present exile in Belgium, declared that the Madrid government has been defeated and continued to push the argument that the EU should intervene on Catalonia's behalf.
"We stress that this is highly unlikely," said Vistesen. "The EU's hands are largely tied here. It can only mediate if both parties agree to it, and we are pretty sure that parliament in Madrid remains committed to a relatively hard line. The notion that Catalonia makes a hard break with Spain only to have the red carpet rolled out to it by the EU and the Eurozone economies is a fantasy."
The fall in the euro came as traders factor in further political turmoil in Spain, said market analyst Jasper Lawler at London Capital Group, which potentially comes at a time when political risk in Germany could also become a bigger concern, given that talks to fill the political vacuum there have come to naught after several weeks.
"The calling of regional elections in Catalonia, Spain, appears to have backfired for the Spanish Government as the pro-independence parties won enough seats to form a regional coalition government. However, it remains to be seen whether these three parties are able to create a government between them, especially given their different views to solving the same problem," he said.
"Even if these three parties manage to form a coalition, we are unlikely to see a repeat of Octobers' violent clashes on the streets following the illegal independence referendum. The road to independence will be a struggle given that Madrid currently rules over Catalonia and that outside of Catalonia most sided with Madrid and refused to acknowledge Catalonia's independence. However most parties appear to agree that dialogue is the way forward."