South Korea's president says North is dangerously close to crossing a 'red line'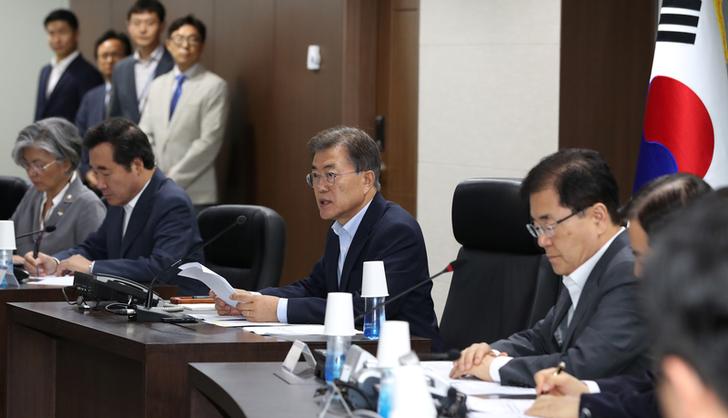 South Korea's president cautioned Pyongyang not to pursue nuclear missile capabilities while underlining that Seoul and Washington shared the same aims.
"I would consider that North Korea is crossing a red line if it launches an intercontinental ballistic missile again and weaponizes it by putting a nuclear warhead on top of the missile," said South Korean President Moon Jae-in.
The recently elected South Korean president had previously referred to a "red line" that he had urged North Korea not to cross, but had not defined this "red line" in any way.
At a press conference in Seoul to mark his first 100 days in office on Thursday, Moon said, "If North Korea completes development of intercontinental ballistic missiles and weaponizes it with nuclear warheads, I will consider that a red line. North Korea is nearing the red line."
He also said the consequences of doing so would result in an "unbearable" international retaliation.
North Korea conducted two successful intercontinental ballistic missile tests in July, close on the back of another five tests, stoking geopolitical tensions in Northeast Asia.
Shortly after the latter of those tests, two US B-1 bombers flew from Guam over the Korean peninsula, joining South Korean and Japanese air forces as part of a joint exercise earlier in July. That prompted North Korean leader Kim Jong-un to say the maneuvers were an act of aggression and said he was "carefully examining" a plan to launch missiles toward the Pacific island, to create an "enveloping fire" around the US Pacific territory.
Donald Trump responded by saying North Korea, "Best not make any more threats to the US. They will be met with fire, and fury and frankly power, the likes of which the world has never seen before."
Moon sought to reassure his citizens that US military action would not be possible without the consent of the Republic of Korea, before reaffirming that both he and the US shared the same position on North Korea.
"The US and President Trump promised no matter what options they use, they will sufficiently consult with South Korea and get consent. This is a firm agreement between South Korea and the US. People can be assured and trust that there will be no war."
Chief White House strategist Steve Bannon said there was "no military solution" to the nuclear threats posed by North Korea because of its massive arsenal pointed at the South's capital, Seoul.
"Until somebody solves the part of the equation that shows me that 10m people in Seoul don't die in the first 30 minutes from conventional weapons, I don't know what you're talking about, there's no military solution here, they got us," Bannon told The American Prospect.
He noted that the administration's priority was China, saying that complaints against the nation's trade practices should not be put in the back seat while the
US attempted to get Beijing's assistance in roping in Kim Jong-un.
The United States and South Korea are technically still at war with the North as the 1950-53 Korean conflict ended with a truce, and not a peace treaty.