Palestinian prime minister survives bomb attack in Gaza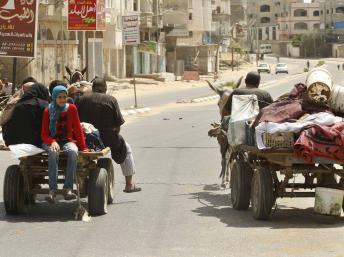 Ramdi Hamdallah has suffered a bomb attack on his convoy in his first visit to the Gaza strip in five months.
Seven members of his personal guard were hurt in the explosion, although Hamdallah himself was unscathed.
The PM was visiting a new sewage treatment plant financed with international aid funds.
Majid Faraj, chief of intelligence services was also travelling with him on the convoy.
Nevertheless, the main aim of their trip was to meet with officials from Hamas - whose military wing are considered terrorists - to try and restart the reconciliation process between both Palestinian groups to re-establish the coalition government that both sides had previously agreed to in 2014.
Their meeting had to be postponed as a result of the attack, but Hamdallah and Faraj went ahead with the inauguration ceremony, a move that was aimed at demonstrating their continued efforts to reunite Hamas-ruled Gaza with the West Bank.
"I say in spite of the explosion today, it won't stop us from carrying on our mission to achieve unity," Hamdallah said. "We are committed to solving all of Gaza's problems."
There was no claim of responsibility but some Palestinian media pointed towards Hamas.
"Those who are in charge shoulder the full responsibility for security on the ground," Faraj said in the statement, a clear reference to Hamas.