OPEC forecasts new supplies will outpace demand growth in 2018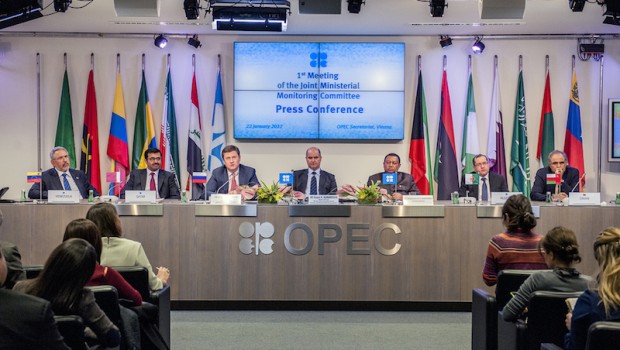 The Organisation for Petroleum Exporting Countries nudged higher its forecast for growth in crude supplies from outside the cartel this year, predicting it would outpace the expected increase in demand.
In its latest Monthly Oil Market Report, the group of producer nations said non-OPEC supplies were set to run at an average pace of 59.62m barrels per day in 2018, or 1.72m b/d more than during the previous year.
That was 10,000 b/d more than predicted in the April MOMR.
Demand growth on the other hand was seen at 1.65m b/d or 98.85m b/d or 25,000 b/d more than in April's estimate, reflecting firm readings on OECD data throughout the first quarter.
That followed an identical-sized gain in 2017.
China was expected to lead oil demand growth in 2018.
Underpinning OPEC's forecasts on the demand side of the equation was a projection for global GDP growth of 3.8% during the current year.
Commercial oil stocks in the OECD fell to the equivalent of 59.9 days of 'forward cover', which was 1.6 below the latest five-day average, OPEC said.
The so-called 'call on OPEC' for 2017 meanwhile was revised higher by 0.6m b/d to stand at 33.0m b/d, but was seen declining by 0.3m b/d to 32.7m b/d in 2018.
Commenting on the outlook for oil prices, in remarks to Bloomberg TV, Bank of America-Merrill Lynch's Francisco Blanch said the price of oil could peak above $90 and perhaps rise as high as $100 and that was without factoring in any withdrawal in Iranian barrels from the market.
That echoed the conclusions expressed in a 9 May report in which Blanch and his team revised higher their forecasts for the average price of Brent in 2018 and 2019 to $70 and $75, respectively, on the back of the ongoing "collapse" in Venezuelan supplies.
Events in the South American country would combine with a coordinated move by Russia and Saudi to put a floor underneath prices, they said.
They also set a $90 per barrel target for Brent in the second quarter of 2019, adding that there was a risk of $100 per barrel in 2019.
However, Blanch and his team expressed concern that "these market dynamics could unfold over a shorter timeframe".
Additional upside risks to the outlook included geopolitics (Iran) and US supply bottlenecks, with the latter linked to transport constraints and service cost pressures.
Blanch and his team were forecasting a demand-supply deficit of 630,000 b/d in 2018 and of 300,000 b/d in 2019, on the back of increased demand in each of those two years of 1.54m b/d (OECD: 0.3m b/d, Emerging markets: 1.24m b/d) and 1.395m b/d (OECD: 0.145m b/d, Emerging markets: 1.25m b/d).