Madrid mulls response to Puigdemont's 'suspended independence'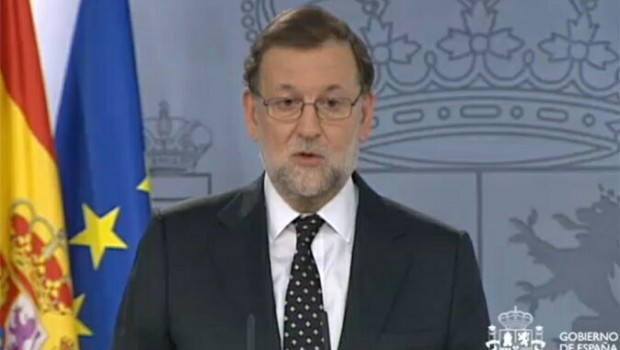 Spanish prime minister Mariano Rajoy will chair a special meeting of his cabinet on Wednesday after Catalan president Carles Puigdemont simultaneously declared and suspended independence for the region.
Puigdemont's highly-anticipated address in the regional parliament on Tuesday concluded that Catalans had given a mandate for secession from Spain, but added that he and his officials would seek talks with Madrid to peacefully resolve the crisis.
The controversial referendum on 1 October saw over 90% of people vote to separate from Spain, but the government had previously backed up the courts' view that the poll was illegal.
"We propose the suspension of the effects of the declaration of independence for a few weeks, to open a period of dialogue," Puigdemont said during his speech [...] If everyone acts responsibly, the conflict can be resolved in a calm and agreed manner."
"We're not criminals. We're not mad. We're not carrying out a coup […] we're normal people who want to be able to vote and who have been prepared to engage in whatever dialogue was necessary to do so in a mutually agreed way."
POLITICAL UPHEAVAL
The Spanish government has so far rejected calls to open dialogue with Catalan officials in order to resolve the crisis, which has left the country on the brink of its biggest political upheaval since the era of General Franco.
Deputy prime minister Soraya Sáenz de Santamaría said Puigdemont's address had only served to create added confusion to the situation.
"Today's speech was made by a person who does not know where he is, or where and with who he is going to go," the minister said.
As a result of Tuesday's events, further uncertainty is expected to take its toll on European markets in the coming days, although the Spanish Ibex 35 opened 1.5% higher on Wednesday morning.
MARKET REACTION
Think Markets' Naeem Aslam urged investors to be highly cautious of what may happen as a consequence of the Catalonia question, citing the existence of a "big disconnect between the markets and the political storm."
Aslam added: "This event could be far larger and more destructive than many are anticipating. Investors should be carefully watching the next step by Spain as the Spanish deputy prime minister said that the government will announce its next move on Wednesday. It would have a meaningful influence on the euro."
The onus is now placed on Rajoy and his government to decide whether to open negotiations with the Catalans, or to continue to give them the cold shoulder.
"Pressure has been building on Catalan politicians for several days now as businesses and banks take pre-emptive action in securing their operations, and that could well have prompted last night's more cautious approach," asserted Michael Hewson at CMC Markets.
"Whether it has any effect is another matter, but the Spanish government would be unwise to stick their heads in the sand on this one having miscalculated in respect to its response to the initial ballot."