ISM manufacturing PMI rises to 59.7 in December from 58.2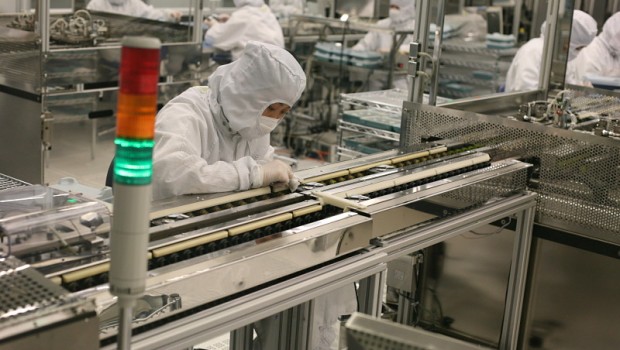 Growth in the US economy's manufacturing sector unexpectedly improved in December, according to data from the US Institute for Supply Management.
The ISM's headline manufacturing index rose to 59.7 from 58.2 in November, beating expectations for a drop to 58.1.
Timothy R. Fiore, chair of the ISM, said: "This indicates growth in manufacturing for the 16th consecutive month, led by strong expansion in new orders and production with hiring growing at a slower rate and supplier deliveries continuing to struggle."
A reading above 50 indicates expansion, while a reading below signals contraction.
The new orders index increased to 69.4 in December from 64 the month before, marking the highest reading since January 2004, when the index came in at 70.6.
"New orders expansion continues at a strong pace, with the index at seven straight months of levels above 60," Fiore said.
Meanwhile, the employment index ticked down to 57 from 59.7 in November and the production index printed at 65.8 from 63.9 a month earlier.
Ian Shepherdson, chief economist at Pantheon Macroeconomics, said this is a very solid end to 2017, with no significant change likely in the near term.
"The consensus looked timid in light of the very strong Chicago survey, but this is even stronger than we thought, with the headline index ending 2017 at a three-month high. Even better, the rise in the headline index reflects a 5.4-point jump in the new orders index to 69.4, the highest since Jan 2004. New orders tend to lead the other components, so this suggests that the headline index should rise above 60 over the next couple of months.
"The only mild disappointment here is a 2.7-point dip in the employment component, but it's still high at 57.0, and overall this is a very strong report. The manufacturing upswing
continues, with no near-term clouds visible."
Andrew Hunter, US economist at Capital Economics, said the rebound in the ISM manufacturing index leaves it close to a 13-year high and at a level that historically has been consistent with GDP growth accelerating to more than 4% in annual terms.
"The improvement was fairly broad based, with the production and supplier deliveries components both rising and the forward-looking new orders index seeing a particularly encouraging leap...Admittedly, the employment index fell back to 57.0, from 59.7, but it is still consistent with manufacturing payrolls continuing to expand at a healthy pace. The upshot is that this supports our above-consensus forecast that overall non-farm payrolls increased by 210,000 in December."