Eurozone manufacturing PMI hits record high in December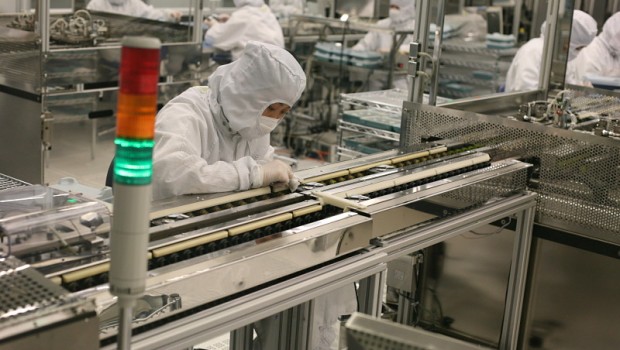 Activity in the eurozone manufacturing sector improved in December, as expected, ending 2017 with record-high growth, according to data released on Tuesday.
IHS Markit's final purchasing managers' index for the bloc rose to 60.6 from 60.1 in November, in line with the flash estimate and consensus expectations thanks to strong rates of expansion in output, new orders and employment. This marked the best reading since the survey began in mid-1997.
Chris Williamson, chief business economist at IHS Markit, said: "The eurozone manufacturing boom gained further momentum in December, rounding off the best year on record and setting the scene for a strong start to 2018. The final PMI was in line with the earlier flash number, confirming a record monthly improvement in business conditions at the end of 2017.
"Forward-looking indicators bode well for the New Year: new orders rose at a near-record pace, while purchasing growth hit a new peak as firms readied themselves for higher production. Meanwhile, job creation was maintained at November's record pace. Perhaps most encouraging of all is the extent to which the strongest upturn is being recorded for producers of investment goods such as plant and machinery, which highlights the upswing in business investment. Higher investment should help boost productivity and profits, and therefore enhance the sustainability of the upturn."
Pantheon Macroeconomics said: "The headline PMI data continue to signal strong momentum in eurozone manufacturing and a solid boost to GDP growth in Q4.
"Overall, activity in manufacturing is strong across the euro area's major economies. New orders and output are rising at a pace not seen since 2000, buoyed by momentum in both the domestic economy and foreign markets. The persistent in increase in new orders is stretching capacities, driving rising work backlogs and higher employment. On the supply side, input prices are rising and suppliers' delivery times are getting stretched, forcing firms to raise output prices."
The French PMI jumped to 58.8 from 57.7 in November, coming in below the initial estimate of 59.3. However, the German PMI's rise to a cyclical high of 63.3 was confirmed.