ECB to announce QE tapering in October, Reuters poll shows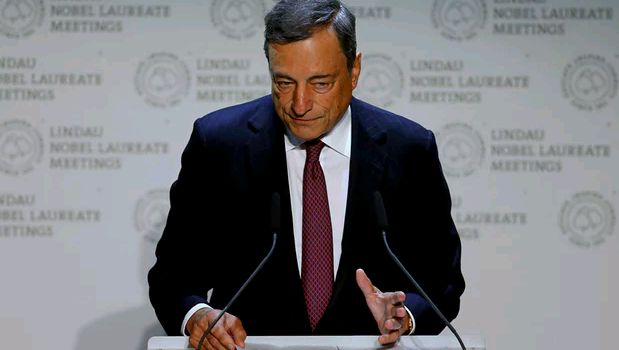 The European Central Bank will signal its intention to wrap-up its massive bond purchases in 2018 next month.
That was the main take away from a Reuters poll of economists.
Nearly three-fourths of those canvassed between 28 to 31 August said the announcement would come in October, although just three weeks ago just over half said it would be announced in September.
Now, only 15 respondents were expecting a move in this month.
In a separate question, 58 of 63 economists said QE would be completely wrapped-up by the end of 2018, with 10 of those expecting that to happen as soon as June.
As a first step, economists said rate-setters in Frankfurt would extend the QE programme but ratchet it down from its current size of €60bn of purchases a month to €40bn.
However, on Thursday Reuters ran a story, citing three sources "familiar with the discussions" according to whom an increasing number of policymakers at the ECB were concerned by the single currency's strength.
Analysts at Danske Bank were among those forecasting an announcement from the ECB in October; however, first they expected it would signal that such a move was on the horizon at the Governing Council's September meeting.
"An argument for signalling a QE continuation [at a reduced pace of €40bn a month] should be a downward revision to the ECB's inflation forecast. We expect a modest reduction to 1.2% in 2018 and 1.5% in 2019 driven by the euro appreciation," Danske's analysts said.
"An ECB set to address the pace of EUR appreciation should help put a lid on EUR/USD near term . However, with the cross back around the pre-Jackson Hole level, the FX market should at least partly be ready to absorb some EUR worries from the ECB without this spurring a significant sell-off from here."
Barclays Research was of a broadly similar view, although in a note sent to clients they highlighted that recent euro strength (which they did not see extending significantly on a trade-weighted basis) did have implications for monetary policy.
Apolline Menut, Fabio Fois and Antonio Garcia Pascual foercast QE would be tapered to between 35 to €40bn a month in the fist half of 2018 and then 15 to €20bn in the backhalf of the same year.
Simultaneously, the GC would decide on two 10 basis point hikes in the deposit rate in June and December, each.
"The risks to our growth outlook, including the effect of the past currency appreciation, remain broadly balanced as we are not expecting a significantly larger trade-weighted appreciation of the euro from current levels and expect monetary policy to remain very accommodative in 2018."
"We think that prudent risk management will prevent the ECB from announcing this year the tapering of QE towards zero."