DUP threatens to withdraw government support if May backs down on Irish border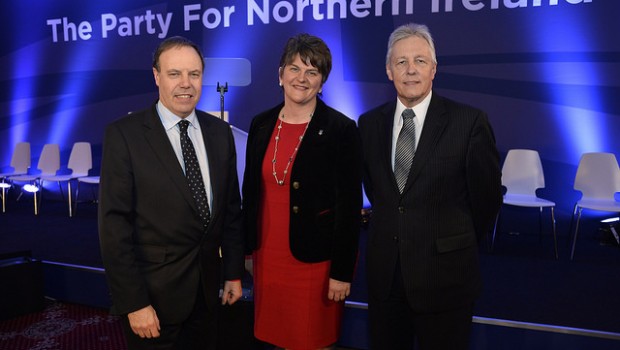 The Democratic Unionist Party has threatened to remove its support for Theresa May's government if she makes concessions to the EU on the Irish border as part of Brexit discussions.
The issue of what will happen to Northern Ireland post-Brexit has taken centre stage this week after the two sides were reported to have agreed on a figure to be paid in a financial settlement.
EU and Irish government officials have said that there should not be an introduction of a hard border between NI and the Republic of Ireland, while the DUP has said that the province should not be treated differently to the rest of the UK after it leaves the bloc.
Sammy Wilson, one of the 10 MPs representing the DUP in Westminster, said that if there was any attempt to "placate" Ireland and the EU the party would withdraw its support for the Tories.
"If there is any hint that, in order to placate Dublin and the EU they're prepared to have Northern Ireland treated differently than the rest of the UK, then they can't rely on our vote," said Wilson.
"They have to recognise that if this is about treating Northern Ireland different, or leaving us half in the EU, dragging along regulations which change in Dublin, it's not on."
The prospect of the North remaining in the single market and customs union in order to avoid a hard border has been rejected by the DUP.
Irish foreign minister Simon Coveney confirmed that talks were held with the DUP on the Brexit issue and said that a resolution was "doable".
"I think it is doable ... We are not where we need to be today, but I think it is possible to get to be where we need to be in the next few days," Coveney said.