Decision to keep asset purchases open-ended was not unanimous, ECB's Draghi says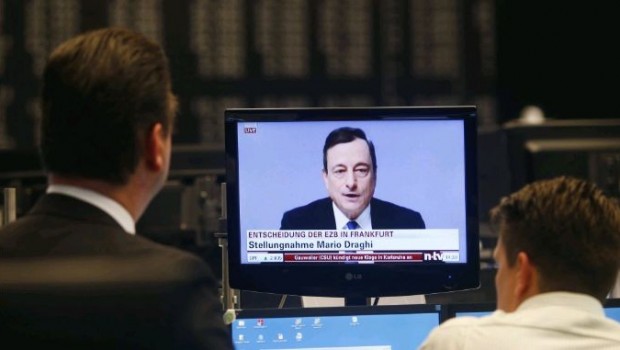 Rate-setters in Frankfurt cut the size of their asset purchase programme, but in the press conference afterwards the heads of the European Central Bank's governing council sounded a conservative note on the best pace at which to ratchet them down.
The size of the monthly purchases under the APP was slashed from €60bn a month to €30bn, effective 1 January 2018.
At their meeting on Thursday, the governing council also announced its APP would be extended until September of 2018 and that the reinvestment of the principal on maturing securities from the APP would be reinvested "for an extended period of time after the end of its net asset purchases and in any case for as long as necessary."
Nonetheless, while in his press conference ECB chief Mario Draghi said the single currency bloc still required "ample" liquidity in order for inflation to rise back to target over the medium term, that was less than the "very substantial" stimulus he had argued for on previous occasions.
As well, not all the decisions adopted received the unanimous backing of the GC.
In particular, the decision to reiterate that purchases might yet be extended past November 2018 was only endorsed by a "large majority", while others did receive the support of the entire GC and yet others garnered "a broad consensus", to use the Italian's own words.
Related to the above, Draghi gave short shrift to the notion that the ECB might at some point find it difficult to find sufficient securities in order to make its commitment to the current policy path "credible".
"Our programme is flexible that we can adjust its size [...] we can carry it through smoothly, and that's been the evidence we've given until now."
Despite Draghi's words, and commenting on a key aspect of the implications of Thursday's press conference, namely the timing of the first hike in the deposit rate, analysts at Barclays Research said: "Therefore, we still expect a change in the ECB forward guidance in Q2 18, paving the way for depo rate to be raised by 20bp in Q4 18.
"This does not mean that it will be the beginning of a new rate hiking cycle (as rates will remain low for long); instead, we believe it would be the beginning of normalisation of the extraordinary policy of negative rates. The EONIA forwards are pricing the return to positive rates only by the summer of 2020, which is unreasonably dovish, in our view."