China trade data shows economy still expanding, commodities stocks lifted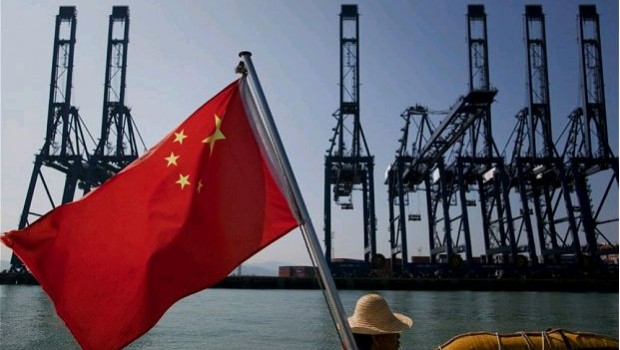 China's exports and imports continue to strengthened, trade data showed overnight, giving a boost to commodities stocks around the globe.
Chinese exports rose 8.1% in US dollar terms in September, up from the 5.6% growth recorded a month earlier but less than the consensus estimate of 8.8%.
Meanwhile imports surged 18.7% to build on a 13.5% gain the previous month, which was revised up from 13.3% and was expected to be roughly repeated in September.
The pick-up in imports has been at least partly driven by a jump in inbound shipments of industrial commodities.
Together this saw the trade balance soften to a surplus of $28.47bn last month from $42bn a month before, although this was less than the $40bn expected by the market.
"China's imports and exports grew at fastest pace in September than in the previous month suggesting that the economy is still expanding," said Investec.
"What is good news from China is normally good news for the commodities industry."
Indeed, Rio Tinto, Anglo American, Glencore and BHP Billiton were among the few risers on the FTSE 100 on Friday morning.
"Investors cheered the China trade balance data to some extent today," said analyst Naeem Aslam at Think Markets. "The economic data was mixed but investors have paid more attention to the silver lining in this number."
He noted that imports came in much better than the market expectation, however, the export number was little soft compared to the consensus forecast.
"Remember the Central Bank of China has been more focused in changing the structure and it desires its consumption to inflate," he said.
Julian Evans-Pritchard at Capital Economics said the data showed hints of a real pick-up in domestic demand, while the decline in the trade surplus suggests that capital outflows remained even smaller last month than he had initially estimated.
The pick-up in inbound shipments of industrial commodities suggested, Evans-Pritchard said, that domestic demand was strong last month, "perhaps reflecting a final push at the local level to shore up activity ahead of the Party Congress which kicks off next week".
"The upshot is that while today's figures point to slightly softer foreign demand, domestic demand appears to have strengthened.
"Looking ahead, we expect any further weakening of exports to remain mild given the relatively upbeat outlook for growth in China's main trading partners.
"In contrast, imports may eventually face a sharper slowdown as support from loose fiscal policy reverses after the Party Congress, with local governments forced to pair back spending in the final months of the year in order to meet budget targets."