Catalan officials make conflicting remarks, some see olive branch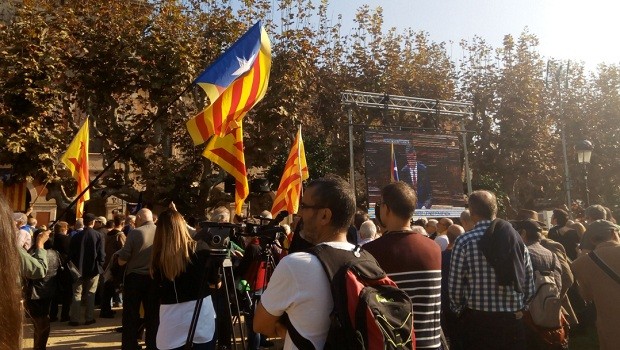 A top Catalan official says the regional government is willing to talk to the central government, blaming Madrid for the impasse, even as other officials in Barcelona hint at pursuing a more drawn out declaration of independence, lasting perhaps weeks or months.
"We need two to tango, we need the other side to be at the table," Catalonia's foreign affairs chief, Raul Romeva, told Bloomberg TV in an interview.
"What causes uncertainty is the incapability of the political central state - or the Spanish state - to provide a political solution," Romeva added.
Also according to Romeva, the impact of the political uncertainty in Catalonia would also be felt in the rest of Spain and in Europe.
His remarks, following mass pro-Spanish and pro-dialogue demonstrations in Barcelona at the weekend, were taken by some observers to be an olive branch.
Spanish stocks had kicked off the week with gains, extending the bounce that began the week before, on hopes that the Catalan nationalist parties might back down, given what appeared to be divisions among them.
As of 1205 BST, the country's top flight index, the Ibex 35, was ahead by 0.58% to 10,244.40.
In clearer terms, on Sunday a member of PdeCat, one of the parties in the ruling coalition government in Barcelona, Marta Pascal, told the BBC the nationalists would stop short of issuing a unilateral declaration of independence on Tuesday.
Instead, Catalan president Carles Puigdemont would make a "symbolic statement" and speak of embarking on a path leading towards independence.
However, in remarks to broadcaster Onda Vasca, another PdeCat politician, Ramon Tremosa, said Puigdemont would issue a declaration of independence but suspend it during a time while the regional government tries to find international backing for its push if Madrid does not allow a legal referendum, following the precedent of Slovenia in the 90s.
"This is not a 'bluff', the 'process' has reached its endgame."