Catalan ministers provisionally sent to jail, sparking protests in the region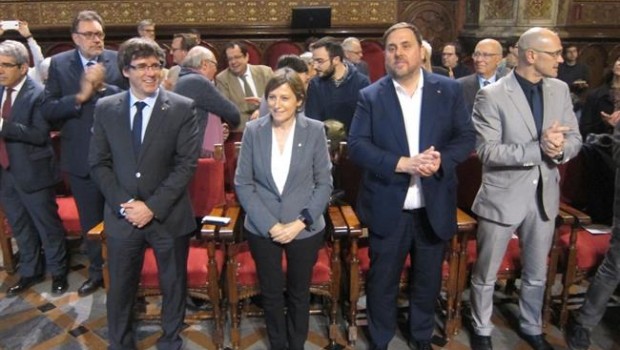 Protesters have taken to the streets across Catalonia after eight former members of the regional government were sent to jail, the majority without bail, after being charged for rebellion, sedition and the misuse of public funds.
The officials appeared in front of Spain's supreme court on Thursday to face the charges, while prosecutors have also issued an arrest warrant for ex-President Carles Puigdemont and four other former ministers.
Puigdemont was then in Brussels and had refused to travel back to Spain until he received specific 'guarantees' over the charges he will face.
A judge said during the court appearance on Thursday that the former ministers had to be detained as they could potentially leave the country while they waited for trial.
Among those who jailed without bail were former deputy vice-president Oriol Junqueras and foreign affairs minister Raül Romeva.
A ninth official, Santi Vila, was granted bail after the former business minister quit the government ahead of the parliamentary vote for independence last week.
Local authorities organised and carried out an independence referendum in the region on 1 October, even after Spain's constitutional court declared the vote - which was marred by violence - illegal.
Previously, Madrid had called for elections in Catalonia on 21 December, with polls suggesting nationalist parties might lose their overall majority in the local parliament.