Walmart posts earnings beat as revenue rises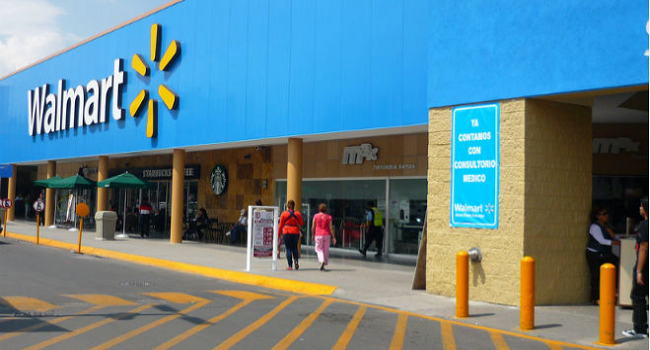 Walmart beat earnings forecasts and posted an improvement in total revenue for its first quarter on Thursday, with the figure coming in at $122.7bn - an increase of $5.1bn, or 4.4%.
The US-based discount retail giant, which currently owns the Asda chain in the United Kingdom, said excluding the effects of currency, total revenue was $120.7bn - an increase of $3.2bn, or 2.7%.
GAAP earnings per share declined 28%, but adjusted earnings per share increased 14% to $1.14 - two cents ahead of consensus forecasts.
US comparative sales were ahead 2.1% for the period, and comparative traffic increased 0.8%.
The company's Sam's Club wholesale division's comparative sales were up 3.8%, which the board said was led by comparative traffic growth of 5.6%.
Tobacco sales negatively impacted comparative sales by approximately 140 basis points, Walmart explained.
Net sales at Walmart International were $30.3bn - an increase of 11.7% - while excluding currency, net sales were $28.3bn, for an increase of 4.5%.
Eight of the firm's 11 markets posted positive comparative sales, including Walmart's four largest markets.
The company generated $5.2bn in operating cash flow.
Walmart's board explained that its adjusted earnings per share excluded the impact of two items, with the first being an unrealized loss of 47 cents on the company's equity investment in JD.com due to a change in accounting principles.
The second item benefited earnings per share by five cents, due to an adjustment in the provisional amount recorded in the fourth quarter of the 2018 financial year related to US tax reform.
"We delivered a solid first quarter, and we're encouraged by the continued momentum across the business," said Walmart president and CEO Doug McMillon.
"We're transforming to better serve customers."
McMillon said the company was "changing from within" to be faster and more digital,
while shaping its portfolio of businesses for the future.
"Our strong cash flow and balance sheet provide flexibility to do so."
Earlier this month, Walmart and British grocery retailer J Sainsbury announced plans to merge the Asda and Sainsbury's chains, which would result in Walmart holding 42% of the new company.