Oliver Haill Sharecast | 21 Apr, 2017
13:52

- Updated: 14:52
Borussia Dortmund bus attacker aimed to gain from share speculation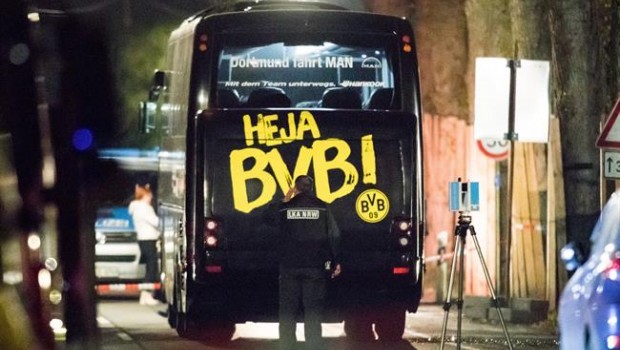 A German-Russian man has been arrested for carrying out the explosives attack on the Borussia Dortmund team bus, with police saying the 28-year-old had been shorting the football club's shares and nothing to do with Islam.
German police reported that the suspect, 'Sergej W', had bought 15,000 put options on shares in the football club in a bet that the shares would fall.
On the morning before the attack, he bought 15,000 warrants for an estimated €78,000 (£65,000) and media could have gained almost €4m from a major collapse in BVB shares.
Commerzbank's Comdirect online bank alerted police to the suspicious purchase as employees initially suspected it was a money laundering issue.
The triple explosions last week saw Spanish defender Marc Bartra and a policeman injured as the bus was heading to the stadium ahead of the Champions League quarterfinal against Monaco.
Police said the man, known only as Sergei W carried out the transaction from a room at the top of the hotel where the team was staying before the game, where he had a view of the bus and so was able to trigger the explosive devices he had hidden in a hedge next to the road.
Three printed statements were found near the crime scene that appear to have been left by the 28-year-old and referenced the Islamist terrorist attack in Berlin last December and mentioned the "caliphate" in a clear reference to the so-called Islamic State.
This and evidence around the nature of the explosions led German police to originally believe its was an attack by Islamist terrorists.
"A significant share price drop could have been expected if a player had been seriously injured or even killed as a result of the attack," German prosecutors said on Friday morning.
They added that the accused booked a room for the period from 9 to 13 April as well as for the period from 16 to 20 April, which covered the possible dates of the Champions League tie.
"Like the Borussia Dortmund team, the defendant was also a guest of the Hotel L'Arrivée. On April 9 2017 he had occupied a room on the top floor of the hotel, facing the coach route," the prosecutors added.