Week ahead: US Fed Powell's Senate confirmation and OPEC summit in focus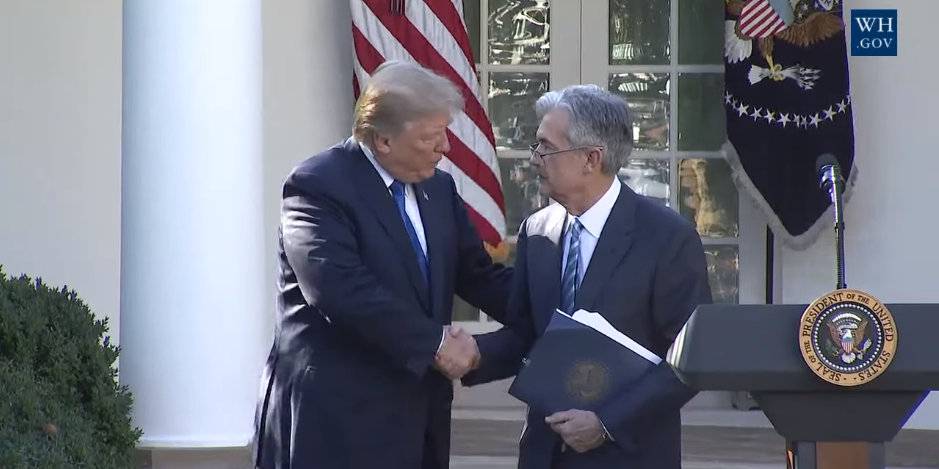 The market spotlight during the coming week will be on the US Senate Banking Committee's hearing on the nomination of Jerome Powell as the next chair of the US Federal Reserve.
Investors will also keep a close eye on outgoing Fed chief Janet Yellen's testimony on the US economic outlook before the Joint Economic Committee of Congress, on Tuesday.
"This positive outlook for growth is dominating for now over the many uncertainties regarding politics and policies - not only in emerging markets and geopolitical hot spots, but also in advanced economies[...]
"Meanwhile, the Fed continues to signal caution beyond a very likely December hike, while the ECB minutes reveal an internal debate over its policies, which is likely to intensify as the economy strengthens," economists at Barclays Research said in a note sent to clients on 24 November.
Barclays's forecast is for US rate-setters to hike rates in December and then twice more in 2018 but with a pause after next month in order to better gauge just how structural, or not, recent low inflation readings truly are.
US central bank aside, the Organisation of Petroleum Exporting Countries's ministerial meeting on 30 November will also be in the spotlight.
Significantly, on Friday the cartel and Russia reportedly agreed to extend their supply curbs until the end of 2018, although the details of the deal were said to still be under discussion.
In particular, Moscow was reported to have asked that the size of the supply cuts be linked to the health of the market.
Back in the US, traders were expected to focus on personal income and expenditure figures for October on Thursday and the ISM's manufacturing sector purchasing managers' index for November at the end of the week, on Friday.
An equivalent survey on UK factory conditions from IHS Markit is due for release on the same day.
Across the Channel, German consumer confidence readings for December were expected on Tuesday, alongside unemployment figures for November on Thursday.
Euro area data on unemployment and consumer prices for November were also scheduled to be published on Thursday.
Overnight on Friday, investors would focus on a barrage of Japanese economic data, including readings on joblessness, household spending, and consumer prices for October.
Monday November 27
INTERIMS
Kainos Group , Ramsdens Holdings , Trakm8 Holdings
INTERIM DIVIDEND PAYMENT DATE
IFG Group, ITV, Toyota Motor Corp.
QUARTERLY PAYMENT DATE
APQ Global Limited
INTERNATIONAL ECONOMIC ANNOUNCEMENTS
New Homes Sales (US) (15:00)
GMS
Oxford Pharmascience Group
FINALS
Cerillion , Patisserie Holdings
AGMS
JPMorgan Global Markets Emerging Income Trust, Manchester & London Investment Trust, TR European Growth Trust
FINAL DIVIDEND PAYMENT DATE
El Oro Ltd, SCS Group
Tuesday November 28
INTERIMS
Acal, Alpha Financial Markets Consulting, BCA Marketplace, Cranswick, D4T4 Solutions, GB Group, IG Design Group, KCOM Group, KCOM Group, Park Group, Pets at Home Group , Scholium Group, Scholium Group, ULS Technology
QUARTERLY EX-DIVIDEND DATE
Canadian General Investments Ltd.
INTERNATIONAL ECONOMIC ANNOUNCEMENTS
GFK Consumer Confidence (GER) (07:00)
House Price Index (US) (13:00)
M3 Money Supply (EU) (08:00)
Q3
PJSC Centre For Cargo Container Traffic Transcontainer GDR (Reg S)
FINALS
Gooch & Housego, Greencore Group, ITE Group, Sanderson Group, Shaftesbury, Topps Tiles, Treatt, UDG Healthcare Public Limited Company, Urban&Civic
AGMS
Berkeley Energia Limited (DI), Blancco Technology Group, City Natural Resources High Yield Trust, Clinigen Group, Ferguson, JPMorgan Smaller Companies Inv Trust, Scotgold Resources (DI), Surface Transforms, Town Centre Securities, Wilmcote Holdings NPV, Wolf Minerals Limited
UK ECONOMIC ANNOUNCEMENTS
Index of Services (08:30)
Nationwide House Price Index (07:00)
Wednesday November 29
INTERIMS
Findel, LondonMetric Property, Motorpoint Group, Pennon Group, Redcentric, RPC Group, Telford Homes, Versarien
INTERIM DIVIDEND PAYMENT DATE
Panther Securities
INTERNATIONAL ECONOMIC ANNOUNCEMENTS
Business Climate Indicator (EU) (10:00)
Consumer Confidence (EU) (10:00)
Crude Oil Inventories (US) (15:30)
Economic Sentiment Indicator (EU) (10:00)
GDP (Preliminary) (US) (13:30)
Industrial Confidence (EU) (10:00)
MBA Mortgage Applications (US) (12:00)
Pending Homes Sales (US) (15:00)
Services Confidence (EU) (10:00)
FINALS
Brewin Dolphin Holdings, Britvic, Impax Asset Management Group, ZPG Plc
AGMS
Bluefield Solar Income Fund Limited, Genedrive , IronRidge Resources Limited (DI), Oilex Ltd., Oncimmune Holdings, Target Healthcare Reit Ltd, Thor Mining
TRADING ANNOUNCEMENTS
Eve Sleep PLC, Softcat
UK ECONOMIC ANNOUNCEMENTS
Consumer Credit (09:30)
M4 Money Supply (09:30)
Mortgage Approvals (09:30)
Thursday November 30
INTERIMS
Greene King, OPG Power Ventures, PayPoint, Torotrak
INTERIM DIVIDEND PAYMENT DATE
BAE Systems, Bloomsbury Publishing, British American Inv Trust, Capita, Centrica, RTC Group, Senior, Strix Group , William Hill
INTERIM EX-DIVIDEND DATE
Bilby, Caledonia Investments, CMC Markets, CML Microsystems, Creightons, Cropper (James), Dunedin Enterprise Investment Trust, Electrocomponents, Establishment Inv Trust, Funding Circle SME Income Fund C Shs NPV, Headlam Group, Hill & Smith Holdings, International Consolidated Airlines Group SA (CDI), JD Sports Fashion, Johnson Matthey, Liontrust Asset Management, LXI Reit , Majestic Wine, Martin Currie Asia Unconstrained Trust , NB Distressed Debt Investment Fund Limited, NB Distressed Debt Investment Fund Limited Ext Shs, NB Distressed Debt Investment Fund Limited Red Ord, Norcros, Octagonal, Record, Renewi , Severn Trent, Tarsus Group, Tate & Lyle, Telecom Plus, TR Property Inv Trust, Triad Group, VP
QUARTERLY PAYMENT DATE
City of London Inv Trust, Civitas Social Housing , Custodian Reit , F&C Commercial Property Trust Ltd., Impact Healthcare Reit , Picton Property Income Ltd
QUARTERLY EX-DIVIDEND DATE
Albion Technology & General VCT, Alpha Real Trust Ltd., Land Securities Group, RM Secured Direct Lending, Volta Finance Limited
INTERNATIONAL ECONOMIC ANNOUNCEMENTS
Chicago PMI (US) (14:45)
Continuing Claims (US) (13:30)
Import Price Index (GER) (06:00)
Initial Jobless Claims (US) (13:30)
Personal Consumption Expenditures (US) (13:30)
Personal Income (US) (13:30)
Personal Spending (US) (13:30)
Retail Sales (GER) (07:00)
Unemployment Rate (EU) (10:00)
Unemployment Rate (GER) (09:00)
FINALS
Daily Mail and General Trust A (Non.V), Grainger, Marston's, On The Beach Group , Premier Asset Management Group
SPECIAL DIVIDEND PAYMENT DATE
Diverse Income Trust (The), TR European Growth Trust
SPECIAL EX-DIVIDEND DATE
Keystone Inv Trust
AGMS
Agriterra LD, ASOS, Baillie Gifford Japan Trust, CVS Group, Dukemount Capital, European Metals Holding Limited (DI), Feedback, Ferrum Crescent Ltd NPV (DI), Greatland Gold, JPEL Private Equity USD Equity Shares , JPMorgan Global Convertibles Income Fund Ltd, Revolution Bars Group
TRADING ANNOUNCEMENTS
Go-Ahead Group
FINAL DIVIDEND PAYMENT DATE
Diverse Income Trust (The), New Star Investment Trust, Thorpe (F.W.), TR European Growth Trust, Wetherspoon (J.D.)
FINAL EX-DIVIDEND DATE
Aviva 8 3/4% Cumulative Irrd Preference 1, Bellway, Brunner Investment 5% Prf, Diploma, Downing Three VCT D Share , Downing Three VCT E Share, Euromoney Institutional Investor, GBGI Limited, General Accident 'A', Keystone Inv Trust, Lok'n Store Group, Origin Enterprises, YouGov
Friday December 01
INTERIM DIVIDEND PAYMENT DATE
Action Hotels, Anpario, Balfour Beatty, Hargreave Hale AIM VCT 2, Hilton Food Group, Laird, Mission Marketing Group, Scottish Mortgage Inv Trust
INTERIM EX-DIVIDEND DATE
First Property Group
QUARTERLY PAYMENT DATE
Chenavari Toro Income Fund Limited NPV, JPMorgan Claverhouse Inv Trust
INTERNATIONAL ECONOMIC ANNOUNCEMENTS
Construction Spending (US) (15:00)
ISM Manufacturing (US) (15:00)
ISM Prices Paid (US) (15:00)
PMI Composite (EU) (09:00)
PMI Composite (GER) (08:55)
PMI Manufacturing (GER) (08:55)
PMI Manufacturing (EU) (09:00)
PMI Manufacturing (US) (14:45)
PMI Services (EU) (09:00)
PMI Services (GER) (08:55)
Q3
PJSC Megafon GDR (Reg S)
SPECIAL DIVIDEND PAYMENT DATE
Electra Private Equity
AGMS
Aberdeen Asian Smaller Companies Investment Trust, DFS Furniture, Green Reit, Haydale Graphene Industries, James Halstead, Purecircle Limited (DI), Ruffer Investment Company Ltd Red PTG Pref Shares, Starvest
UK ECONOMIC ANNOUNCEMENTS
PMI Manufacturing (09:30)
FINAL DIVIDEND PAYMENT DATE
Ashmore Group, Clinigen Group, Ferguson, Genesis Emerging Markets Fund Ltd Ptg NPV, Genus, James Halstead, JPMorgan Emerging Markets Inv Trust, Kier Group, Mcbride, Urals Energy Public Co Ltd. (DI)