Week ahead: UK data, China Communist party Congress in focus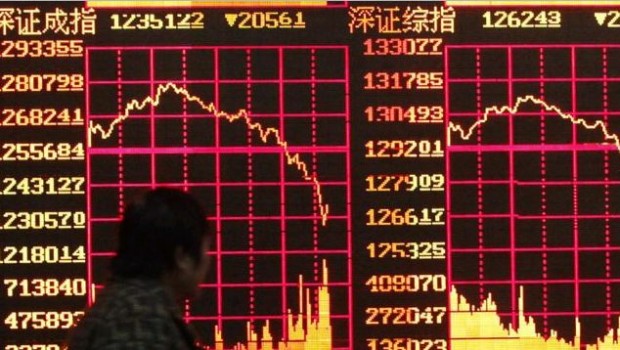 The coming week will see the release of a barrage of economic data on the UK economy, even as investors eye political events in the People's Republic of China and Spain.
In the UK, starting from Tuesday investors will be closely watching a stream of reports including official monthly estimates on consumer prices, the labour market, retail sales and the public finances.
Acting as a backdrop, the 19th Chinese Communist Party Congress kicks off on Wednesday, with analysts interesed in the potential for multiple new faces among the top ranks of China's government, which may provide hints as to the direction the country is headed in over the medium-term.
Commenting on what is likely to come out of those gatherings, analysts at Barclays Research said: "While we expect broad policy continuity, the potential for greater centralisation of power could put the government in a stronger position to push for reforms and developments."
Spain will also be very much in focus, with markets keen to learn if the main Catalan nationalist parties finally choose to come to the negotiating table or to bring matters to a head, instead.
Local reports at the weekend indicated that the first deadline from Madrid, which was set to expire on Monday morning at 0900 BST, may not be heeded, with Catalan president Carles Puigdemont opting instead for an ambiguous statement in which he neither confirms nor denies that he issued a declaration of independence the week before.
Elsewhere, other reports speculated with the possibility of further North Korean missile launches timed to coincide with combined US and South Korean military drills scheduled for throughout the week.
Stateside, the flow of economic data was set to slow, with a few reports on the housing market and manufacturing sector expected to be in focus, alongside a speech from Fed chair Janet Yellen at the end of the week.
Meanwhile, in Europe, on Thursday the European Union's main Brexit negotiator, Michel Barnier, was scheduled to update EU 27 leaders on the current state of negotiations with the UK.
A raft of Chinese data was also due to be published on Thursday, including on third quarter GDP, fixed asset investment, industrial production and retail sales. CPI and money supply data were also due out earlier in the week.
That same day, central banks in South Korea, Indonesia and Israel are expected to decided on interest rates.
Monday October 16
INTERIM EX-DIVIDEND DATE
Sagicor Financial Corporation Limited (DI)
INTERNATIONAL ECONOMIC ANNOUNCEMENTS
Balance of Trade (EU) (11:00)
GMS
Eckoh
DRILLING REPORT
Polymetal International, Rio Tinto
AGMS
Bluejay Mining, Zibao Metals Recycling Holdings
TRADING ANNOUNCEMENTS
Acal, Schroders (Non-Voting)
FINAL DIVIDEND PAYMENT DATE
1pm, National Westminster 9%pf
Tuesday October 17
INTERIMS
B.P. Marsh & Partners
INTERNATIONAL ECONOMIC ANNOUNCEMENTS
Capacity Utilisation (US) (14:15)
Consumer Price Index (EU) (11:00)
Import and Export Price Indices (US) (13:30)
Industrial Production (US) (14:15)
Wholesale Price Index (GER) (07:00)
ZEW Survey (EU) (11:00)
ZEW Survey (GER) (10:00)
GMS
Revolution Bars Group, SEC S.P.A. (CDI)
FINALS
ASOS, Bellway, Bioventix, DotDigital Group, Genedrive , Orchard Funding Group
IMSS
Virgin Money Holdings (UK)
DRILLING REPORT
BHP Billiton
AGMS
Frontier Developments
TRADING ANNOUNCEMENTS
Evraz, Mediclinic International , Merlin Entertainments , Moneysupermarket.com Group, Pearson, SEGRO, Virgin Money Holdings (UK)
UK ECONOMIC ANNOUNCEMENTS
Consumer Price Index (09:30)
Producer Price Index (09:30)
Retail Price Index (09:30)
Wednesday October 18
INTERIMS
U And I Group
INTERIM DIVIDEND PAYMENT DATE
IDOX, Non-Standard Finance, Somero Enterprises Inc. (DI), Standard Life Aberdeen
QUARTERLY PAYMENT DATE
Assura
INTERNATIONAL ECONOMIC ANNOUNCEMENTS
Building Permits (US) (13:30)
Crude Oil Inventories (US) (15:30)
Housing Starts (US) (13:30)
MBA Mortgage Applications (US) (12:00)
FINALS
Softcat
IMSS
Rathbone Brothers
DRILLING REPORT
Hochschild Mining
AGMS
BATM Advanced Communications Ltd., India Capital Growth Fund Ltd.
TRADING ANNOUNCEMENTS
Reckitt Benckiser Group
UK ECONOMIC ANNOUNCEMENTS
Claimant Count Rate (09:30)
Unemployment Rate (09:30)
FINAL DIVIDEND PAYMENT DATE
Stewart & Wight
Thursday October 19
INTERIMS
Stobart Group Ltd.
INTERIM DIVIDEND PAYMENT DATE
Dairy Farm International Holdings Ltd (Bermuda), Dairy Farm International Holdings Ltd. (Jersey), Dairy Farm International Holdings Ltd. (Singapore), Duke Royalty Limited, Gamma Communications, GVC Holdings, Hongkong Land Holding Ltd. (Sing.Reg), Jardine Matheson Holdings Ltd (Singapore Reg), Jardine Strategic Holdingd Ltd. (Bermuda), Jardine Strategic Holdingd Ltd. (Jersey REG), Jardine Strategic Holdings Ltd. (Singapore), Mandarin Oriental International (Bermuda), Mandarin Oriental International (Jersey), Mandarin Oriental International (Singapore), TT Electronics
INTERIM EX-DIVIDEND DATE
Action Hotels, Amati Vct 2, BAE Systems, Burford Capital , Capita, Harvey Nash Group, Howden Joinery Group, ICG Enterprise Trust, Intu Properties, M. P. Evans Group, Marshalls, Mears Group, Menzies(John), Senior, Smart Metering Systems, Stilo International, Ted Baker, Walker Greenbank, Witan Pacific Inv Trust, Zegona Communications
QUARTERLY PAYMENT DATE
Fair Oaks Income Limited 2014 Shs NPV, Fair Oaks Income Limited 2017 Shs NPV
QUARTERLY EX-DIVIDEND DATE
City of London Inv Trust
INTERNATIONAL ECONOMIC ANNOUNCEMENTS
Continuing Claims (US) (13:30)
Initial Jobless Claims (US) (13:30)
Philadelphia Fed Index (US) (13:30)
Q3
Unilever
FINALS
Tristel
SPECIAL EX-DIVIDEND DATE
ProVen Growth & Income VCT, ProVen VCT
AGMS
BHP Billiton, PCI-PAL, Rank Group
TRADING ANNOUNCEMENTS
Travis Perkins
UK ECONOMIC ANNOUNCEMENTS
Retail Sales (09:30)
FINAL DIVIDEND PAYMENT DATE
Joules Group, Oxford Instruments
FINAL EX-DIVIDEND DATE
Fidelity Asian Values, Henderson EuroTrust, Smiths Group, Wilmington
Friday October 20
INTERIM DIVIDEND PAYMENT DATE
Applegreen, Barr (A.G.), Braime (T.F.& J.H.) Holdings (Non-Voting), Christie Group, Convatec Group , Costain Group, Derwent London, Eddie Stobart Logistics , Epwin Group, Henry Boot, Hunters Property , Inmarsat, Petrofac Ltd., Phoenix Spree Deutschland Limited Shs NPV , Shire Plc, Stadium Group, Vitec Group
INTERNATIONAL ECONOMIC ANNOUNCEMENTS
Current Account (EU) (09:00)
Existing Home Sales (US) (15:00)
Producer Price Index (GER) (07:00)
FINALS
Oncimmune Holdings
ANNUAL REPORT
James Halstead
IMSS
InterContinental Hotels Group, InterContinental Hotels Group
AGMS
Vast Resources
TRADING ANNOUNCEMENTS
Record
UK ECONOMIC ANNOUNCEMENTS
CBI Industrial Trends Surveys (11:00)
Public Sector Net Borrowing (09:30)
FINAL DIVIDEND PAYMENT DATE
Green Reit, Hargreaves Lansdown, Hargreaves Services, HML Holdings, Kainos Group , Norish Units