Week ahead: Investors looking for answers from Carney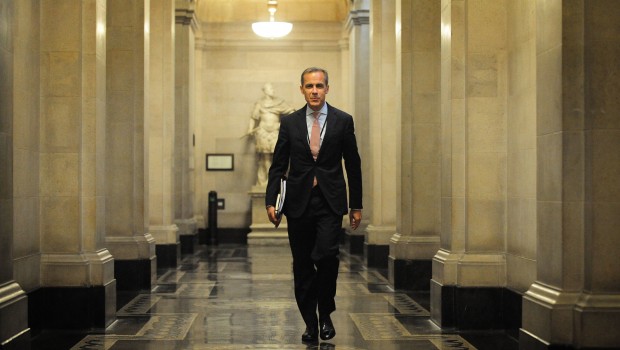 What were the implications of the softening in economic activity towards the end of last year for the 2016 outlook in the UK?
The answer to that query would be foremost on investors' minds when Governor Mark Carney addressed reporters following the Monetary Policy Committee's interest rate decision next Thursday, analysts at Investec said.
That would come close on the heels of the Chancellor's warning, a week before, that Britain faces a dangerous cocktail of new threats coming into this year.
Indeed, it was in response to those remarks that the pound weakened noticeably at the start of the year.
Acting as a backdrop, and with the US December jobs report now in the rear view mirror, traders would again be keeping close tabs on the situation in China's stock markets and on its currency.
Chinese consumer price data for the month of December were scheduled to be published on 9 January, followed later in the week by reports on the country's international trade, bank lending and money supply growth.
Economic releases Stateside would be back end-loaded in the coming week, with the majority of indicators set for release on Friday, including the latest readings on retail sales and the University of Michigan's consumer confidence survey.
The Fed's Beige Book might also make for interesting reading on Wednesday ahead of the FOMC's next policy meeting on 27 January.
Monday January 11
INTERIM DIVIDEND PAYMENT DATE
Northgate
INTERNATIONAL ECONOMIC ANNOUNCEMENTS
Harmonised Competitiveness Indicators (EU) (09:00)
GMS
Atlantic Coal
SPECIAL EX-DIVIDEND PAYMENT DATE
Johnson Matthey
TRADING ANNOUNCEMENTS
AO World, NewRiver Retail Limited, Robert Walters
FINAL EX-DIVIDEND DATE
Barloworld Ltd.
Tuesday January 12
INTERIMS
Games Workshop Group, Ilika
Q3
Big Yellow Group
GMS
Capital Management & Investment, Harvest Minerals Limited (DI)
SPECIAL DIVIDEND PAYMENT DATE
Netcall, OMG
EGMS
Grupo Clarin SA GDR (Reg S), MTI Wireless Edge Ltd., Serabi Gold
TRADING ANNOUNCEMENTS
Debenhams, Grafton Group Units, Greggs, Michael Page International, Morrison (Wm) Supermarkets, The Gym Group
UK ECONOMIC ANNOUNCEMENTS
BRC Sales Monitor (00:01)
Industrial Production (09:30)
Manufacturing Production (09:30)
FINAL DIVIDEND PAYMENT DATE
Netcall
Wednesday January 13
INTERIM DIVIDEND PAYMENT DATE
Electrocomponents, Fair Oaks Income Fund Limited C Shs NPV, National Grid, Royal Mail, Ventus VCT D Shs, Ventus 2 VCT, Ventus 2 VCT 'C' Shares, Ventus 2 VCT D Shs, Ventus VCT, Ventus VCT 'C' Shares
QUARTERLY EX-DIVIDEND DATE
Caledonia Mining Corporation
INTERNATIONAL ECONOMIC ANNOUNCEMENTS
Beige Book Fed Survey (US) (19:00)
Crude Oil Inventories (US) (15:30)
Industrial Production (EU) (10:00)
MBA Mortgage Applications (US) (12:00)
Treasury Budget Statement (US) (19:00)
FINALS
Shoe Zone
IMSS
Dunelm Group
AGMS
Baring Emerging Europe, Fenner, Game Digital
TRADING ANNOUNCEMENTS
Barratt Developments, Dunelm Group, Fenner, Hays, Sainsbury (J), Tullow Oil, Xaar
FINAL DIVIDEND PAYMENT DATE
Bellway, Qatar Investment Fund
Thursday January 14
INTERIM DIVIDEND PAYMENT DATE
Alliance Pharma, Babcock International Group, Octopus AIM VCT
INTERIM EX-DIVIDEND DATE
Ashtead Group, Consort Medical, F&C Commercial Property Trust Ltd., Hayward Tyler Group, Poundland Group , QinetiQ Group, Redcentric
QUARTERLY PAYMENT DATE
GlaxoSmithKline, Total SA, XP Power Ltd. (DI)
QUARTERLY EX-DIVIDEND DATE
NB Global Floating Rate Income Fund Ltd GBP, NB Global Floating Rate Income Fund Ltd USD
INTERNATIONAL ECONOMIC ANNOUNCEMENTS
Continuing Claims (US) (13:30)
Import and Export Price Indexes (US) (13:30)
Initial Jobless Claims (US) (13:30)
Philadelphia Fed Index (US) (13:30)
Q4
JP Morgan Chase & Co
IMSS
Tesco
SPECIAL EX-DIVIDEND PAYMENT DATE
Next
AGMS
Cambria Automobiles, Catalyst Media Group, Debenhams
TRADING ANNOUNCEMENTS
Ashmore Group, ASOS, Associated British Foods, Booker Group, Burberry Group, Hilton Food Group, Home Retail Group, JD Sports Fashion, Jupiter Fund Management , Premier Oil
FINAL EX-DIVIDEND DATE
Connect Group, Dunedin Smaller Companies Inv Trust, Income & Growth VCT , Majedie Investments, Octopus VCT 3, Octopus VCT 4, Patisserie Holdings , WH Smith
Friday January 15
INTERIM DIVIDEND PAYMENT DATE
Acal, B&M European Value Retail S.A. (DI), Betfair Group, Bilby, British Smaller Companies VCT, JPMorgan Euro Small Co. Trust, Severfield, Tarsus Group, UK Mail Group , World Trust Fund
INTERNATIONAL ECONOMIC ANNOUNCEMENTS
Balance of Trade (EU) (10:00)
Business Inventories (US) (15:00)
Capacity Utilisation (US) (14:45)
Industrial Production (US) (14:45)
Manufacturing Inventories (US) (15:00)
New Car Registrations (EU) (10:00)
Producer Price Index (US) (13:30)
Retail Sales (US) (13:30)
Retail Sales Inventories (US) (15:00)
U. of Michigan Confidence (Prelim) (US) (15:00)
Wholesale Price Index (GER) (07:00)
EGMS
BCRE - Brack Capital Real Estate Investments N.V. (DI)
TRADING ANNOUNCEMENTS
Bonmarche Holdings, Bovis Homes Group, Experian
FINAL DIVIDEND PAYMENT DATE
Carr's Group, K3 Business Technology Group, Northamber, Witan Investment Trust Plc