Week ahead: French elections, UK GDP in focus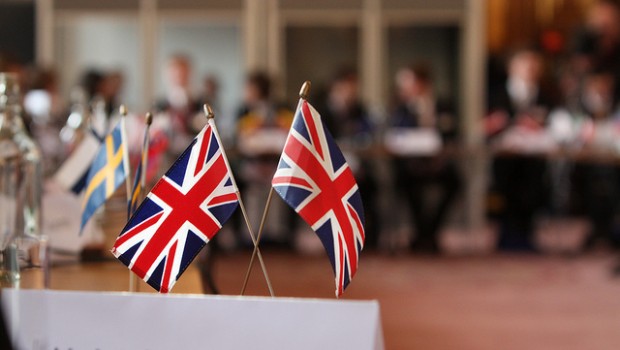 All eyes will turn to France next week, as investors digest the results of the first round of voting in the presidential elections and attempt to draw the correct implications for the economic outlook, both there as well as for the other electoral contests which still lay ahead on the Continent in 2017.
Against that backdrop, on Thursday investors will tune into the press briefing from European Central Bank chief Mario Draghi, following the latest policy meeting of its Governing Council.
Also key for the European economy's outlook, Monday will bring with it the latest reading on the IFO institute's widely-followed business confidence gauge for the month of March.
Later in the week, final euro area CPI consumer price data is expected to reveal inflation is on the rebound, with the 'core' gauge rising from a 0.7% year-on-year clip in March to 1.0%, as the seasonal effect around the Easter holiday unwinds.
Back in the UK, public finance figures due out on Tuesday are expected to show the public sector net borrowing requirement fell to £3.2bn in March, from £4.2bn one year ago.
Friday will bring with it data on first quarter gross domestic product, with Britain's economy thought to have slowed down from the 0.7% quarter-on-quarter pace observed in the fourth quarter to 0.4%, "with risks to the downside" according to Credit Suisse.
Over in the States, the main data releases will be Thursday's durable goods orders figures for March and the results of the University of Michigan's consumer confidence survey for April.
Monday 24 April
INTERIMS
Lok'n Store Group
INTERNATIONAL ECONOMIC ANNOUNCEMENTS
IFO Business Climate (GER) (09:00)
IFO Expectations (GER) (09:00)
FINALS
Dillistone Group, Redt Energy
SPECIAL DIVIDEND PAYMENT DATE
Headlam Group
AGMS
Anglo American, Biome Technologies, ECR Minerals, Globaltrans Investment GDR (Reg S), Totally
TRADING ANNOUNCEMENTS
Anglo African Agriculture, Anglo American
Tuesday 25 April
INTERIMS
AB Dynamics, Connect Group
QUARTERLY PAYMENT DATE
General Electric Co
INTERNATIONAL ECONOMIC ANNOUNCEMENTS
House Price Index (US) (13:00)
New Homes Sales (US) (14:00)
Public Sector Net Borrowing (08:30)
Q4
Axis Bank Ltd GDR (Reg S)
GMS
OMV Petrom S.A. GDR (REG S)
FINALS
Axis Bank Ltd GDR (Reg S), Circassia Pharmaceuticals, Havelock Europa, Minds + Machines Group Limited (DI), OptiBiotix Health, Redstoneconnect, Whitbread
ANNUAL REPORT
OMV Petrom S.A. GDR (REG S)
AGMS
AFC Energy, Electric Word, Elementis, Entu (UK) , Equiniti Group , Foreign and Colonial Inv Trust, Globaldata, Hammerson, Horizonte Minerals, Maven Income and Growth VCT 5, Metro Bank, Premier Energy & Water Trust, Proteome Sciences, Shire Plc, Societatea Nationala De Gaze Naturale Romgaz S.A. GDR (Reg S), SpaceandPeople, Sterling Energy, STV Group
TRADING ANNOUNCEMENTS
Elementis
FINAL DIVIDEND PAYMENT DATE
Domino's Pizza Group
Q1
Apax Global Alpha Limited
Wednesday 26 April
INTERIMS
Proactis Holdings, Redefine International, Redefine International
INTERIM DIVIDEND PAYMENT DATE
Close Brothers Group
INTERNATIONAL ECONOMIC ANNOUNCEMENTS
Crude Oil Inventories (US) (15:30)
FINALS
Boohoo.com, GAN, Walker Greenbank
ANNUAL REPORT
HSS Hire Group
AGMS
Admiral Group, Bank of America Corp., Bioquell, British American Tobacco, CLS Holdings, Croda International, Devro, Fidessa Group, Glanbia, Global Invacom Group Limited (DI), Greencoat UK Wind, Henderson Diversified Income Ltd., Henderson Group, JPMorgan US Smaller Co. Inv Tst, Kennedy Wilson Europe Real Estate , Mithras Inv Trust, Nichols, Personal Group Holdings, Petards Group, Primary Health Properties, Schroder Asian Total Return Investment Company , Schroder Asian Total Return Investment Company , Telit Communications, Tullow Oil, Venn Life Sciences Holdings
TRADING ANNOUNCEMENTS
Plus500 Ltd (DI), Tullow Oil
FINAL DIVIDEND PAYMENT DATE
Shore Capital Group Ltd.
Q1
Croda International, Metro Bank, Ooredoo Q.S.C. GDR (Reg S)
Thursday 27 April
INTERIMS
C4X Discovery Holdings
INTERIM EX-DIVIDEND DATE
EJF Investments Ltd NPV, McCarthy & Stone, Wetherspoon (J.D.)
QUARTERLY EX-DIVIDEND DATE
APQ Global Limited, City of London Inv Trust, Custodian Reit
INTERNATIONAL ECONOMIC ANNOUNCEMENTS
Continuing Claims (US) (13:30)
Durable Goods Orders (US) (13:30)
ECB Interest Rate (EU) (12:45)
Economic Sentiment Indicator (EU) (11:00)
GFK Consumer Confidence (GER) (07:00)
Industrial Confidence (EU) (11:00)
Initial Jobless Claims (US) (13:30)
Pending Homes Sales (US) (15:00)
FINALS
Air Partner, Allied Minds , Aseana Properties Ltd., Avocet Mining, Brown (N.) Group, Deltex Medical Group, Gaming Realms, Harvey Nash Group, Morses Club , Styles & Wood Group
IMSS
Atlas Mara Limited (DI), Jardine Lloyd Thompson Group, Lloyds Banking Group, Schroders
SPECIAL EX-DIVIDEND DATE
Elementis, ITV
EGMS
Societatea Energetica Electrica SA GDR (Reg S)
AGMS
Aggreko, Alliance Trust, AstraZeneca, Berendsen, Cobham, Countrywide, CRH, EFG-Hermes Holding SAE GDR (Reg S), EP Global Opportunities Trust, FDM Group (Holdings), Franchise Brands, Green & Smart Holdings, Jardine Lloyd Thompson Group, Just Eat , LSL Property Services, Meggitt, Minoan Group, Patagonia Gold, Persimmon, Sampo OYJ, Satellite Solutions Worldwide Group, Satellite Solutions Worldwide Group, Schroders, Synectics, Synectics, Synthomer, Taylor Wimpey, Unilever, Weir Group, Witan Inv Trust
TRADING ANNOUNCEMENTS
Aggreko, Berendsen, Persimmon, Taylor Wimpey, WPP
UK ECONOMIC ANNOUNCEMENTS
Nationwide House Price Index (07:00)
FINAL DIVIDEND PAYMENT DATE
Hammerson
FINAL EX-DIVIDEND DATE
Antofagasta, Capital Drilling Ltd. (DI), Cenkos Securities, Chemring Group, Churchill China, Dunedin Enterprise Investment Trust, Elementis, Eurocell , Foxtons Group , Fresnillo, G4S, Greggs, Harwood Wealth Management Group, Henry Boot, Hostelworld Group , Hunters Property , Impax Environmental Markets, Informa, ITV, IWG , Kerry Group 'A' Shares, Legal & General Group, Maven Income & Growth 4 VCT, Morgan Sindall Group, NAHL Group, National Express Group, Polypipe Group , Porvair, Relx plc, Rolls-Royce Holdings, Senior, Smart Metering Systems, Spirax-Sarco Engineering, StatPro Group, UBM, Weir Group, William Hill
Q1
AstraZeneca, Lloyds Banking Group, Novolipetsk Steel GDS (Reg S)
Friday 28 April
INTERIM DIVIDEND PAYMENT DATE
Abbey, Henderson EuroTrust, Smiths Group, Softcat, Wolseley
QUARTERLY PAYMENT DATE
Aberdeen Diversified Income and Growth Trust , Ediston Property Investment Company, Funding Circle SME Income Fund, Middlefield Canadian Income PCC, Real Estate Investors, Schroder Income Growth Fund, The SME Loan Fund, TwentyFour Select Monthly Income Fund Limited , Value and Income Trust
INTERNATIONAL ECONOMIC ANNOUNCEMENTS
M3 Money Supply (EU) (09:00)
Retail Sales (GER) (07:00)
U. of Michigan Confidence (US) (15:00)
GMS
Byblos Bank SAL GDR (Reg S), O'Key Group GDR (Reg S) (WI)
FINALS
Vimetco NV GDR (Reg S)
EGMS
BBGI SICAV S.A. (DI)
AGMS
Aberdeen Smaller Companies Income Trust, Alpha Pyrenees Trust Ltd., BBGI SICAV S.A. (DI), Byblos Bank SAL GDR (Reg S), EMIS Group, HSBC Holdings, Laird, M Winkworth, Mincon Group , O'Key Group GDR (Reg S) (WI)
UK ECONOMIC ANNOUNCEMENTS
GFK Consumer Confidence (00:01)
Index of Services (09:30)
FINAL DIVIDEND PAYMENT DATE
Amino Technologies, CLS Holdings, Franchise Brands, Glanbia, Maven Income & Growth 3 VCT, Maven Income and Growth VCT 5, Octopus AIM VCT 2, Octopus Titan VCT , Old Mutual, Wynnstay Group
Q1
Royal Bank of Scotland Group