Week ahead: ECB in focus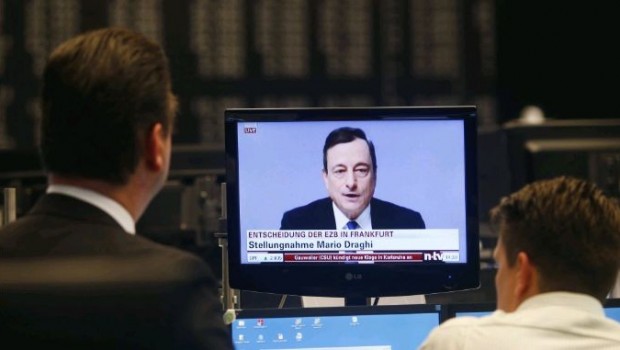 The market spotlight will swing back towards the single currency block next week, with the European Central Bank set to announce further details about its plans to taper quantitative easing in 2018 on Thursday.
According to strategists at Credit Suisse, the ECB was likely to announce a nine-month extension of its bond buying until September 2018 at a reduced pace of "at least" €20bn per month, down from €60bn at present.
Furthermore, the first quarter of 2018 would be dedicated to slowly ratcheting down QE.
Significantly, given the ECB's insistence that it would not raise its main policy rates until after QE was completely wound-up, the length of continued QE and any possibility of a further extension could be the key variable to watch in terms of market tightening expectations as even very small asset purchases would imply a deferral of higher rates.
Other economic reports to watch out for on the Continent would be Tuesday's euro area factory and service sector purchasing managers' indices for September, on Tuesday, and the IFO institute's German business confidence index on Wednesday.
Of course, at the weekend and on Monday, investors will be casting a wary eye towards Catalonia and the potential for more brinksmanship on the part of the region's nationalist parties and politicians.
Stateside, the main releases to watch out for would be the durable goods report on Wenesday and a preliminary reading on third quarter GDP on Friday.
Back in the UK, the only significant economic release on the calendar would be the CBI's industrial trends index, on Monday.
Japanese CPI data out on Friday might also impact on trading.
Rate decisions were also expected from Bank of Canada, on Wednesday, and the Riksbank and Norges Bank on Thursday.
Monday October 23
INTERIMS
Braemar Shipping Services
INTERIM DIVIDEND PAYMENT DATE
Worldpay Group
AGMS
City of London Investment Group, Goldplat
TRADING ANNOUNCEMENTS
Petra Diamonds Ltd.(DI)
UK ECONOMIC ANNOUNCEMENTS
CBI Industrial Trends Surveys (11:00)
Tuesday October 24
INTERIMS
Bloomsbury Publishing, Gear4music (Holdings), Whitbread
INTERIM DIVIDEND PAYMENT DATE
Flowtech Fluidpower, Pendragon, Playtech, Shore Capital Group Ltd.
Q3
St James's Place
GMS
Hemogenyx Pharmaceuticals , Kin Group
IMSS
Reckitt Benckiser Group
EGMS
MHP S.E. GDR (Reg S)
AGMS
Brooks Macdonald Group, Mcbride, Oil & Gas Development Company Ltd GDR (Reg S), Premaitha Health
TRADING ANNOUNCEMENTS
Anglo American, Bunzl, Carpetright, International Personal Finance, Shoe Zone
Wednesday October 25
INTERIMS
Lombard Risk Management
INTERIM DIVIDEND PAYMENT DATE
BBGI SICAV S.A. (DI)
QUARTERLY PAYMENT DATE
General Electric Co
INTERNATIONAL ECONOMIC ANNOUNCEMENTS
Crude Oil Inventories (US) (15:30)
Durable Goods Orders (US) (13:30)
House Price Index (US) (14:00)
IFO Business Climate (GER) (09:00)
IFO Current Assessment (GER) (09:00)
IFO Expectations (GER) (09:00)
MBA Mortgage Applications (US) (12:00)
New Homes Sales (US) (15:00)
Q3
Antofagasta, GlaxoSmithKline, Metro Bank
ANNUAL REPORT
Tlou Energy Limited (DI)
IMSS
Lloyds Banking Group
AGMS
GCP Student Living, Photo-Me International, Redde, Tlou Energy Limited (DI)
TRADING ANNOUNCEMENTS
Centaur Media, Cobham
UK ECONOMIC ANNOUNCEMENTS
BBA Mortgage Lending Figures (09:30)
GDP (Preliminary) (09:30)
Index of Services (09:30)
FINAL DIVIDEND PAYMENT DATE
Renishaw
Thursday October 26
INTERIMS
C&C Group, Vitesse Media
INTERIM DIVIDEND PAYMENT DATE
Capital & Regional, Equiniti Group , Oakley Capital Investments Ltd. (DI)
INTERIM EX-DIVIDEND DATE
Booker Group, CareTech Holding, Coats Group, Harwood Wealth Management Group, ITV, Lookers, M&C Saatchi, Moss Bros Group, Next Fifteen Communications, Rolls-Royce Holdings, U And I Group, William Hill
QUARTERLY EX-DIVIDEND DATE
APQ Global Limited, Blue Capital Alternative Income Fund Ltd (DI), Custodian Reit
INTERNATIONAL ECONOMIC ANNOUNCEMENTS
Balance of Trade (US) (13:30)
Continuing Claims (US) (13:30)
ECB Interest Rate (EU) (12:45)
GFK Consumer Confidence (GER) (07:00)
Initial Jobless Claims (US) (13:30)
M3 Money Supply (EU) (09:00)
Pending Homes Sales (US) (15:00)
GMS
Clinigen Group, Societatea Energetica Electrica SA GDR (Reg S)
FINALS
Connect Group, Redefine International
ANNUAL REPORT
Petra Diamonds Ltd.(DI)
IMSS
National Express Group
SPECIAL EX-DIVIDEND DATE
Barratt Developments, Bioventix
EGMS
Societatea Energetica Electrica SA GDR (Reg S)
AGMS
Alumasc Group, Argos Resources Ltd. (DI), Imagination Technologies Group, Mattioli Woods, Mila Resources, Standard Life UK Smaller Companies Trust
TRADING ANNOUNCEMENTS
Avocet Mining, Kaz Minerals , OPG Power Ventures, Relx plc
UK ECONOMIC ANNOUNCEMENTS
CBI Distributive Trades Surveys (11:00)
FINAL DIVIDEND PAYMENT DATE
Pembroke Vct, Pembroke Vct B
FINAL EX-DIVIDEND DATE
Animalcare Group, Avingtrans, Barratt Developments, Bioventix, Dechra Pharmaceuticals, El Oro Ltd, Ferguson, Galliford Try, Haynes Publishing Group, JPMorgan Emerging Markets Inv Trust, Mcbride, Mulberry Group, Ricardo, Thorpe (F.W.), Wetherspoon (J.D.)
Friday October 27
INTERIMS
System1 Group
INTERIM DIVIDEND PAYMENT DATE
Advanced Medical Solutions Group, Air Partner, Belvoir Lettings, Central Asia Metals, Dignity, EMIS Group, Hansteen Holdings, HGCapital Trust, John Laing Group , JPMorgan Russian Securities, Keywords Studios, Learning Technologies Group , Luceco , Medica Group , Midwich Group, Mortgage Advice Bureau (Holdings) , Premier Technical Services Group , Puma Vct 8, Servelec Group , Smurfit Kappa Group, Sprue Aegis, STV Group, Xpediator
QUARTERLY PAYMENT DATE
Supermarket Income Reit, Value and Income Trust
INTERNATIONAL ECONOMIC ANNOUNCEMENTS
U. of Michigan Confidence (US) (15:00)
Q3
International Consolidated Airlines Group SA (CDI), Mail.ru Group Ltd GDR (Reg S), Novolipetsk Steel GDS (Reg S), Royal Bank of Scotland Group, Shire Plc
IMSS
Berendsen
SPECIAL DIVIDEND PAYMENT DATE
Symphony International Holdings Ltd.
EGMS
Air China Ltd., Bank Audi S.A.L. GDR (Repr 1'Com'Shr Lbp1650)(Reg S)
AGMS
K3 Capital Group
TRADING ANNOUNCEMENTS
Elementis, Hastings Group Holdings , Inchcape
FINAL DIVIDEND PAYMENT DATE
Brooks Macdonald Group, Consort Medical, Dart Group, Eckoh, Fulcrum Utility Services Ltd. (DI), IG Group Holdings, Mattioli Woods