Week ahead: Central banks, China in focus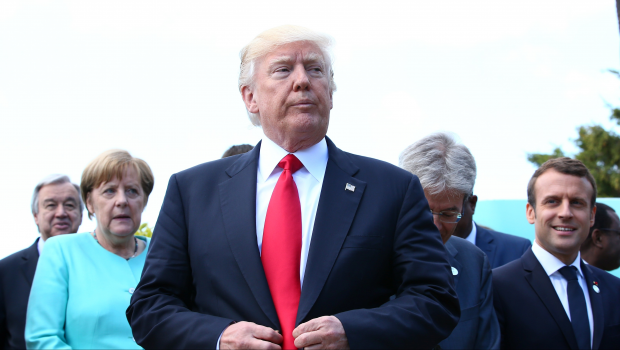 Central banks will be firmly in the spotlight over the coming week, alongside a barrage of economic data out of China and Japan.
First off among the former will be the US central bank, on Tuesday, with the current chair of the Federal Reserve, Janet Yellen, due to deliver the final press conference of her tenure.
A 25 basis point rate hike is now a foregone conclusion in the States next week, but it remains to be seen how she might shift her tone and outlook given the progress made in Congress on approving Republicans' tax reform proposals.
As for the Summary of Economic Projections, some economists believe they will not yet include the likely impact of the Republican tax cuts, with policymakers likely to wait until they have finally been signed into law by the president before including them in their forecasts.
Yet due to the combination of the above tax cuts and global growth, in a research note sent to clients on 8 December, analysts at Barclays Research said there was "upside risk to our call of two [Fed] hikes in 2018".
The Monetary Policy Committee's decision on Thursday is seen as unlikely to deliver any surprises, with a unanimous decision to keep Bank Rate unchanged expected, following rate-setters' decision to hike when they last met.
Before that, on Tuesday and Wednesday, ONS will update on consumer prices and unemployment in the UK for the months of November and October, respectively.
Also on Thursday, the European Central Bank's Governing Council is set to decide on its policy rates. Here again, no changes to either policy or guidance are anticipated, although the ECB is due to release its latest set of macroeconomic staff projections.
Further afield, in China, consumer price data for November are scheduled for release on Saturday, with readings on money supply and credit possibly following as soon as Sunday.
Later in the week, on Thursday as well, the country's National Bureau of Statistics will publish figures on fixed asset investment, industrial production and retail sales for that same month.
Lastly, in Japan, the central bank's Tankan survey of business conditions will be published on Friday.
Monday December 11
INTERIMS
Marlowe, Photo-Me International, Polar Capital Holdings
INTERIM DIVIDEND PAYMENT DATE
DCC
FINALS
Hollywood Bowl Group, Local Shopping REIT
EGMS
Global Ports Investments GDR (REG S)
AGMS
Westmount Energy Ltd.
FINAL DIVIDEND PAYMENT DATE
YouGov
Tuesday December 12
INTERIMS
Abzena, Ashtead Group, Begbies Traynor Group, Carpetright, Polar Capital Technology Trust
INTERIM DIVIDEND PAYMENT DATE
Spire Healthcare Group
INTERNATIONAL ECONOMIC ANNOUNCEMENTS
Producer Price Index (US) (13:30)
Q2
Ashtead Group
FINALS
Driver Group, MedicX Fund Ltd., Pressure Technologies, Zytronic
ANNUAL REPORT
Autins Group
AGMS
Artilium, CQS New City High Yield Fund Limited, Edinburgh Dragon Trust, GCM Resources, Haydale Graphene Industries, Northamber, Tristel
TRADING ANNOUNCEMENTS
Balfour Beatty, Drax Group, Joules Group
UK ECONOMIC ANNOUNCEMENTS
Consumer Price Index (09:30)
Producer Price Index (09:30)
Retail Price Index (09:30)
FINAL DIVIDEND PAYMENT DATE
Fidelity Asian Values
FINAL EX-DIVIDEND DATE
Telefonica SA
Wednesday December 13
INTERIMS
Cohort, Dixons Carphone , OPG Power Ventures, Purplebricks Group
QUARTERLY PAYMENT DATE
M Winkworth, Unilever
INTERNATIONAL ECONOMIC ANNOUNCEMENTS
Consumer Price Index (GER) (07:00)
Consumer Price Index (US) (13:30)
Crude Oil Inventories (US) (15:30)
Industrial Production (EU) (10:00)
MBA Mortgage Applications (US) (12:00)
FINALS
TUI AG Reg Shs (DI)
AGMS
Alternative Liquidity Fund Limited, Avanti Communications Group, Bellway, BowLeven, BowLeven, Henderson Far East Income Ltd., Infrastructure India, Physiomics, Residential Secure Income, Volution Group (WI), World Careers Network
TRADING ANNOUNCEMENTS
Bellway, Dixons Carphone , Serco Group
UK ECONOMIC ANNOUNCEMENTS
Claimant Count Rate (09:30)
FINAL DIVIDEND PAYMENT DATE
Aberdeen Frontier Markets Investment Company
FINAL EX-DIVIDEND DATE
Royal Bank of Scotland Ser 1 Non-Cum Eur Prf (144a)
Thursday December 14
INTERIMS
F&C Global Smaller Companies, Omega Diagnostics Group, ReNeuron Group, Sports Direct International, Tungsten Corporation
INTERIM DIVIDEND PAYMENT DATE
Vedanta Resources
INTERIM EX-DIVIDEND DATE
3i Group, BCA Marketplace, Bonmarche Holdings, Brown (N.) Group, Charles Stanley Group, Circle Property , Clipper Logistics , Lazard World Trust Fund, Michelmersh Brick Holdings, Northgate, Severfield, Sirius Real Estate Ltd., Speedy Hire, Tatton Asset Management , Telford Homes, Vianet Group
QUARTERLY PAYMENT DATE
Brunner Inv Trust, UIL Limited (DI)
QUARTERLY EX-DIVIDEND DATE
Assura , Funding Circle SME Income Fund, Mercantile Investment Trust (The), Real Estate Credit Investments Ltd, XP Power Ltd. (DI)
INTERNATIONAL ECONOMIC ANNOUNCEMENTS
Business Inventories (US) (15:00)
Continuing Claims (US) (13:30)
ECB Interest Rate (EU) (12:45)
Import and Export Price Indices (US) (13:30)
Retail Sales (US) (13:30)
FINALS
Jersey Electricity 'A' Shares, Titon Holdings
SPECIAL EX-DIVIDEND DATE
Ferrexpo, VinaLand Ltd
EGMS
GVC Holdings
AGMS
Pipehawk, Sareum Holdings, Upland Resources Limited (DI), Vernalis plc, VinaCapital Vietnam Opportunity Fund Ltd.
TRADING ANNOUNCEMENTS
Bunzl, Centrica, Headlam Group, Ocado Group, Petrofac Ltd., Porvair, PZ Cussons
UK ECONOMIC ANNOUNCEMENTS
BoE Interest Rate Decision (12:00)
Retail Sales (09:30)
RICS Housing Market Survey (00:01)
FINAL DIVIDEND PAYMENT DATE
MJ Gleeson , Telefonica SA
FINAL EX-DIVIDEND DATE
Aeorema Communications, Associated British Foods, Carr's Group, JPMorgan Chinese Inv Trust, Marston's, Mitchells & Butlers, Numis Corporation, Oxford Metrics
Friday December 15
INTERIM DIVIDEND PAYMENT DATE
BlackRock Smaller Companies Trust, Braemar Shipping Services, C&C Group, Card Factory, CML Microsystems, Downing Three VCT F Shs, Downing Three VCT H Shs, Downing Two VCT F Shs , Downing Two VCT G Shs, Dunedin Enterprise Investment Trust, Octagonal, Octopus Apollo VCT, Sophos Group , Telecom Plus, Whitbread, Wynnstay Properties
QUARTERLY PAYMENT DATE
Alpha Real Trust Ltd., Canadian General Investments Ltd., Carnival
INTERNATIONAL ECONOMIC ANNOUNCEMENTS
Balance of Trade (EU) (06:00)
Capacity Utilisation (US) (14:15)
Industrial Production (US) (14:15)
Wholesale Price Index (GER) (06:00)
SPECIAL DIVIDEND PAYMENT DATE
Card Factory, River and Mercantile Group , Softcat
AGMS
On-Line, Plant Impact, TLA Worldwide , Up Global Sourcing Holdings
TRADING ANNOUNCEMENTS
SThree, Trinity Mirror
FINAL DIVIDEND PAYMENT DATE
AB Dynamics, Aeci 5 1/2% Prf, Edinburgh Dragon Trust, London Finance & Investment Group, Origin Enterprises, River and Mercantile Group , Sherborne Investors (Guernsey) 'B' Limited, Softcat, Tiso Blackstar Group SE, Tristel, World Careers Network