Week ahead: Brexit negotiations, Chinese data in focus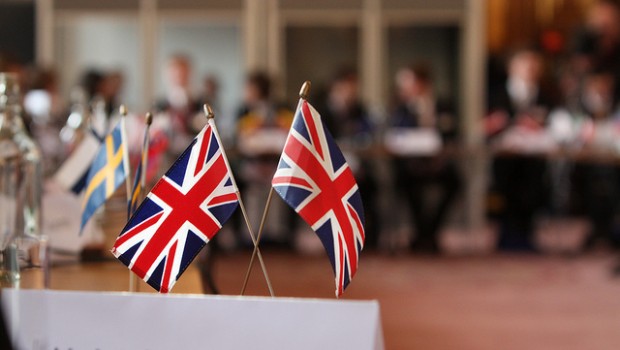 Monday will see the start of the fifth round of negotiations between the UK and the European Union, with Brussels's chief Brexit negotiator Michel Barnier set to determine whether "sufficient progress" has been achieved before the 19 October EU summit.
Acting as a backdrop, investors' attention will be split between fresh data out of the People's Republic of China and continuing Fedspeak.
From Tuesday onwards, the National Bureau of Statistics may release its money supply and credit lending data for October, with foreign trade figures due out on Friday.
The day afterwards, on Wednesday, the US Federal Reserve will publish the minutes of its last policy meeting.
They will be followed by several first-tier economic data on Friday, including the latest consumer price figures, although the impact of recent hurricanes is likely to distort September's reading.
Indeed, headline US CPI is expected to rise from a 1.9% year-on-year pace last month to 2.3%.
Retail sales data due to be released alongside the American CPI report are projected to show a massive 1.6% jump month-on-month.
In Europe, events in Catalonia at the start of the week might overshadow CPI readings from Spain, France, Italy and Germany at the end of the week.
Meanwhile, in Japan, the spotlight will be on core machinery goods orders and money supply data on Wednesday and Friday, respectively.
Monday October 09
INTERIM DIVIDEND PAYMENT DATE
Hammerson
INTERNATIONAL ECONOMIC ANNOUNCEMENTS
Industrial Production (GER) (07:00)
Q3
Centamin (DI), XP Power Ltd. (DI)
FINALS
CAP-XX Limited, Plant Impact, YouGov
IMSS
City of London Investment Group
EGMS
Vietnam Infrastructure Limited Private Eqty Shs
AGMS
1pm, Avengardco Investments Public Ltd GDR
TRADING ANNOUNCEMENTS
Trinity Mirror
FINAL DIVIDEND PAYMENT DATE
Henderson Smaller Companies Inv Trust, UniVision Engineering Ltd.
Tuesday October 10
INTERIMS
1Spatial, LiDCO Group, Redstoneconnect, Ted Baker, Vedanta Resources
INTERIM DIVIDEND PAYMENT DATE
Holders Technology, Lighthouse Group
INTERNATIONAL ECONOMIC ANNOUNCEMENTS
Balance of Trade (GER) (07:00)
Current Account (GER) (07:00)
GMS
Kennedy Wilson Europe Real Estate
FINALS
Volution Group (WI)
AGMS
Diverse Income Trust (The), Mortice Ltd. (DI), Scancell Holdings
TRADING ANNOUNCEMENTS
BAE Systems, easyHotel, Marston's
UK ECONOMIC ANNOUNCEMENTS
Balance of Trade (09:30)
Industrial Production (09:30)
Manufacturing Production (09:30)
FINAL DIVIDEND PAYMENT DATE
Colefax Group
Wednesday October 11
INTERIMS
Vertu Motors
INTERIM DIVIDEND PAYMENT DATE
888 Holdings, Chesnara, Pagegroup
INTERNATIONAL ECONOMIC ANNOUNCEMENTS
MBA Mortgage Applications (US) (12:00)
Q3
Pagegroup
FINALS
Proactis Holdings
IMSS
Pagegroup
SPECIAL DIVIDEND PAYMENT DATE
Pagegroup
AGMS
Coral Products, Hargreaves Lansdown
TRADING ANNOUNCEMENTS
Countryside Properties, Mondi, Quiz
Thursday October 12
INTERIMS
Booker Group, Brown (N.) Group
INTERIM DIVIDEND PAYMENT DATE
Forterra, Macfarlane Group, Restaurant Group, UBM, Xaar, Zotefoams
INTERIM EX-DIVIDEND DATE
Braime (T.F.& J.H.) Holdings (Non-Voting), Cenkos Securities, Centrica, Charles Taylor, Curtis Banks Group, Downing Four VCT DP2011 Gen A Shs, Downing Four VCT DP2011 Str, Downing Four VCT DP2011 Str A Shs, Downing Four VCT DP2011Gen, Downing Four VCT DSO 'D' Shs, F&C Private Equity Trust, Kerry Group 'A' Shares, Manx Telecom , Morgan Sindall Group, OneSavings Bank, Puma Vct 8, Restore, Saga , Scisys, Spectris, Spirax-Sarco Engineering, Sprue Aegis, Staffline Group, Tandem Group, Tesco, TP ICAP, Trans-Siberian Gold
QUARTERLY PAYMENT DATE
GlaxoSmithKline, Total SA, XP Power Ltd. (DI)
QUARTERLY EX-DIVIDEND DATE
F&C Commercial Property Trust Ltd., JPMorgan Asian Investment Trust, Middlefield Canadian Income PCC, Primary Health Properties
INTERNATIONAL ECONOMIC ANNOUNCEMENTS
Crude Oil Inventories (US) (16:00)
Industrial Production (EU) (11:00)
Initial Jobless Claims (US) (13:30)
Producer Price Index (US) (14:30)
FINALS
WH Smith
SPECIAL EX-DIVIDEND DATE
River and Mercantile Group
AGMS
Sky
TRADING ANNOUNCEMENTS
Hays
UK ECONOMIC ANNOUNCEMENTS
RICS Housing Market Survey (01:00)
FINAL DIVIDEND PAYMENT DATE
South32 Limited (DI) , United Carpets Group
FINAL EX-DIVIDEND DATE
AIREA, Begbies Traynor Group, City of London Investment Group, Close Brothers Group, CPL Resources, Daejan Holdings, Photo-Me International, Schroder Japan Growth Fund, Strategic Equity Capital
Q1
Sky
Friday October 13
INTERIM DIVIDEND PAYMENT DATE
Alpha Fx Group , Communisis, Computacenter, esure Group, Franchise Brands, G4S, Harworth Group, Highcroft Investment, Highland Gold Mining Ltd., Intertek Group, JPMorgan European Inv Trust Growth Shares, PPHE Hotel Group Ltd, Robert Walters, RPS Group, RSA Insurance Group, SafeCharge International Group Limited (DI), Sanne Group, Total Produce, XLMedia
QUARTERLY PAYMENT DATE
Regional REIT Limited, Schlumberger Ltd.
INTERNATIONAL ECONOMIC ANNOUNCEMENTS
Balance of Trade (EU) (11:00)
Business Inventories (US) (15:00)
Consumer Price Index (GER) (07:00)
Consumer Price Index (US) (14:30)
Retail Sales (US) (13:30)
GMS
Papua Mining
IMSS
Provident Financial
SPECIAL DIVIDEND PAYMENT DATE
esure Group
AGMS
Papua Mining
TRADING ANNOUNCEMENTS
Hargreaves Lansdown
FINAL DIVIDEND PAYMENT DATE
Sophos Group , Trifast